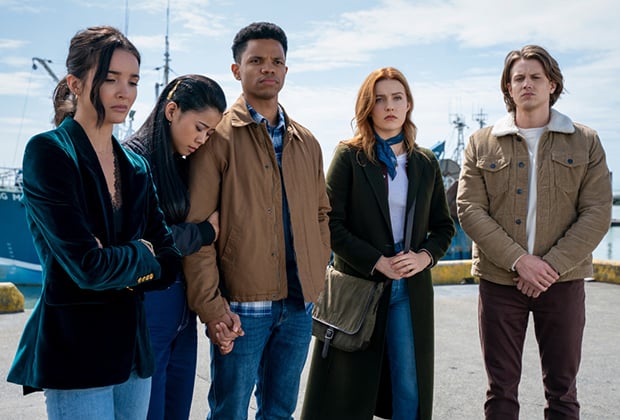 It's been more than 90 years since Nancy Drew was introduced to the world, and since then she has become a star in her own right. Over the years, her super-sleuthing has earned her appearances in movies, books, TV shows, and comic books. The latest stop on her journey came in 2019 with The CW series Nancy Drew. Although the series has gotten some mixed reviews, it is currently in its third season and its talented cast deserves all of the credit. While many of the show's stars were relatively unknown before the series, they all have bright futures ahead of them. Keep reading to learn more about the cast from season three of Nancy Drew.
Kennedy McMann as Nancy Drew
Kennedy McMann is originally from Michigan. She is the daughter of best-selling author, Lisa McMann. Kennedy is a formally trained actress who studied acting at Carnegie Mellon University in Pittsburgh. She made her first on-screen appearance in 2017 in an episode of a TV show called Gone. Being cast as Nancy Drew is her biggest role to date, and she certainly hasn't let the opportunity go to waste.
Leah Lewis as Georgia "George" Li-Yun Fan
Born in China, Leah was adopted when she was eight months old and was raised in Florida. She fell in love with performing at an early age, and it was clear that she was working with some serious talent. She got her start doing commercials and she made her first TV appearance in 2006 in an episode of The New Adventures of Old Christine. Since then, she has continued to work consistently with roles in shows like The Good Doctor and Charmed. In addition to being an actress, Leah is also a talented singer. In 2013, she auditioned for The Voice, but none of the judges turned their chairs. She also enjoys spending time outdoors and staying active. Her growing fan base will be excited to know that she currently has two projects in the work.
Maddison Jaizani as Bess Turani Marvin
Prior to her role in Nancy Drew, Maddison Jaizani was best known for her role in the TV series Versailles. She was born and raised in England where she studied acting at Bury College. When Maddison isn't busy with work, she loves traveling and working out.
Tunji Kasim as Ned "Nick" Nickerson
Tunji Kasim was born in Scotland, but also spent lots of time in Nigeria when he was growing up. He comes from a creative family and he fell in love with the arts at a young age. Like many other talented actors, Tunji Kasim's got his start in theater. He began his on-screen career in 2007, although he didn't make another on-screen appearance until 2013. His role as Nick in Nancy Drew is the biggest TV role he's had so far. Outside of his work, Tunji is a relatively private person and he doesn't appear to be active on social media.
Alex Saxon as Ace
Alex Saxon may look like a teenager, but he's actually approaching his mid-30s. He has been in the entertainment industry for a decade, and he got his big break in 2014 when he was cast in the MTV series Finding Carter. Throughout the 2010s, he continued to land significant roles and he proved to be a very talented actor. At the same time, though, many people who have been following Alex's career will probably agree that he hasn't gotten nearly as much credit as he deserves. His role in Nancy Drew has given him the chance to share his skills with a large audience and he is grateful for the opportunity.
Riley Smith as Ryan Hudson
Riley Smith is easily the most experienced cast member in Nancy Drew. He has been acting on-screen for almost 25 years and, according to IMDB, he currently has 80 acting credits. Throughout his career, Riley has played a wide variety of characters and he has shown that he can move effortlessly between genres. Acting isn't the only way Riley likes to express himself to the world, though. He is also a great singer who has released several songs on streaming platforms such as Apple Music and Spotify. Riley also has a YouTube channel where he posts music videos and other content.
Scott Wolf as Carson Drew
If you were around during the 1990s then you probably remember Scott Wolf from his role as Bailey Salinger in the popular series Party of Five. These days, however, he's playing a much different role in Nancy Drew, and it's given him the chance to share his talent with the younger generation. Not only is Scott a successful actor, but he's also a proud husband and father.The Voice
Tell us what's wrong with this post? How could we improve it? :)
Let us improve this post!