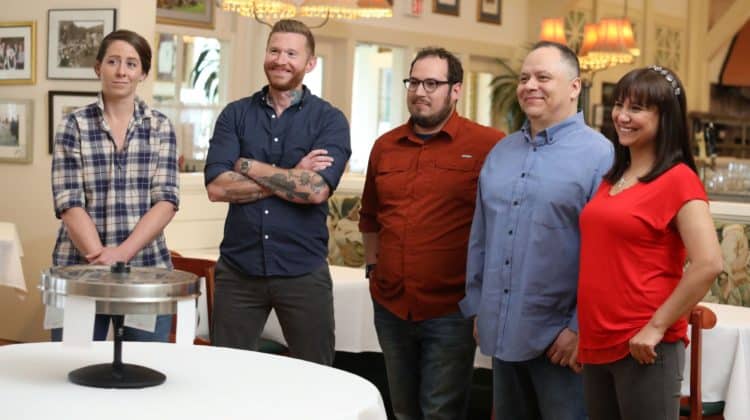 In reality TV, competitions feature go-to formats that have been designed to stir up drama between talented professionals who look to either win big or create a brand for themselves. With culinary skills being one of the universal eye-catching props, it is no wonder that food preparing contests such as Bite Club are still getting the green light. From established brands like Top Chef and the awkward baked cakes on Nailed It to junior editions of Hell's Kitchen, cooking shows have proven to be more than just a source of entertainment: they are a chance for upcoming chefs to showcase their skills in front of the world. In this regard, Food Network, which is home to other shows such as Chopped and season-specific Holiday and Halloween challenges, is adding one more chef battle to its ammunition: the funnily titled Bite Club. Fortunately, there is no rule that prohibits us from talking about Bite Club, unlike in Fight Club, so below is a list of things you might want to know about the show.
1. Overview
Tyler Florence will, this fall, hit some of the top food cities in the United States in a bid to pit local chefs against one another in an entertaining fight to become the champ in their hometown. In every location, up to five chefs will be chosen to cook in an unknown kitchen location; there is a game of chance in the competition, however, two of the five chefs will have the chance to become the competition's judges. The remaining two judges will go head to head in about two rounds of secret ingredient cooking competition; the peers, earlier selected to be judges, will decide of the three chefs becomes the city's champion. According to Food Network, the six-episode series is scheduled to air on September 6th at 9 PM Pacific time with Chicago going first followed by Savannah, Milwaukee, Indianapolis, Nashville, and Charleston.
2. More about the Premiere
In the show's premiere, five talented chefs in Chicago meet Tyler Florence in an Italian restaurant. Luck is used to determine which three chefs will proceed to the kitchen and which two will serve as judges. The first round throws the three competitors into a loop once they are offered alligator meat — they, however, take advantage of the powerful ovens in the restaurant in the hope of cooking it right. Two of the three chefs move to the next round; however, only one of them is crowned as the champion.
3. You can Catch Behind the Scenes
After every battle, you can catch the behind the scenes occurrences and fun moments at Food Network's official site as well as the company's official Instagram and Facebook pages. You might also catch Florence taking head-on a few of the challenges.
4. Meet the Host, Tyler Florence
"The energy is explosive when five of the best chefs in a city go head to head — they are rivals and colleagues, competitors and friends, and Tyler is the right person to host the culinary action in every city," said Courtney White, Food Network's Executive Vice President and General Manager. Chef Tyler Florence has, for 15 years, delighted culinary enthusiasts by sharing the flavors, sights, and sounds of his culinary ideas. Florence, soon after he graduated from the prestigious Johnson and Wales University moved to New York where he offered his services to multiple restaurants and established his position as one of Big Apple's most skilled chefs. While in New York, he sharpened his culinary abilities under the tutelage of Charlie Palmer, Marta Pulini, and Rick Laakonen who ultimately became the chief executive at Cafeteria.
As more buzz around the skilled young chef picked steam, a new TV network noticed; the rest, as we know it, is history. After 15 years as a Food Network star, Tyler Florence has taken his flavors and wit across the world. He has starred in other shows such as How to Boil Water — his show that aims at teaching cooking novices; Food 911- the popular recipe rescue show; as well as Tyler's Ultimate — his signature series. Tyler Florence has hosted many other Food Network shows such as Planet Food; My Country, My Kitchen; and All American Festivals. Moreover, Tyler has regularly served as a guest on popular shows like The Today Show; The View; CNN; Oprah, The Tonight Show; Extra; Access Hollywood; and Good Morning America.
5. A new Kitchen For Every Episode
Unlike chopped, which hosts all its competitions in one kitchen, every episode included in the Bite Club series is shot in a different location — a local restaurant where the competitors have never cooked in before. Adaptability, therefore, and keen observation plays a critical role in winning this competition.
6. Are there Secret Ingredients?
Of course there are a few secret ingredients. Besides changing the host kitchen, mystery ingredients are included — the first episode tosses alligator meat as the select ingredient. Secret ingredients coupled with unfamiliar equipment and environment means that the chefs will have to perform extremely well to win the competition.
7. Hometown Pride is at Stake
Every episode featured in the series is shot in a different town from which the contestants hail from. The first season will feature contestants from Savannah, Chicago, Indianapolis, Charleston, and Milwaukee battle.
8. The Contestants Might Serve as Judges
Bite Club chooses five chefs every episode, but through chance — essentially by drawing straws, two of the five chefs are chosen to serve as judges while the rest proceed to the kitchen. Tyler Florence will hit some of the top food cities in the United States in a bid to pit local chefs against one another to become the champ in their hometown. there is a game of chance in the competition, however, two of the five chefs will have the chance to become the competition's top judges.
Tell us what's wrong with this post? How could we improve it? :)
Let us improve this post!