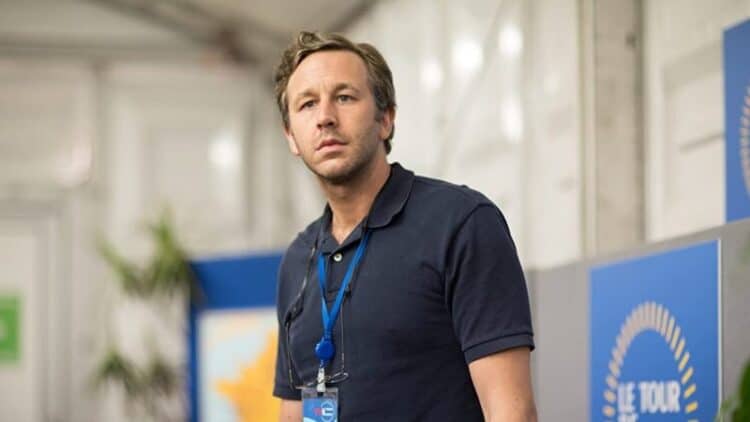 Apple TV+ is scheduled to drop a new comedy TV series based on the book by M.O. Walsh, titled The Big Door Prize. The show is created by David West Read, who is best known for his work on popular TV shows like Schitt's Creek. The plot of the show, according to Deadline, is as follows: "The Big Door Prize tells a story about the residents of a small town called Deerfield, who one day discover a magical, destiny-predicting machine in their grocery store." The Big Door Prize features an impressive list of cast members, some of whom are veterans in the comedy game. If you want to learn more about actors performing in this series, read ahead. Here are the cast members of the upcoming Apple TV+ comedy series The Big Door Prize.
Chris O'Dowd
Actor and comedian Chris O'Dowd is set to star in the upcoming Apple TV+ comedy The Big Door Prize. O'Dowd is best known for starring in the critically acclaimed Channel 4 comedy series The IT Crowd, playing the role of Roy Trenneman. The role catapulted him to international fame, leading him to appear in Hollywood blockbusters like Bridesmaids, Friends with Kids, This is 40, Epic, The Program, Mascots, Miss Peregrine's Home for Peculiar Children, and more recently, How To Build A Girl and The Starling. He is set to appear in an upcoming fantasy comedy series titled Slumberland. On TV he's appeard in State of the Union, Get Shorty, Family Tree, Puffin Rock, and The Twilight Zone.
Gabrielle Dennis
Gabrielle Dennis plays Cass in the upcoming comedy show The Big Door Prize. Dennis is best known for her starring roles in shows like Rosewood, Luke Cage, A Black Lady Sketch Show, and The Upshaws. On film, she's appeared in The Fright Night Files, A Super Secret, My First Love, Call Me King, Girls Trip, A Madea Homecoming, and Wendell & Wild, which is currently in post-production.
Damon Gupton
Damon Gupton will be portraying Father Reuben in the upcoming series The Big Door Prize. Gupton has appeared on shows like Deadline as Charles Foster, Prime Suspect as Edvrard Velerio, The Divide as Adam Page, The Player as Detective Cal Brown, Black Lighting as Deputy Chief Henderson, and Criminal Minds as SSA Stephen Walker. On film, he's appeared in major productions like The Last Airbender, Whiplash, and La La Land. Gupton is set to appear in Babylon, an upcoming period drama film currently in post-production. Gupton's more recent TV work include Bates Motel, The Comey Rule, The Last Days of Ptolemy Grey, and Super Pumped. Outside of his work as an actor, Gupton is also a professional conductor. Asked by Coming Soon about this, Gupton explained how he balances the two equally demanding professions: "I think I lucked out to tell you the truth! In regards to balancing them, it's getting harder and harder, but it's been a great joy for me to have two different kinds of interactions because it challenges different parts of your brain and your heart. I've been very lucky to be able to go back and forth a little bit."
Josh Segarra
Josh Segarra plays Giorgio in the upcoming comedy show The Big Door Prize. Segarra has appeared in shows like The Electric Company, Arrow, and Sirens. More recently, he starred in the series AJ and the Queen and had recurring roles in Katy Keene and FBI. Aside from The Big Door Prize, Segarra is also set to have a role in the upcoming Disney+ series She-Hulk. On the big screen, Segarra has worked in Trainwreck, Overboard, Fault, and Christmas on the Square. Having been able to snag interesting roles over the years, Segarra was asked by Get Out how he managed to obtain these characters, to which he replied: "When I first started auditioning, when I was graduating from college, I was a Puerto Rican kid that was raised in the suburbs of Orlando. I've been in New York about 15 years now. I grew up in a Pentecostal church. Being part of the theater and singing in church taught me how to be in front of people. I grew up, and I came to New York City, and when I started auditioning, I'm not sure that they knew what to do with a Puerto Rican kid from the suburbs of Orlando. I wasn't quite what they were looking for, for, let's say, a drug dealer at the beginning of my career. I wasn't intimidating enough. And I guess I really wasn't whatever it was they were looking for on paper. I still have to say, those few years of auditioning, what it really did was it allowed me to always put my best foot forward when it came to the preparation for these auditions. I would be auditioning for characters that weren't even described for me in the breakdown. But you learn quickly as an actor that you don't even look at the breakdown. That's for the director and the producers to decide. My job is to go in there and read the words that are given to me by the writer, and decide how these words are going to be fleshed out through me."
Sammy Fourlas
Sammy Fourlas will be playing Jacob in The Big Door Prize. He has no known projects prior to joining the cast of the show, but he has been described as a social media star. On Instagram, he has 92,000 followers as of writing, where he announced his inclusion in the cast.
Djouliet Amara
Djouliet Amara will be playing Trina in The Big Door Prize. She has previously worked in shows like Superman & Lois, Hello, Goodbye, and Everything in Between, and Seance.
Ally Maki
Ally Maki joins the cast of The Big Door Prize as Hana. She is most prominently known for her leading role in Wrecked, where she portrayed the character of Jess. She's also appeared in shows like Dear White People, Marvel's Cloak & Dagger, Into the Dark, The Owl House, and Hit-Monkey. Some of her more recent big screen projects include Toy Story 4, Lamp Life, Home Sweet Home Alone, and the upcoming movie 5 Years Apart.
Crystal R. Fox
Crystal R. Fox joins the cast of The Big Door Prize as Izzy. Most people would recognize her from her role as Hanna Young in the Oprah Winfrey Network prime time soap opera The Haves and the Have Nots.