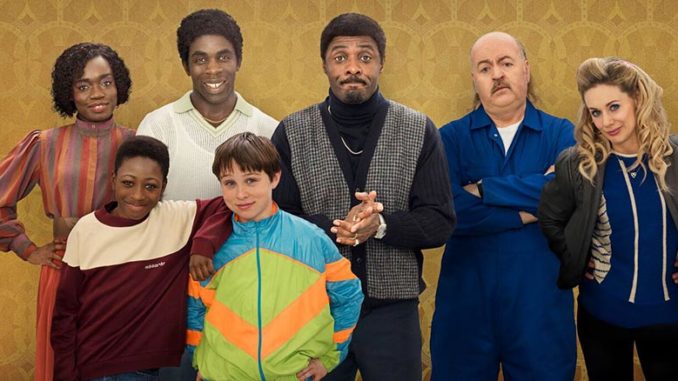 After premiering in the UK to positive reviews in 2018, Idris Elba's semi-autobiographical series, In the Long Run, has been picked up by Starz for a US run. The show revolves around the Easmon's, a family who've been enjoying the quiet life in London ever since they migrated from Sierra Leone 13 years earlier. When their young relative Valentine suddenly shows up on their doorstep, the family is forced to kiss goodbye to their peaceful lifestyle for good. With a witty script and an all-star cast headed up by Elba himself, the show has "must-view TV" stamped all over it. Find out who you can expect to see with our who's who guide to the cast.
Jimmy Akingbola as Valentine
After graduating from the Academy of Live and Recorded Arts with an acting diploma, Jimmy Akingbola began his career in The Nativity at the Birmingham Repertory Theatre. He's since worked extensively across stage, film, and TV, earning numerous accolades for his performances in the likes of Joe Penhall's award-winning play Blue/Orange, and the popular BBC sitcom's, The Crouches and Rev.
Madeline Appiah as Agnes
While her TV credits have so far been limited to supporting roles in King For a Term, Partners in Crime, Gavin and Stacey, Doctors, The Bill, and Holby City, Madeline Appiah's list of theatre credits are nothing if not impressive. In addition to appearing in numerous Shakespearian productions at the Royal Shakespeare Theatre, The Old Vic, and the West End, she's also appeared in I Have Before Me… at the Calypso/Dublin Fringe Festival, Speechless at the Shared Experience/West Yorkshire Playhouse, 200 Years and Cinderella at the Watford Palace Theatre, Arabian Nights at the New Vic Theatre, Dionysus Unbound at Bridewell Theatre, Brezhnev's Children at BAC and MS Ross: The Lady and Her Music at the Neptune Theatre.
Bill Bailey as Bagpipes
Comedian, actor, and musician Bill Bailey began performing at high school after joining a school band called Behind Closed Doors. After dropping out of Westfield College of the University of London a year into his English degree, he began touring the country with his unique mixture of stand up and musical parody. Although his act was initially a commercial failure (he's since said he almost gave it up altogether for a job in telesales), his whimsical style eventually found its audience. After earning a nomination at the Perrier Comedy Awards in 1996, Bailey was given his own TV show, Is It Bill Bailey?, by the BBC; over the next few years, he combined stand up with regular hosting and acting gigs on shows such as Have I Got News for You, World Cup Comedy, Never Mind the Buzzcocks, Room 101, Des O'Connor Tonight, Coast to Coast, and the cult classic, Black Books. Off-screen, Bailey is a vocal supporter of the Fawcett Society (a foundation that campaigns for women's rights and gender equality) and various animal welfare organizations. His work in environmental conservation, meanwhile, have been extensive enough to earn him an honorary doctorate in conservation and sustainability from the Australian University of the Sunshine Coast.
Idris Elba as Walter
Actor, writer, producer, musician, DJ, rapper, and singer Idris Elba's first experience of acting came with bit-parts in murder reconstructions on Crimewatch. From those inauspicious beginnings, he quickly graduated to bigger parts, and in 1995, he won his breakthrough role in the period medical drama, Bramwell. After several years of casting in supporting roles on UK TV, he landed the recurring role of Tim Webster in the soap opera, Family Affairs. His first international success came with his portrayal of Russell "Stringer" Bell on the HBO drama series The Wire, a part that opened the floodgates to film roles like Monty in Tyler Perry's Daddy's Little Girls (2007), General Stone in 28 Weeks Later (2007), Tango in American Gangster (2007), Heimdall in Avengers: Age of Ultron (2015), Krall / Balthazar Edison in Star Trek Beyond (2016), and Brixton Lore in Hobbs & Shaw (2019). In addition to his film work, Elba has forged a successful second career in music, appearing in music videos for Fat Joe, Angie Stone, and Giggs, releasing several critically acclaimed releases of his own (including 2010's High-Class Problems Vol. 1 and 2015's Murdah Loves John (The John Luther Character Album)) and even launching his own record label, 7Wallace Music, in 2018.
Kellie Shirley as Kirsty
Since beginning her career in the National Youth Theatre, Kellie Shirley has worked extensively across film, theater, and film. Some of her most notable roles include Carly Wicks in the BBC soap opera EastEnders from 2006 to 2008, Terri Robinson in King of Thieves, Louise in the feature film Riot, and Susie Browning in Run for Your Wife. She's also featured in the music video to accompany Scottish singer Paolo Nutini's single Pencil Full of Lead, and made numerous appearances as herself on magazine shows such as "The Wright Stuff" and "Sunday Brunch".
Amani Johnson as Melissa
"In the Long Run" represents Amani Johnson's first major TV role, but you may also recognize the young actress from her performance as Little Azelma in the TV production of Les Misérables (2018).
Ellen Thomas as Mama
63-year-old Sierra Leonean-British actress Ellen Thomas is best known for her portrayal of school secretary Liz Webbe in Teachers (2001-2004), and Claudette Hubbard in the popular soap opera EastEnders. Other credits include Golden Years (2016), Johnny English Reborn (2011), The Queen and I (2018), Mount Pleasant (2015- 2018), and Casualty (2018-2019).
Sammy Kamara as Kobna
Prior to his casting in "In the Long Run", Sammy Kamara was best known for his appearance as Damilola Taylor in Damilola, Our Loved Boy, the 2016 feature film based on the true story of the murder of ten-year-old schoolboy Damilola Taylor in Peckham, London in 2000.
Mattie Boys as Dean
"In the Long Run" represents Mattie Boys' biggest TV role to date, but you may already be familiar with his name thanks to his standout performance as the titular character in Jake the Magnificent, Simon Wade's comedic short from 2015.