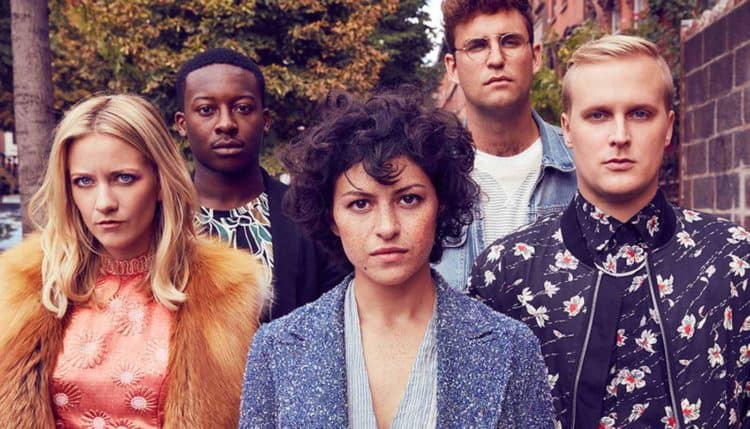 There are shows that are created to shock and surprise the audience, then there are shows like Search Party that are meant to shock and perhaps surprise but end up drawing people in to see what happens to the self-absorbed characters that tend to ignore a lot of what's going on around them in order to focus on their own lives. Such a show is entertaining largely because it doesn't seem like reality and yet as we watch many of us tend to think that it is all too real. The attitudes of those on the show aren't entirely stereotypical from one character to another but a lot of people can at least state that they've known individuals such as the characters that the cast members are playing. It's a different type of show in a way as it almost comes at the prospect of finding a missing person from a lack of something to do mixed with a need to know.
Here are the cast members of Search Party.
Brandon Michael Hall
Brandon is a relative newcomer to the screen and has been amassing roles throughout the last several years. Search Party is actually his first time landing a main TV role and so far it seems as though he's doing just fine by sticking in with those that have been around for a little while. Chances are good that he'll be making a career in the coming years and could remain interesting to watch.
Meredith Hagner
Meredith got her start on As The World Turns but opted out of the role she'd been given after a couple of seasons. From there she went skipping around from one show to another as they either got cancelled or she was simply guest-starring and looking to move on to the next project anyway. She's got the experience and the talent to keep a role but the bad luck of having shows never take off or get cancelled after a season or two is something that no actor can fully predict.
John Paul Reynolds
Though still relatively new John has managed to land a few roles that have been rather noticeable. One of those is of course in the show Search Party, while the other, and you can look to verify it, comes in the popular Netflix series Stranger Things. So far he's proven his worth and he continues to do so as the show has been approved for a second season. It'll be interesting to see how far his career can go.
John Early
As a comedian that's attempting to rise through the ranks and make his voice heard John has been making a lot of headway since he got started and has shown up in a variety of productions throughout the years, even while filming Search Party with the rest of the cast. So far his career is going fairly well, keeping a steady pace as he continues to find roles and impress the right people.
Alia Shawkat
Out of most of the cast members Alia has the most extensive resume and has been the most experienced actor working on this program. She got her start back in 1999 and has shown up in some very well-known movies and shows throughout her career, making her perhaps the biggest star, or at least one of the biggest, in the entire series. Her character seems a bit too focused at times but in the same breath it gives this character the kind of gravitas that is needed for the story.
There were a lot of people that seemed stumped as to what Search Party was all about when it first came out, despite the whole premise being explained within the trailer. But obviously enough people responded well to the dark comedy since a second season is on the way and more and more people are starting to get turned on to it as word of mouth and advertising continue to hype it up. That there's something off about the show is obvious, especially since it seems like it might be better served as a TV movie, but so far none of that has seemed to matter since people have responded to the show in a very positive way. The snarky nature of it and the strange sense of humor tend to be what draw some folks to it while the story itself has managed to hook several more.
Something about dark comedies tends to divide people just a bit while at the same time allowing them to agree on the veracity of a TV show. The very nature of a dark comedy is that it's not exactly funny to everyone, but the humor within it can be seen by those that have a slightly twisted view of the world and can laugh at just about anything.