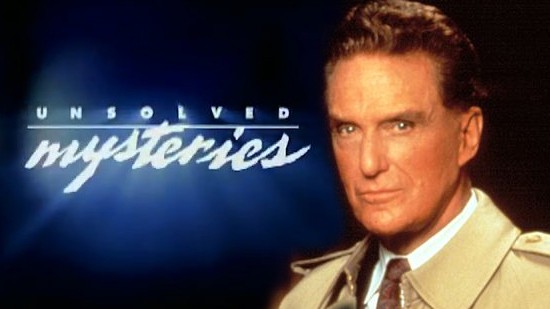 Unsolved Mysteries was a great show for its time, but even its host Robert Stack didn't fully believe a lot of the paranormal stories that were told on the show. He would at times look to his producers and even the director and ask them just what was going on with the material he had to cover, because honestly some of it seemed a little suspect. I can remember gathering around the TV for this show when it came on, expecting to see something new and interesting that evening that might make us all a little wide-eyed and possibly leave us wondering just what was real and what was a bunch of malarkey.
The show was entertaining for the most part but there were moments during the reenactments that kind of left person shaking their head and wondering what they'd just witnessed. At some points it was like watching a bad horror or monster movie from the 50's, but then again it wasn't always supposed to be as serious as it seemed. The show was for the most part theater on a much more dramatic scale. It was designed to entertain people and possibly give them something to think about, not really make them believe that the supernatural or paranormal episodes were real. Some of them carried at least a little credibility since they were told by those that didn't have a penchant for lying or making up stories, but a good deal of them were just drama for the sake of ratings.
What's really interesting about this show is that aside from coming up with various stories to tell the public about it was also the starting point for a good number of actors that stood in as those that were reenacting the stories. It's funny to think about but some actors such as Virginia Madsen and Matthew McConaughey had their turns on this show. You can look it up, it's very true.
Robert Stack however, for all that he might have liked or not liked hosting the show, didn't buy into it as much as people might have thought. He had his good days and his bad days but he didn't take the show as a serious program most times, preferring to call it theater more than factual data. He might have had a very good point since the idea that Unsolved Mysteries was something for the serious viewer was like stating that Reality TV is all real.
The show was geared to present actual cases that had happened in the past and some that had supposedly happened but had no real basis, but it was usually done in a manner that almost made fun of the facts. It could be that this was the first spoof of modern day mysteries but it's hard to know since many folks thought of this as hard-hitting news that was told much later, the type that highlights the glaring errors that were made in the cases the first time and were just now coming to light.
Of course the people that believe that tend to believe that Jesus will be coming back in a spaceship too.
Tell us what's wrong with this post? How could we improve it? :)
Let us improve this post!