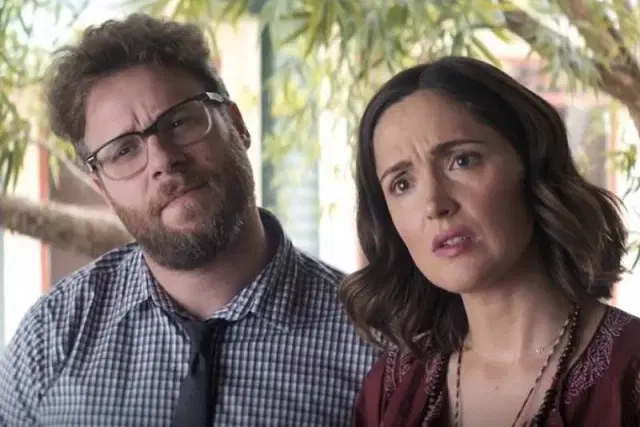 Apple TV+ is set to drop a new comedy series this year. Titled Platonic, the upcoming comedy streaming television series is created by husband-and-wife team Nick Stoller and Francesca Delbanco. Stoller previously worked on projects like The Muppets and Storks, while Delbanco worked on Friends from College. Here is a description of the plot of the show, according to Deadline: "Platonic, which has received a 10-episode order, explores the inner workings of platonic friendship. A pair of former best friends who met in their youth (played by Byrne and Rogen) reconnect as adults and try to mend the rift that led to their falling out. As their friendship becomes more consuming, it destabilizes their lives and causes them to reevaluate their choices." Platonic promises an interesting lineup of cast members. If you want to learn more about the actors set to appear in this show, look no further. Here are the cast members of the upcoming Apple TV+ series Platonic.
Rose Byrne
Actress Rose Byrne is starring in Platonic as Sylvia. Byrne is an Australian actress. She began her acting career in theatre productions, and obtained her first leading film role in The Goddess of 1967. Byrne appeared as Ellen Parsons in the legal thriller series Damages, for which she was nominated for Golden Globe Awards. She has also starred in such films as Get Him to the Greek, Bridesmaids, Neighbors, Spy, and Neighbors 2: Sorority Rising. In addition to her film work, Byrne has also starred in several stage productions. She is currently starring in the Apple TV+ comedy series Physical. Rose Byrne is a talented and versatile actress who has demonstrated her versatility with roles in both film and television.
Seth Rogen
Seth Rogen reunites with Rose Byrne in Platonic, appearing in the show as Will. Rogen is a Canadian actor, comedian, writer, and director. He began his career performing stand-up comedy before moving into television and film. Rogen's first movie appearance was in the cult classic Donnie Darko. He has since gone on to star in a number of films, including The 40-Year-Old Virgin, Knocked Up, Superbad, Pineapple Express, This Is the End, and The Interview. Rogen has also done voice work for the films Shrek the Third, Horton Hears a Who!, the Kung Fu Panda trilogy, and more. In addition to his work in front of the camera, Rogen has also written or co-written several of his films, including Superbad and This Is the End. He has starred in two films with Rose Byrne: Neighbors and its sequel Neighbors 2: Sorority Rising. Rogen is married to fellow Canadian actress Lauren Miller.
Luke Macfarlane
Actor Luke Macfarlane will be portraying the character of Charlie in Platonic. Macfarlane is a Canadian actor best known for his role as Scotty Wandell on the ABC television drama Brothers & Sisters. He has also appeared in a number of films and television shows, including Over There, Killjoys, and Mercy Street. Macfarlane was born in London, Ontario, and began his acting career in the early 2000s. He has since established himself as a successful actor, appearing in a number of high-profile roles. In addition to his work in film and television, Macfarlane has also appeared on stage. Outside of his acting career, Macfarlane is also an accomplished singer-songwriter. In an interview with Juilliard, he was asked whether he is similar to Scotty in Brothers & Sisters. This is what he had to say: "It's a complex question, because to many people the actor and the character are the same person; we share the same body and same voice for the most part. But the few times where some brave fan of the show has come up to me and asked, "Hey, are you Scotty?" there is this inevitable moment where we both get a bit nervous when they realize that I am not Scotty and they have no idea who I am. My experience in television has been different in that regard than my experience in theater, where the character kind of moves to a quiet place in your mind once the curtain is down. In television you live with your character all day—we both exchange ideas and ways of being. Scotty helps draw me out a bit and I help Scotty relax a bit. Gosh, that sounds nutty, I know! "The schizophrenia of acting," I once heard it called by [Juilliard drama faculty member] Becky Guy."
Carla Gallo
Carla Gallo will be playing the character of Katie in Platonic. Gallo is an American actress who is best known for her roles in the television series Undeclared, Carnivàle, Bones, and Californication. Gallo was born in Brooklyn, New York, and began her acting career in the early 2000s. Gallo is best friends with actress Sarah Paulson. Gallo is an experienced actress who has worked alongside many performers in the industry. When asked by Film Inquiry how important it was for her to work alongside like-minded people on set, this is what she had to say: "It's probably [the] second most important [thing] after good material. The success of how this film turned out is script and Matt Atkinson and actors. Those three. That trifecta. If one of those is missing, you're gonna have a tough time. Obviously, from my standpoint, I need that as much as any of the other things. If someone's good, they'll make you better. And Brett and Mark are both those actors. They're so talented that not only are they throwing you the ball so you're able to play, but also you wanna rise up to their level. They're so funny. I'm like, "Okay, I've gotta work my brain 50 percent more than usual because I have to try to keep up." Having a good cast who's talented and and giving, that's of utmost importance to me."
Tre Hale
Tre Hale will be playing the role of Andy in Platonic. The actor had previously appeared in Love and Monsters, Lucy!, and Lethal Weapon.
Andrew Lopez
Andrew Lopez is last on the list, playing the character of Reggie in Platonic. He had appeared on projects like Blockers, Jo Koy: In His Elements, and Iowa.
Tell us what's wrong with this post? How could we improve it? :)
Let us improve this post!