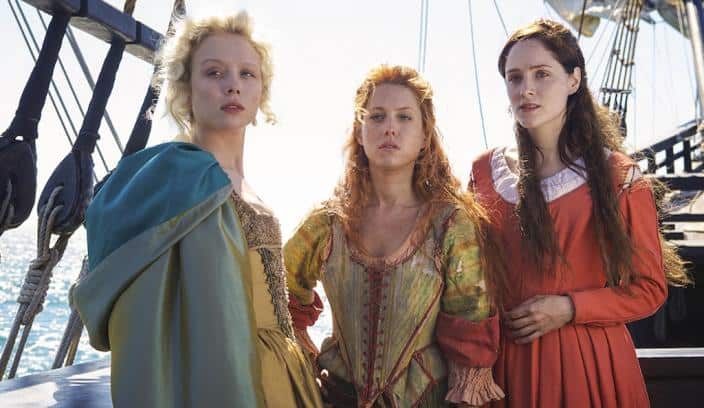 Set in the early years of the 1600s, period drama Jamestown tells the story of a community of English settlers in the newly established colony of Jamestown. In season 1, we saw the arrival of a group of women who, bound by their paid passage to America, are expected to marry the town's founding menfolk. 3 seasons in and Jamestown is experiencing a boom. Unfortunately, the success is accompanied by close security from the Crown, something few of Jamestown's residents can afford to come under. With relations with the local Native Americans taking a devastating turn for the worse as the settlers are overcome with a lust for power and land, the events of season 3 are set to change the lives of the settlers, and the New World, for good. To meet the cast of the popular show, keep reading.
Niamh Walsh as Verity Rutter
Verity Rutter, wife of the town's tavern keeper, Meredith, and one of the first women to arrive in Jamestown, is played by Niamh Walsh. The Irish actress landed her first acting role in hospital drama, Casualty, in 2013, and has since enjoyed success as Maggie Kendal in the BBC production of Jekyll and Hyde, and in the stage productions of Middlemarch (2013) and The Man Who Shot Liberty Valance (2014).
Max Beesley as Henry Sharrow
Starring as one of the town's founding fathers, the brutal and ruthless Henry Sharrow, is British actor Max Beesley. Beesley made his TV debut in 1993 as an extra on the long-running British sitcom, Last of the Summer Wine. He's since starred in numerous TV shows and films, including The Last Enemy (2008), Survivors (2008-2010), CSI: Crime Scene Investigation (2011), Homeland (2015), and, lest we forget, the ill-fated Mariah Carey movie, Glitter (2001).
Stuart Martin as Silas Sharrow
The middle and most honorable brother of the Sharrow family, Silas, is played by Scottish actor Stuart Martin. After graduating from the Royal Conservatoire of Scotland, Martin landed his first paid acting gig in the short film, Maxim (2008). Since then, he's enjoyed success in such features as Games of Thrones (2014), Crossing Lines (2015), Hellburn (2013), and Robin Hood (2010),
Jason Flemyng as Sir George Yeardley
The new governor of Jamestown, the paranoid and easily swayed Sir George Yeardley, is played by English actor Jason Flemyng. The LAMDA graduate's extensive list of credits includes Stardust (2007), Solomon Kane (2009), Kick-Ass (2010), Clash of the Titans (2010), X: First Class (2011) and Great Expectations (2012). Outside of acting, Flemyng is a keen runner and has competed in several marathons.
Kalani Queypo as Chacrow
Pamunkey warrior and close friend of Silas, Chacrow, is played by Kalani Queypo. The Hawaiian actor began his career in 1996 in The Juror but is best known for his roles in The New World (2005), Slow West (2015), and Fear the Walking Dead (2017).
Claire Cox as Temperance Yeardley
Claire Cox stars as Temperance Yeardley, a committed Christian and the devoted wife of the new Governor of Jamestown, Sir George Yeardley. Cox began her career in theatre, starring alongside the legendary British actress Judi Dench at the National Theatre. While she remains best known for her work on stage, Cox has also enjoyed TV success with A Touch of Frost (2004-2006), Doctors (2008-2012), and Fresh Meat (2016).
Dean Lennox Kelly as Meredith Rutter
The self-destructive owner of Jamestown's tavern, Meredith Rutter, is played by English actor Dean Lennox Kelly. Since graduating from Bristol Old Vic Theatre School, Kelly has carved out a successful career in TV, with notable roles including Kev Ball in Shameless, William Shakespeare in Doctor Who (2007), Hedley Huthwaite in The Invisibles (2008) and Danny Rampton in Collision (2009). He's also in demand as a voice actor, having narrated Discovery's Gold Rush since 2010 and Channel 5's 10,000 BC since 2015.
Steven Waddington as Marshal Redwick
Steven Waddington plays the military-minded former marshal of Jamestown, Marshal Redwick. After developing a passion for performing at school, Waddington landed his first acting role as an extra in the soap opera, Emmerdale Farm. Since then, he's enjoyed starring roles as Duncan Heyward in The Last of the Mohicans (1992), Duke of Buckingham in The Tudors (2007), Steve in The Syndicate (2013), and Superintendent Smith in The Imitation Game (2014). Waddington is married to fellow actor, Jane March, with whom he shares a child.
Naomi Battrick as Jocelyn Castell
Taking the role of Jocelyn Castell, one of the first female arrivals to Jamestown, is Naomi Battrick. The 28-year-old actress began her career as a teenager, featuring as Miranda Roscoe in the crime drama The Bill and as Toyah Swann in the 2009 children's show, My Almost Famous Family. From there, she graduated to adult roles in the 2012 thriller, Blood, and in the third season of Crossing Lines.
Matt Stokoe as James Read
Starring as James Read, one of the earliest arrivals to Jamestown, is Matt Stokoe. Since his debut as an extra on the historical-fiction drama, The Borgias (2011), Stokoe has become best known for his recurring roles in Misfits (2012-2013), The Village (2013-2014), and The Musketeers (2016). He's also in demand as a voice actor, having featured on the video games Ryse: Son of Rome (2013), Final Fantasy XIV: Heavensward (2015) and Final Fantasy XIV: A Realm Reborn (2017).
Ben Batt as Willmus Crabtree
Taking on the role of Factor Willmus Crabtree is Ben Batt, an English actor best known as Joe Pritchard in the UK version of Shameless, Ted Burgess in The Go-Between, and John Anderson in Weekender. Batt is currently in a relationship with his former Shameless co-star, Rebecca Atkinson. The couple share a child, Jack, born in 2016.
Luke Roskell as Pepper Sharrow
Pepper Sharrow, the optimistic, tender-hearted younger Sharrow brother, is played by Luke Roskell. Prior to being cast in Jamestown, Roskell was best known as Aaron Pryce in the BBC children's TV series, The Revenge Files of Alistair Fury (2008), Rian in the anthology, Moving On (2009), Dan in the BBC drama, The A Word (2016), and Sean Spencer in the long-running soap opera, Emmerdale (2011-2014).
Ben Starr as Dr. Christopher Priestley
The role of Dr. Christopher Priestley, Jamestown's only doctor and not-so-secret admirer of Jocelyn Castell, is played by Ben Starr. Since debuting in the period drama Father Brown in 2013, Starr has achieved acclaim for his work in Dickensian (2015-2016), Survivor (2015) and Medici: Masters of Florence (2016). In addition to his TV roles, Starr is active in the theatre, having starred in productions of Yellow Face (2013) and Stop The Play (2013). According to Fandom, he's also President of Castle Theatre Company and a founding member of DIM.
Patsy Ferran as Mercy
Patsy Ferran plays Mercy, the devoted housekeeper to the Castells until her marriage to Pepper Sharrow put an end to her years of servitude. Spanish-born Ferran began her career in the theatre, achieving recognition for her performances in Blithe Spirit (2014), The Merchant of Venice (2015), and Treasure Island (2015), for which she won the Jack Tinker Award for Most Promising Newcomer. Her move to film came with 2017's God's Own Country, which she quickly followed up with parts in Tulip Fever and the TV series Will.
Tell us what's wrong with this post? How could we improve it? :)
Let us improve this post!