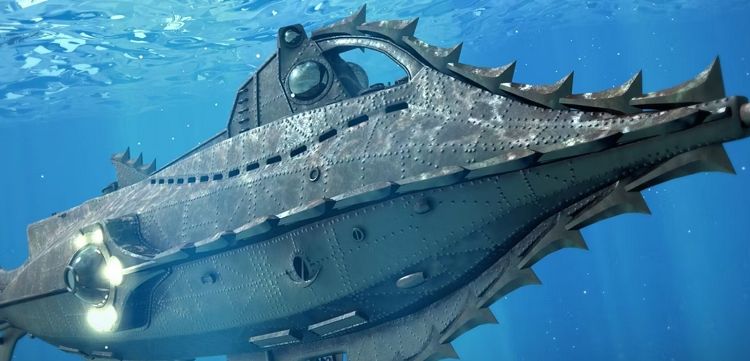 Just when you thought Disney+ is done dropping TV shows, Nautilus comes along. The show is based on the classic Jules Verne novel Twenty Thousand Leagues Under the Sea. Disney+ has ordered 10 episodes of the series and will be written by James Dormer, who previously worked on Medici: Masters of Florence and Beowulf. Here's a description of the original source material, according to Collider: "The 1869 novel tells the story of three individuals who, when on an expedition to discover an unidentified species of whale that has been damaging ships, find themselves in an underwater world with the enigmatic Captain Nemo. Aboard the Nautilus, Nemo ventures the seas accompanied by his crew, and the three men are caught between the choice to escape Nemo or remain to explore a fantastic underwater world." If you want to learn more about the actors set to appear in this much-anticipated series, read ahead. Here are the cast members of the upcoming Disney+ TV series Nautilus.
Shazad Latif
Shazad Latif will be portraying the iconic Jules Verne character Captain Nemo in the upcoming Disney+ TV series Nautilus. Latif is a British actor best known for his roles in the television series Spooks and Penny Dreadful. He has also appeared in the sitcom Toast of London and the movie The Second Best Exotic Marigold Hotel. Born in London to Pakistani parents, Latif studied drama at the Bristol Old Vic Theatre School. He made his television debut in Spooks in 2010, and went on to star in Penny Dreadful from 2014 to 2016. Latif is one of the most promising performers this decade, and this could be explained by his childhood obsession with cinema. In an interview with The Italian Reve, he discussed his earliest cinema memory, which could be the reason why he has become such a successful actor: "I used to sneak into the Odeon Holloway with one of my best friends, Kieran Moloney. There was a backdoor that we could yank open. We were movie-obsessed. One of the earliest in the cinema I can remember Is "Apollo 13," "Titanic "and "Romeo and Juliet" off the top of my head."
Georgia Flood
Georgia Flood will be playing the character of Humility Lucas in the upcoming TV series Nautilus. Flood is an Australian actor who is best known for her roles in the play Blackbird, City Homicide, and Tangle. Flood was born in Phillip Island, and grew up in Dubai. She began her acting career in Australian television and film, before moving to Los Angeles to pursue a career in Hollywood. Flood has starred in a number of television series and films, both in Australia and Hollywood.
Thierry Fremont
Thierry Fremont will be portraying Gustave Benoit in the upcoming TV series Nautilus. A veteran actor, Frémont is a French actor who's been in the industry since 1984. He first gained recognition for his role as Gadouille in 1991's Fortune Express, which was entered into the 41st Berlin International Film Festival.
Pacharo Mzembe
Pacharo Mzembe has been tapped to play Bonface in the upcoming TV series Nautilus. Mzembe is an experienced actor who has performed on stage, in several television series and movies. His career started with the theatre but he now mainly appears in front of the camera, working on Monster Problems, Channel Nine's Here Come the Habibs, Harrow on the ABC, and SBS's Safe Harbour.
Richard E. Grant
Richard E. Grant will be playing the leader of Karajaan in the upcoming Disney+ series Nautilus. Grant is a British actor and presenter. He made his film debut in the 1987 comedy Withnail and I. Grant's other notable film roles include performances in The Player, Bitter Moon, Gosford Park, Bright Young Things, Penelope, The Iron Lady, Downton Abbey, and Star Wars: The Rise of Skywalker. He has also appeared in several stage productions. Grant received critical acclaim for his role as Jack Hock in the drama film Can You Ever Forgive Me?, winning various awards including the Independent Spirit Award for Best Supporting Male. He also received an Academy Award, BAFTA, Golden Globe, and Screen Actors Guild Award nominations for Best Supporting Actor.
Damien Garvey
Damien Garvey will be playing the role of Director Crawley in the upcoming adventure series Nautilus. Garvey is an Australian actor who is best known for his role as Cal McGregor in the television series Rake. He has also appeared in the films Ride Like A Girl and Love and Monsters. He has since appeared in several television series and films, including Rake, Miss Fisher's Murder Mysteries, and Secrets & Lies.
Tyrone Ngatai
Tyrone Ngatai will be playing the role of Kai in the upcoming TV series Nautilus. Here's a description of his acting journey, according to IMDb: "Before stepping in front of the camera, Tyrone dabbled in the professional wrestling scene in Adelaide, Australia. An avid wrestling enthusiast and lifelong fan of his idol Dwayne 'The Rock' Johnson, Tyrone had a taste of the pro wrestling life at age 22. Shortly after his stint in the business, Tyrone transitioned his passion for storytelling and entertaining a crowd to pursuing an acting career. He is currently working with acting coach Anthony Gilardi from Los Angeles. Tyrone has also studied under renowned Australian Casting director Greg Aps in his Self-taping school at The Audition Technique in 2018. Tyrone continues to attend classes at Melbourne's TAFTA Studios with acting coach/mentor Cam Faull."
Jacob Collins-Levy
Jacob Collins-Levy will be playing the character of Captain Youngblood in the series Disney+ Nautilus. Collins-Levy is an Australian actor best known for his roles as Karl-Axel Munck in Young Wallander and Lord Byron in Doctor Who. He has also appeared in the films Holding the Man and Joe Cinque's Consolation. He made his acting debut in the film Holding the Man, and his first television appearance was in an episode of the Australian soap opera Gallipoli.
Other cast members
Other actors set to appear in Nautilus include Arlo Green as Turan, Ling Cooper Tang as Suyin, Andrew Shaw as Jiacomo, Ashan Kumar as Ranbir, Chum Ehelepola as Jagadish, Céline Menville as Loti, Kayden Price as Blaster, Muki Zubis as Casamir, Benedict Hardie as Cuff, and Luke Arnold as Captain Billy Millais.