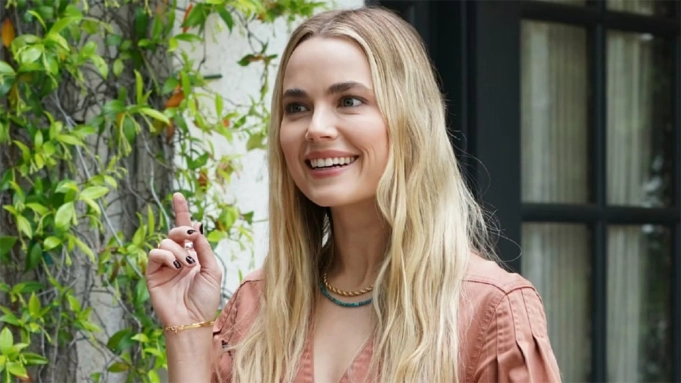 A new comedy TV show dropped on Hulu earlier this month to critical acclaim from reviewers and regular audiences alike. Titled Maggie, the show was originally set to premiere on ABC before being moved to Hulu. The show is written and executive-produced by Justin Adler and Maggie Mull. Adler previously worked on Less Than Perfect and Better Off Ted, while Mull wrote for Dads and Family Guy. The two worked together on Life in Pieces, a show that aired from 2015 to 2018. Here's an official description of the show, according to Hulu's press site: "Dating is hard enough – it's even harder when you also happen to be a psychic. Maggie's gift allows her to see into the future of her friends, parents, clients, and random people on the street.
But when she begins to see glimpses of her own destiny after meeting an unexpected stranger, her romantic life suddenly gets a lot more complicated. Can you let yourself fall in love when you think you know how it ends? She probably should have seen this coming…" Maggie features an interesting ensemble of cast members, some of whom have appeared in hit TV shows in the past. If you want to learn more about the cast members of this comedy show, read ahead. Here are the cast members of the hit Hulu comedy series Maggie.
Rebecca Rittenhouse
Rebecca Rittenhouse stars in Maggie as the titular character. Rittenhouse is an American actress known for her roles in television and film. She made her television debut in 2014 with a role in the Showtime drama series The Affair. She has since gone on to appear in the ABC prime-time soap opera Blood & Oil and the Hulu romantic comedy series The Mindy Project. Rittenhouse made her Off-Broadway debut in Commons of Pensacola. On film, she has appeared in such movies as Once Upon A Time in Hollywood and Good on Paper.
David del Rio
David del Rio also stars in the new comedy TV series Maggie as Ben. Del Rio is an actor best known for his work in Pitch Perfect and The Baker and the Beauty. He made his film debut in Pitch Perfect, appearing as one of the a cappella group's competitors. He went on to appear in nine episodes of The Baker and the Beauty as Mateo Garcia. In addition to his work on television, del Rio has also appeared in the films A California Christmas and its sequel, A California Christmas: City Lights. In both films, he plays Manny. Del Rio's charming performance and easygoing charisma have made him a fan favorite, and he is sure to achieve even greater success in the years to come.
Nichole Sakura
Nichole Sakura plays the role of Louise in Maggie. Sakura is an actress best known for her role as Cheyenne in the NBC sitcom Superstore. She was born in Santa Clara County, California, and began her acting career in theater. She later moved to Los Angeles to pursue her dream of becoming a professional actor. In addition to her work on Superstore, she has also appeared in the films Project X and Teenage Cocktail. Sakura is a multi-talented performer who is also a skilled singer and dancer. She's also had some extensive work in voice-acting, having lent her voice to projects such as Robot Chicken and Big Hero 6: The Series.
Leonardo Nam
Leonardo Nam plays Dave in the Hulu comedy show Maggie. Argentine-Australian actor Nam is known for his roles in a variety of films and television shows. He began his career with a small role in the 2000 film The Perfect Score, before going on to play Morimoto in The Fast and the Furious: Tokyo Drift. He also appeared in The Sisterhood of the Traveling Pants 2 and Westworld. Nam has worked steadily since the beginning of his career and is sure to continue to find success in the years to come. In an interview with Screen Rant, Nam explained how he came to join the cast of Maggie:
"Initially heard about the project through my agent, and I met with the creators of the show, Justin Adler and Maggie Mull, and also in the room – or the Zoom room! – was Natalia Anderson, the executive producer and the director of the pilot. It was great to be connected with people who were interested in what I call a new way of working and this new kind of work experience that we have all gone through. So, it was really wonderful and refreshing to be with people who were interested in hearing how they wanted to kind of build a character who was grounded, yet had levity, that played the foil to Maggie's role and her journey, and were not afraid to really go there with the comedy and really play up certain aspects of who I am."
Angelique Cabral
Angelique Cabral plays Amy in Maggie. Cabral has appeared in a number of television shows and movies over the course of her career. Perhaps her most well-known role is Colleen Brandon-Ortega on the CBS sitcom Life in Pieces. She has also had roles on the Fox comedy series Enlisted and the comedy-drama Undone. In addition to her work on television, Cabral has also appeared in a number of films, including The Perfect Family, Friends with Benefits, and Band Aid. No matter what role she is playing, Cabral always brings her signature charm and charisma to the screen. With her talent for both drama and comedy, she is sure to continue to entertain audiences for many years.
Ray Ford
Ray Ford portrays Angel in Hulu's Maggie. He has previously worked in Don't Trust the B—- in Apartment 23 and Grey's Anatomy.
Chloe Bridges
Chloe Bridges portrays Jessie in Maggie. An American actress, Bridges is known for her roles as Zoey Moreno in the sitcom Freddie, Dana Turner in the Disney Channel original film Camp Rock 2: The Final Jam, and Donna LaDonna in The Carrie Diaries. She has also appeared in episodes of Pretty Little Liars, Daytime Divas, and Insatiable.
Chris Elliott
Last on the list is comedy veteran Chris Elliott, who plays Jack in Maggie. Elliott is a comedian and actor best known for his work on the TV series Get a Life and Schitt's Creek. He was born in New York City in 1960. Chris Elliott began his career as a writer for David Letterman and Saturday Night Live. He made his acting debut in the 1983 film Lianna. He went on to star in films such as Groundhog Day, Cabin Boy, There's Something About Mary, and Scary Movie 4.