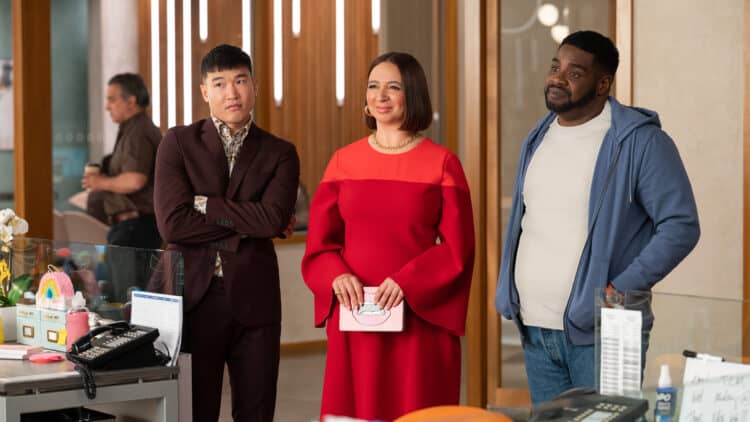 Apple TV+, which is already home to several excellent comedies like Ted Lasso and Acapulco, is set to premiere Loot later this year. A show bedazzled with an A-list cast and an excellent behind-the-scenes crew, here is the show's official plot: "After divorcing her husband of 20 years, Molly Novak must figure out what to do with her $87 billion settlement. She decides to reengage with her charitable foundation and reconnect with the real world — finding herself along the way." The show is created by two sitcom powerhouses: Alan Yang and Matt Hubbard. Yang is best known for his work on Parks and Recreation and Master of None, which he co-created with Aziz Ansari. Hubbard also worked on Parks and Recreation, as well as 30 Rock, Joey, Avatar: The Last Airbender, The Stones, Ed, and Forever, in which Yang also worked. Loot promises an exciting cast of comedy veterans ready to make this show one of the best on Apple TV+. If you want to learn more about the cast members of this show, read ahead. Here are the cast members of the upcoming Apple TV+ comedy series Loot.
Maya Rudolph
Maya Rudolph is set to star in the upcoming Apple TV+ series Loot. The actress is best known for her tenure as a cast member of Saturday Night Live. One of the most celebrated alumni of SNL's more recent years, Rudolph left the sketch comedy show in 2007 to star in blockbuster movies. Rudolph has appeared in movies like MacGruber, Bridesmaids, Zookeeper, Friends with Kids, The Way, Way Back, Grown Ups 2, Strange Magic, We Don't Belong Here, Booksmart, and Wine Country. More recently, she lent her voice to movies including The Mitchells vs. The Machines and Luca. She also performed in the Academy Award-nominated movie Licorice Pizza and is scheduled to appear in the upcoming fantasy romance movie Disenchanted. On TV, she starred in Forever, which was also created by Yang and Hubbard. She also voices a regular character in Bless the Harts. She's guested on popular TV shows like Baking It, Brooklyn Nine-Nine, The Good Place, and the MacGruber TV series. Currently, she voices Connie in the adult animated comedy series Human Resources. In an interview with Interview Magazine where other celebrities got to ask her a question, it was revealed that, outside of performing on screen, Rudolph is passionate about music, responding to a question Paul Reubens asked her about what she is most passionate about. Rudolph answered: "Music. Ever since I was a kid, if I fell in love with a musician, I'd daydream that I was them up on stage singing. If I'm ever watching someone playing live, to this day I have to see their shoes. I get very obsessive about it. It makes them a real person for me somehow. I think I've always been too scared to play music and be that vulnerable in front of people, so much so that I've always put the idea of seriously doing it on the backburner. But the dream is always there."
Michaela Jae Rodriguez
Michaela Jae Rodriguez joins the cast of Loot as Sofia. Rodriguez is most popularly known for her role in the theater production of Rent, portraying the character of Angel Dumott Schunard. For her role, she won the 2011 Clive Barnes Award. She's successfully made the transition from stage to on-screen work, appearing in shows like Nurse Jackie, The Carrie Diaries, and Luke Cage. In 2018, she began performing in the hit LGBTQ-oriented show Pose, playing the character of Blanca Rodriguez-Evangelista for 25 episodes. On the big screen, she played roles in Saturday Church, Adam, and Tick, Tick… Boom!, which documents the story of Rent writer Jonathan Larson.
Joel Kim Booster
Joel Kim Booster will be portraying Nicholas in Loot. Booster is a comedian best known for his Comedy Central Stand-Up Presents stand-up special. He has appeared in movies and shows like Viper Club, The Week Of, Shrill, Sunnyside, and Unsend. He currently co-hosts a podcast titled Urgent Care with Joel Kim Booster + Mitra Jouhari. Joel Kim Booster is openly gay.
Nat Faxon
Nat Faxon stars in Loot as Arthur. An Academy Award-winning writer, he won an Oscar for Best Adapted Screenplay for the movie The Descendants, which he co-wrote with Alexander Payne and Jim Rash. As an actor, he has worked in movies like Tammy, Thoroughbreds, A Happening of Monumental Proportions, Life of the Party, Father of the Year, Ready Or Not, Charlie's Angel, Downhill, and Yes Day. On TV, his most recent appearances include Narcos: Mexico, Solar Opposites, It's Pony, The Conners, and The Great North. He voices a lead character in the adult animated show HouseBroken and has a recurring role in the star-studded HBO series Our Flag Means Death. Nat Faxon is a frequent collaborator of Jim Rash, best known for his role as Dean in Community.
Ron Funches
Ron Funches joins the cast of Loot as Howard. The comedian frequently lends his voice to animated projects, including Inside Job, Trolls: TrollsTopia, Jellystone, and Harley Quinn. He also appears as a panelist for shows like Match Game. Funches also has an extensive film career, having appeared in movies like Killing Hasselhoff, Jexi, Noelle, 6 Underground, Lucky, Sylvie's Love, Trolls World Your, Golden Arm, Dark Web: Cicada 3301, and most recently Cheaper by the Dozen. Currently, he is filming the movie 80 for Brady, a sports comedy movie directed by Kyle Marvin.
Olivier Martinez
Olivier Martinez is set to appear in Loot in a recurring capacity, playing the role of Jean-Pierre. The French actor is a multi-awarded performer, having gained trophies from, among other award-giving bodies, the Cesar Award. Martinez has appeared in TV shows like Texas Rising, Mars, and Revenge. On the big screen, he's worked on Dark Tide, The Physician, Paul, Apostle of Christ, and Mosquito State. In Texas Rising, Martinez played a unique character. In an interview with Desde Hollywood, Martinez talked about the role in detail, saying: "As a Frenchman of Spaniard origins, playing a very important and controversial Mexican figure like Santa Anna, I had to be careful and try to learn what really happened. The American point of view is that Texans were the good guys and Mexicans the bad guys. I went to the history books and I talked to many Mexicans. According to them, Santa Anna was a brave and charismatic warrior. It is very important as a foreigner in general, and as a Latino in particular, to avoid being typecast in an American movie. The key thing is who the director is. Roland Joffé is an English-French filmmaker with his own point of view. I believe that Latinos are well portrayed in Texas Rising. I don't care if I play the hero or the villain, I just want to play an interesting character."