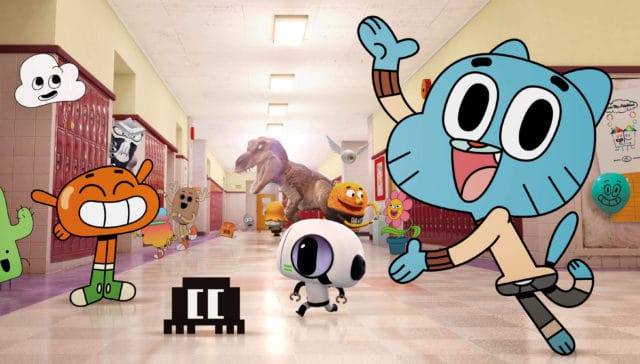 The Amazing World of Gumball is an animated TV sitcom that is created by Ben Bocquelet for the Cartoon Network platform. The show first aired in mid of 2011 and has since then garnered exceptional ratings and accolades. Gumball follows the life of a 12-year-old "Gumball Watterson," who is a British cat, and his adopted and close brother, the goldfish Darwin. Both of them attend the middle school in the fictional city which is known as Elmore. They often find themselves in various shenanigans all over town, during which they interact with a slew of Gumball's extended family. These include his adorable sister Anais, and his parents Nicole and Richard.
One unique aspect of the show is that it lacks stylistic unity. In fact, all the characters are designed, filmed and animated using various techniques and styles. Some of them including live-action, CGI and stop motion among many others.
Almost every character in the show looks like they were pulled from an entirely different source, with various characters being drawn through the traditional cartoon style. Aurally, the show also demonstrates an unrivaled level of excellence. In fact, one of the most notable aspects of the show is the soundtrack, which tends to be cheery, fun and bubbly;
The show occurs in a fictional city otherwise referred to as Elmore, that is inhabited by unusual animals, animate object and various other types of weird characters. Furthermore, the show also follows the story of Richard, who is a lazy stay at home dad, who seems to have good intentions but with a really small sense of IQ. The show also features Nicole, who is the conventional workaholic mom, with a short temper, but with a deep sense of affection for her entire family. Darwin and Gumball are your conventional pre teen boys, who have all sorts of misconceptions about girls, life, and adults. They also have their interesting sister, who they all get together into all types of unbelievable circumstances in Elmore.
Another prominent feature of the TV sitcom since its third season, s the introduction of what is known as the `Void`. This refers to a special world inside Elmore, where all the mistakes of the universe are found, and this includes reference to various aspects of reality and in series elements. For instance, Rob is a fictional character who gets stuck in the `Void` and later manages to escape in the third season.
The show has also received various excellent reviews from critics. For instance, Brian Lowry of `Variety,` categorized the show as `mostly an intelligent spin on the conventional domestic chaos` and `first level stupidity`.
Ken Tucker from Entertainment Weekly, also had positive comments about the show, mentioning: "there are very few shows in mainstream TV media, that are as uniquely imaginative, narrative and visually daring as the world of `Gumball.` Noel Murray from the A.V Club has given the show a grade of `B+'. He goes on to mention that what sets the show apart from the conventional TV shows is that it has a unique and silly world.
Tell us what's wrong with this post? How could we improve it? :)
Let us improve this post!