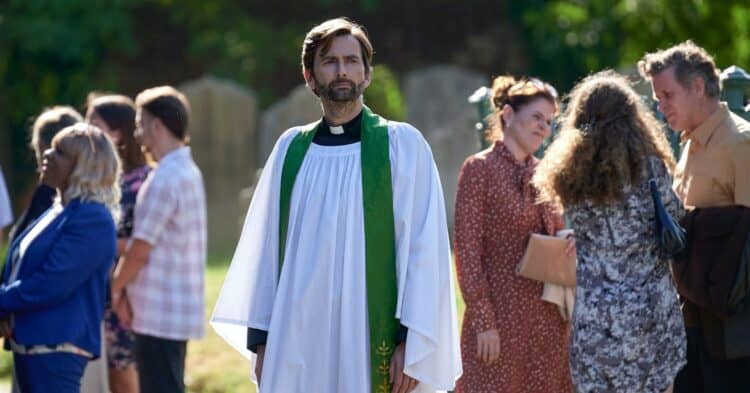 Media giants BBC and Netflix are collaborating on a new TV show that promises an intriguing storyline, excellent showrunners, and most importantly, a cool list of cast members. The show's title is Inside Man, and it's going to be run behind the scenes by Emmy-nominated director Paul McGuigan. McGuigan previously worked on shows like Sherlock and Lucky Number. Not much is known about what Inside Man is specifically about, but here's a brief description from What's On Netflix: "A prisoner on death row in the US and a woman trapped in a cellar under an English vicarage, cross paths in the most unexpected way…" Given that intriguing premise, it's only fitting that an impressive lineup of performers should breathe life into the show's storyline. If you want to learn more about the actors performing on the show, read ahead. Here are the cast members of the upcoming BBC and Netflix TV show Inside Man.
Stanley Tucci
Stanley Tucci has been tapped to star in the upcoming TV series Inside Man. Tucci is an American actor, writer, producer, and director who has been involved in the entertainment industry for over four decades. He is best known for his work in film, television, and theatre, and has won four Emmy Awards for his performances. Tucci began his career in the late 1970s with a series of small roles in film and television. His big break came in the mid-1980s when he was cast as a regular on the popular sitcom The Facts of Life. Since then, he has appeared in numerous films and television shows, including The Hunger Games, The Devil Wears Prada, Julie & Julia, and Beauty and the Beast. In addition to his acting work, Tucci has also directed several films, including Big Night and The Impostors. Stanley Tucci is a versatile and respected actor who has had a long and successful career in Hollywood.
David Tennant
David Tennant will also be starring in the upcoming TV series Inside Man. Tennant is a Scottish actor best known for his role as the Tenth Doctor in the popular BBC series Doctor Who. He has also starred in such films and shows as Harry Potter and the Goblet of Fire and Jessica Jones. Most recently, he has appeared in the Amazon Prime series Good Omens. Tennant was born in Bathgate, West Lothian, Scotland, on April 18, 1971. He began his acting career at the age of 15 with the Scottish Youth Theatre. He went on to study drama at the Royal Conservatoire of Scotland and graduated in 1995. His first professional role was as Hamlet in a production of the Royal Shakespeare Company. In 2005, he was cast as the Tenth Doctor in Doctor Who. He played the role for three seasons and earned widespread acclaim for his performance. In 2010, he won a BAFTA Award for Best Actor for his work on the show. After leaving Doctor Who, Tennant starred in several films and television series, including Broadchurch, Gracepoint, and Camping. He has also lent his voice to various video games and animated series. David Tennant is a highly acclaimed actor who has enjoyed a successful career in film, television, and theatre.
Dolly Wells
Wells is an English actress, screenwriter, and director. She is best known for her work on the Sky Living series Doll & Em, which she co-wrote and starred in. Wells has also appeared in a number of other television series, including Star Stories, Some Girls, Dracula, and The Outlaws. In addition to her work on television, Wells has also appeared in several films, including Bridget Jones's Baby and Pride and Prejudice and Zombies. Outside of her acting career, Wells is also a successful writer and director. She wrote and directed a comedy called Good Posture. In an interview with Film Inquiry, Wells discussed her journey towards working behind the camera. "I don't know if I even knew that I did want to direct. I think I felt too scared. I felt a bit shy about it. Jamie Adams, who makes improvise films in England, had put me in some of his films, and he said, I really think you should. He came to me and two other actors and said I bet you've got stories to tell, I bet you have. I said no the first time. And instead, I did a play with Grace off Broadway and then I just couldn't do it. And then he came to me again and said, I think that Maggie wants you, the producer probably won't ask you again, like if you say no twice. So then I was like okay, okay. I think if I'd been talking very quietly to somebody thinking nobody else was listening, I would say I would love to direct, but I didn't have the confidence to." Ultimately, Dolly Wells is a versatile and accomplished performer who has enjoyed success in both film and television. Wells frequently collaborates with actress Emily Mortimer, her best friend since they were children.
Lydia West
Lydia West has also been confirmed to join the cast of Inside Man. West is an English actress best known for her roles as Bethany Bisme-Lyons in Years and Years and Jill Baxter in It's a Sin. She is set to appear in two films: It's All Coming Back To Me and Coffee Wars. West was born in London, England. She began her acting career appearing in theater productions. So far, It's A Sin continues to be West's most prominent project. She spoke fondly about the show with Glamour, pointing out how the show has impacted victims of HIV and AIDS: "We have given them a voice. We have shone a light on them and it's a huge part of British history that hasn't been explored. I just feel really proud to have been selected, to have been involved in that. I feel so proud when people are sending me messages saying that they've gone home for the first time and spoken to their parents about their positive status. And when people are sending you messages saying that they had many friends that died in the eighties and they remember the time or they wish to live in the pink palace, or they're having dreams about Richie that just fills me with so much pride and joy."