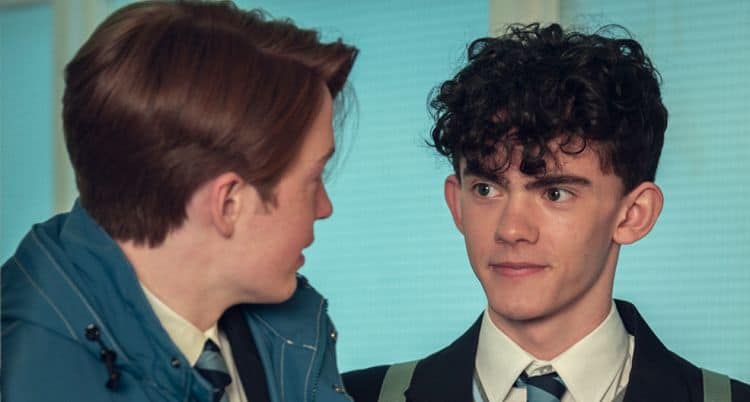 The coming-of-age genre is making a strong comeback, with shows like Baby-Sitters' Club and Sex Education gaining immense popularity on streaming platforms. Netflix has taken note and is set to release a British coming-of-age romance series this month called Heartstopper. Based on the popular webcomic by Alice Oseman, who also developed the series for Netflix, this show promises to be a heartwarming addition to the genre. With a talented cast of up-and-coming actors and a seasoned director in Euros Lyn, Heartstopper is poised to capture the hearts of viewers. Let's dive into the cast members of this highly anticipated British TV series.
Joe Locke as Charlie Spring
Joe Locke stars in Heartstopper as Charlie Spring, an openly gay teenager attending an all-boys grammar school. This appears to be Locke's first major project, and he has been expressing his excitement for the show on his personal Instagram account. Charlie's journey in the series will see him navigating his feelings for school rugby player Nick Nelson, as their friendship blossoms into something more.
Kit Connor as Nick Nelson
Kit Connor portrays Nick Nelson, the kind and easy-going rugby player who forms a close bond with Charlie. Connor, an 18-year-old actor, has an impressive resume, having appeared in films like Get Santa, Mr. Holmes, Ready Player One, and Rocketman. He also lends his voice to Pantalaimon in the TV series His Dark Materials.
William Gao as Tao Xu
William Gao joins the cast as Tao Xu. Hailing from South Croydon, Gao attended Trinity School, where he played the piano and participated in the choir. Not much else is known about Gao, but his role in Heartstopper is sure to put him on the map.
Yasmin Finney as Elle Argent
Yasmin Finney takes on the role of Elle Argent, a character that has deeply impacted her life. Like many of her castmates, Heartstopper appears to be Finney's first major role. She has amassed a following of over 50,000 on Instagram, where she shares her excitement for the show and her character.
Corinna Brown as Tara Jones
Newcomer Corinna Brown plays Tara Jones in Heartstopper. Brown frequently shares updates about the show on her Instagram account, introducing her character to her fans.
Kizzy Edgell as Darcy Olsson
Kizzy Edgell portrays Darcy Olsson in the series. While not much information is available about Edgell, her Instagram account boasts over 35,000 followers.
Sebastian Croft as Ben Hope
Sebastian Croft, who played a young Ned Stark in Game of Thrones, joins the cast as Ben Hope. At just 20 years old, Croft has already earned a BAFTA Children's Award nomination for his role in Horrible Histories: The Movie – Rotten Romans. He has also lent his voice to projects like Where is Anne Frank and Love, Death & Robots and is set to appear in two upcoming movies, Wonderwell and Dampyr.
Cormac Hyde-Corrin as Harry Green
Cormac Hyde-Corrin plays Harry Green in Heartstopper. Born in East London, Hyde-Corrin is also a football player for his school.
Rhea Norwood as Imogen Heaney
Rhea Norwood takes on the role of Imogen Heaney in the series. Like most of her castmates, Norwood appears to be a newcomer to the acting scene.
Tobie Donovan as Isaac Henderson
Tobie Donovan portrays Isaac Henderson in Heartstopper. He recently shared his excitement for the show on his Twitter account, exclaiming, "Happy Heartstopper month people!!!"
Jenny Walser as Tori Spring
Jenny Walser plays Tori Spring in Heartstopper. Walser previously appeared in the 2012 movie Call the Midwife.
Fisayo Akinade as Mr. Ajayi
Fisayo Akinade takes on the role of Mr. Ajayi in Heartstopper. Akinade has an extensive acting background, having appeared in projects like Romeo & Juliet, Blood & Truth, Silent Witness, A Very English Scandal, The Girl With All The Gifts, and A Midsummer Night's Dream. He is also set to appear in an upcoming American period drama titled Dangerous Liaisons.
Chetna Pandya as Coach Singh
Chetna Pandya portrays Coach Singh in Heartstopper. Pandya has worked on shows like Feel Good, This Way Up, and Cuckoo and appeared in theater productions of Much Ado About Nothing and Kith and Kin.
Alan Turkington as Mr. Lange
Rounding out the cast is Alan Turkington as Mr. Lange. Turkington is an accomplished Irish actor and voiceover artist, having worked on commercials, theater productions, and TV shows like 'Doctors', 'X Company', and 'Mary Queen of Scots'.
With such a talented and diverse cast, Heartstopper is set to be a captivating coming-of-age series that will undoubtedly resonate with viewers. Keep an eye out for this heartwarming show on Netflix this month.
Tell us what's wrong with this post? How could we improve it? :)
Let us improve this post!