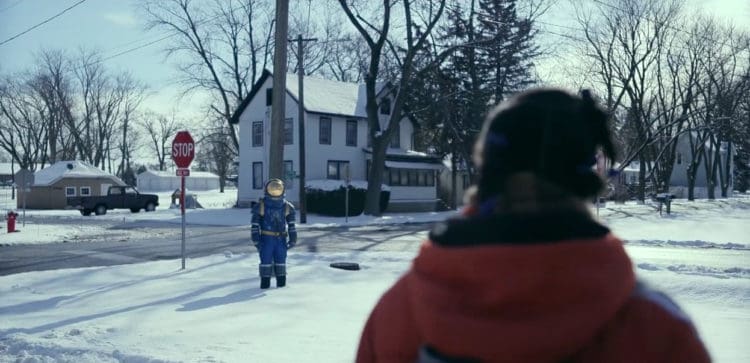 2021 has been a great year for TV, and Station Eleven just made the cut. Released in December, the HBO Max miniseries quickly became popular among viewers. The series is based on a book of the same name which tells the story of a group of people who are living in a post-apocalyptic world after surviving a deadly flu pandemic. They end up coming in contact with a cult that threatens to erase all of the progress they've made. Even though the overall premise of the show is somewhat sad, Station Eleven isn't the kind of show that will put you in a bad mood. Instead, it finds the perfect balance, and the show's very talented cast has a lot to do with that. Keep reading to learn more about the cast of Station Eleven.
Mackenzie Davis
Born and raised in Canada, Mackenzie Davis if a formally trained actress who has been working in the entertainment industry for the last decade. For the first few years of her career, she was primarily focused on movie roles but eventually started taking on more TV opportunities. She is known for being able to play a variety of roles and throughout her career, she has gotten to work with some of the biggest names in the industry. Outside of her career, Mackenzie is a very private person so there isn't much information about her personal life
Himesh Patel
Himesh Patel comes from a very interesting background. Although he is of Indian descent, he was born in England while both of his parents were born in Africa. He fell in love with performing at an early age, and what started as a hobby quickly became something more serious. When he was around 11 years old, he landed a part in a school play which resulted in him getting involved with a local theater company. He started his professional acting career in the TV series Eastenders in 2007 when he was only 17 years old. Not only did the show give him his first opportunity, but it was also his big break. He remained on Eastenders until 2013. In addition to his on-screen work, Himesh also has theater experience. Like his castmate Mackenzie, Himesh is also a very private person.
Matilda Lawler
Matilda Lawler is only 13 years old, but she's already showing the world that she is a force to be reckoned with. The talented young actress only has a handful of acting credits to her name, but it's clear that she has what it takes to have a long and successful career in the industry. Matilda doesn't have any upcoming projects in the works at the moment, but we know we're going to be seeing a lot more of her.
David Wilmot
Originally from Ireland, David has spent a good portion of his career in the theater world. However, he also has a good amount of on-screen experience under his belt. Unfortunately, David doesn't appear to have any social media profiles or do many interviews so it's difficult to learn more about him.
Nabhaan Rizwan
Nabhaan Rizwan doesn't have much on-screen experience, but he still carries himself with the poise of someone who has been in front of the camera for decades. He comes from a family with a background in the entertainment industry, so it's not too surprising that he decided to become an actor. Surprisingly, however, Nabhaan originally wanted to be an athlete before getting more interested in performing. In addition to his work as an actor, Nabhaan is also a rapper who performs under the stage name El Huxley. His debut EP, Fantastic Planet, was released in 2020.
Daniel Zovatto
Born and raised in Costa Rica, Daniel got a taste of the entertainment industry at an early age thanks to his mother who is a TV personality. He initially got involved in acting when he moved to New York City, although he eventually decided to relocate to Los Angeles. Daniel got his start in 2011 in a short film called 55 Days, and within the next few years, he started getting opportunities in feature films. He made his TV debut in 2014, and he has been a presence on the small screen ever since. When David isn't busy working, he loves spending time outdoors.
Philippine Velge
Philippine Velge has only been acting professionally since 2019, but she has been working hard to leave her mark on the industry. The formally trained actress studied at the Royal Academy of Dramatic Art (RADA) and her education has certainly paid off. In her free time, Philippine is an adventurous person who enjoys trying new things.
Lori Petty
Lori Petty is the only main cast member in Station Eleven who is from the United States. She was born and raised in Tennessee and her acting journey is definitely an interesting one. Before breaking into the entertainment industry, she spent several years working as a graphic designer. Since making her on-screen debut in 1985, she has built a very impressive resume. Some of her best-known credits include A League of Their Own and Orange is the New Black.
Tell us what's wrong with this post? How could we improve it? :)
Let us improve this post!