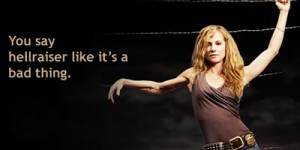 "It's not a show about Jesus Christ."
And thus begins an interview with Oscar winner Holly Hunter about the upcoming third season of Saving Grace, premiering Tuesday, June 16, 10/9 Central on TNT.
Instead, she chooses to view the show as a celebration of life, love, strong women, and a larger view of religion, not defined by any one denomination.
Inevitably, any interview concerning Saving Grace must begin by asking how the character continues to challenge her. Hunter's obvious love for Grace, and all of her triumphs and failures, is clear when she responds:
Well, there are so many. You know I think that the captivating thing for me that really made me want to do this series is I feel that Grace is capable of everything, you know? And I think that she — that you know in that if you're capable of everything then you understand something about what it means to be alive.

Because people are capable of greatness, and people are capable of murder, and everything in between. You know, they cause death, and they cause greatness, and they cause — Grace knows that there is something sacred within her, and she also knows that there is a killer inside her. Even though she has never killed, and she knows that there is something sacred in her, even though she is not a religious person. And I think that alone is an incredible world for me personally to — for me as Holly to explore.
When asked if she feels like in her third season playing the role, she is comfortable saying she knows who Grace is 'through and through', Hunter responds:
No, I'm seriously — I find Grace to be a woman that embraces a lot of mystery, and that there are many, many things that I don't know about her, that I still want to talk about. That I want to talk about within the writing, you know, under the – in the structure of this show. There's a lot of stuff I want to discuss. A lot of questions that I want to ask, and that I want Grace to ask.
When asked about the bold way Saving Grace embraces sexuality, Hunter replies:
Well, you know, I think that one of the wonderful things of Grace is her celebration of life, of being alive. Grace says, I'm not dead, I am alive. I will revel. I will celebrate. We're going to go to a bar and have a drink. I'm going to wear 15 pairs of earrings in my hair. I'm going. I'm going to go there.

I'm going to eat an orange; I'm going to enjoy the orange. I'm going to smoke a cigarette; I'll smoke it down to the stub. It's an appetite for life. I'm going to have sex, while I have sex with a lot of people. There is an appetite that the character possesses, which completely fascinates me and that there is a sexual exploration of a 45-year-old woman. That's fantastic because that's real. I mean women who are 45 have sexual lives, and I got to say I think Americans are completely compelled by sexuality.

Whether it's — I mean whether they have repressed it or not is beside the point. People have fantasies, they have fears, but there are somewhat preoccupied with the question of sex. Whether they are having it or not people are thinking about it from the covers of Cosmo, how to get a man, how to keep a man, how to reel a man in you know to the porn industry that's flourishing over the Internet. People think about it and Grace you know lives it. She is of slightly fantastical character in many aspects and that's one.
Concerning Grace's relationship with Earl, Holly Hunter describes it as becoming more of a partnership. She also wanted to expand on her thoughts on all of the primary relationships in Grace's life, saying:
The relationships in the show are really, they are very rich for me, personally. I mean, the adventure the two characters of Grace and Ham, the adventure they are on is really fascinating to me, and very complicated. And the decade-long history that I have with Rhetta, you know, as two best friends, who have maintained this incredibly intimate relationship over a course of decades. That's all so fascinating to me.

And the conflicts; the knowing, and the not knowing that we have of one another. But this relationship between me and Earl is pivotal. You know it's really the fulcrum by which the rest of the show operates, and, I think you know that this season, I'm ready to ask him questions. I'm ready to challenge him you know about belief and he's ready — and he challenges me as well. But I think that you know that there are larger questions that can be asked, and that the show can ask, and they can ask these questions through Grace, and Grace can be challenged by questions through Earl.
When Hunter is reminded of the season two episode where Grace's dog goes missing, and if she feels that Grace can ever love a person as much as she loves her dog, Hunter replies:
Oh yes, oh yes! You know, we've just never been faced with Grace losing, losing anyone. You know she — but Grace I think, one of the wonderful things about her is that she feels things tremendously. She has incredible ability. She has incredible access to her feelings. Her feelings are alive in her. They're not something that has been subdued, or that is deadened. She is an extraordinarily alive human.
Any regular visitor to TV Overmind knows that we love our cable programming, both for the risks they can take, and the unique, fascinating characters that are consistently delivered by the cable networks, such as TNT. When asked about the richness of women's roles on cable television, and the huge draw they are becoming for such high caliber actors as Hunter, she responds:
Well, I mean you know television asks…I'm a simpleton when it comes to, you know, what's happened to television, but you know my simple take on it is, you know, the advent of cable and that networks, you know, they need to garner up an audience of multi-millions, you know, of 18 million or 20 million or 15 million or whatever that number is, and cable, you know, has a smaller appetite. Cable can be OK with 2 million.

So, you know, in a way, cable operates on something generally like that. It's — they're happy if they get — you can be considered a success if you are getting an audience of 2 million as opposed to 20. And therefore the stories can be much smaller, and much more personal as was the story of Tony Soprano that was so brilliantly played by James Gandolfini,, and you know, and that story captivated a specific audience and was considered a phenomenal — and was a phenomenal success.

Then you know you have The Shield and Vic Mackey being this incredible anti-heroic man, who completely captivates the landscape, you know, for a specific audience. And then you follow that with Rescue Me, you have all of these men, and then you start having women you know who are playing very anti-heroic complicated women you know, and you have The United States of Tara; you have Mary Louise Parker selling dope and you got you know Saving Grace and you know and you got Glenn Close playing, you know, a very you know a dark complex woman, and you just take it from there and then you have this whole world that it seems to be flourishing outside the limits of network.
Honestly, I could not agree more, and I look forward to the third season of this ground-breaking series. It never fails to deliver on its promise to push the viewer to think beyond the ordinary and to the extraordinary. Season Three of Saving Grace premieres on TNT on June 16 at 10/9 C.
Tell us what's wrong with this post? How could we improve it? :)
Let us improve this post!