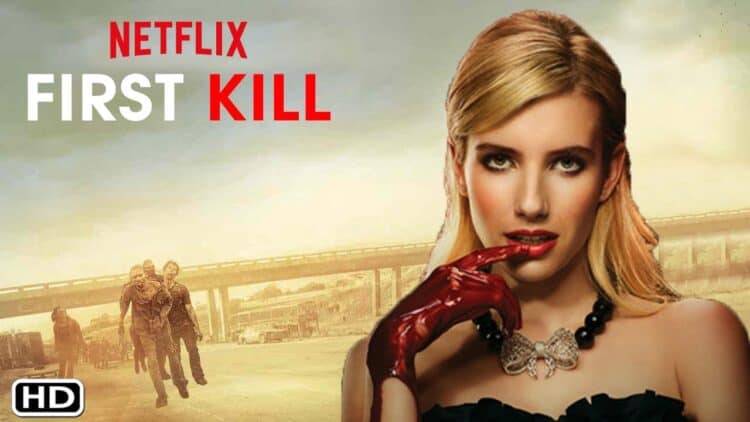 Netflix is set to drop its latest teenage drama this year, titled First Kill. Produced by Belletrist and filmed in Savannah, Georgia, the show will be executive-produced by actress Emma Roberts, who is best known for her roles in Nerve and Scream Queens. Here's a description of the plot of the show, as per IMDb: "In First Kill, when it's time for teenage vampire Juliette to make her first kill so she can take her place among a powerful vampire family, she sets her sights on a new girl in town named Calliope. But much to Juliette's surprise, Calliope is a vampire hunter, from a family of celebrated slayers. Both find that the other won't be so easy to kill and, unfortunately, way too easy to fall for." First Kill features an interesting list of cast members, many of whom are new to the scene. If you want to learn more about the performers appearing in the series, read ahead. Here are the cast members of the upcoming Netflix teenage drama series First Kill.
Sarah Catherine Hook
Sarah Catherine Hook is starring in the upcoming teenage vampire series First Kill. According to her IMDb, she's appeared in projects like The Conjuring 3, Law & Order: SVU, and Living in Harmony Sodastream. Hook has a decent following on Instagram, raking in around 30,000 followers as of writing. She announced her casting on First Kill on Instagram, writing: "not many words…just a whole lotta gratitude !!!! thank you to every single human who got me here."
Elizabeth Mitchell
Elizabeth Mitchell has also been listed as a cast member of the upcoming vampire TV series First Kill. Most notably known for her lead role in the hit series Lost as Juliet Burke, Mitchell has worked on shows like V, Revolution, Crossing Lines, and Once Upon a Time, portraying Snow Queen. Aside from First Kill, Mitchell is also working on FBI: International, playing a recurring character named Angela Cassidy, and The Clauses, an upcoming series where she plays the lead character, Carol Calvin. Mitchell also often snags film roles, including Queen bees, What We Found, and The Purge: Election Year. In an interview with Pop Culture Principle, Mitchell discussed her upcoming role in First Kill, saying: "So, First Kill was super fun. I play a 500-year-old vampire named Margo and she has this amazing husband named Sebastian, played by Will Swenson, who is a Broadway actor. So, there are the vampires and the hunters and it's a bit like Romeo and Juliet, but it's more Juliet and Juliet. It's the two families that are pitted against each other. Aubin Wise is kind of my counterpart. She is in Hamilton right now on Broadway and she brought it and Will brought it. Even just being around these amazing actors was an absolute pleasure. It was so much fun!"
Gracie Dzienny
Gracie Dzienny is also appearing in the upcoming Netflix show First Kill. Dzienny is most popularly known for her role as Amanda McKay in Supah Ninjas, a show from Nickelodeon. She also played Greer Danville in Chasing Life and Clementine Lewis in Zoo. Dzienny has an impressive resume, having appeared in projects like Jupiter's Legacy, Ramy, State of Affairs, and the movie Bumblebee, playing the role of Tina. In an interview with Composure Magazine, Dzienny talked about her foray into acting, saying: "I started working with an agent and they would send me tape auditions. So before school, my mom would film me at our door and I would send them off before I got on the school bus. I actually sent in my tape for "Supah Ninjas" that way. They flew me out to LA and I did three more rounds of auditions, but I didn't even realize they were auditions because I was so new! I just thought they were hangout sessions, so I would just show up and chat a lot. I didn't even know I was up for the part, but I booked that and I've been acting ever since."
Jason R. Moore
Actor Jason R. Moore will also be appearing in the much-anticipated series First Kill. The Jamaican-born actor has worked on projects like Guiding Light, As the World Turns, Law & Order: Special Victims Unit, One Life to Live, Kings, The Unusuals, The Punisher, and The Quad. In an interview with Jamaicans.com, Moore talked about how his passion for acting evolved: "I never did theater as a kid. While I had an interest, I never acted on it. I was an athlete first and I knew I couldn't do that forever because athletes get injured, etc. As a Jamaican, running (track and field) came naturally, but I knew I had to get out before the injuries came. So, when I got to college and I had to figure out the rest of my life, I sat back in my dorm, thinking about it and I asked myself what my interests were. I decided to be an actor. I had no training, no experience, but I decided that I was gonna approach it as if I were becoming a brain surgeon. I decided not to quit until I had done it."
Will Swenson
Will Swenson will also be joining the cast of First Kill. He has appeared in movies like The Greatest Showman, This Is Where I Leave You, Gods Behaving Badly, The Switch, and The Singles 2nd Ward. On TV, he's worked in The Bite, Chilling Adventures of Sabrina, No Tomorrow, Law & Order: Special Victims Unit, and The Good Wife. In an interview with Backstage, he talked about techniques he uses to prepare for auditions: "It varies from audition to audition. Sometimes it's material from the show, sometimes they'll ask you to do your own stuff or a monologue, or sometimes you're learning a scene. If you know the song, it doesn't take as much coaching. If I'm learning a brand-new song, I'll call up one of my friends who plays the piano and try to coach it and learn it. It's different for everything. This might just explain how he snagged his role in the upcoming series First Call.
Other cast members
Other performers expected to appear in the upcoming series First Kill include Jonas Dylan Allen, Imani Lewis, Phillip Mullings Jr., Aubin Wise, Dylan McNamara, and many others.
Tell us what's wrong with this post? How could we improve it? :)
Let us improve this post!