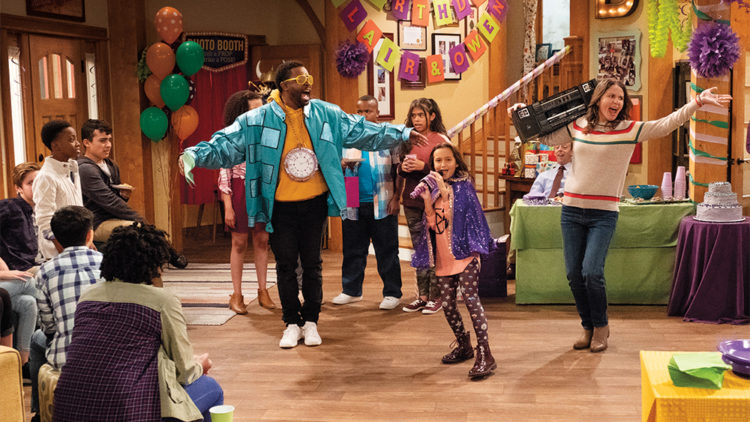 Disney sure knows how to put a television show together. Over the years, Disney has made us laugh like no other, and they're doing it again with a new series called Just Roll with It. The comedy show premiered on Jun 14, 2019, and it features the Bennett-Blatt clan. Just Roll with It is unique because a large part of the show is based on audience participation. It's a good mix of script and improvisation, and the characters that are on the show have to be ready to just go with the flow. Here's the talented cast of Just Roll with It for you to meet.
1. Ramon Reed
Reed plays Owen Blatt, a kid who was smart enough to skip a grade in school–the model student type. Ramon Reed. The 13-year old Charlotte native has been acting since he was about 5 years old. He has done a variety of local productions, and he also grew up singing in his local church. Reed is probably most famous for playing the role of Young Simba in The Lion King. He was part of a touring company before he was asked to join Broadway. Reed is serious about performing and is pursuing it full time. The young actor has been homeschooling and is doing his classes online. It's a ton of work for a child, but it's also extra difficult given that Reed is diagnosed with sickle cell anemia. Reed has it all under control, and he's got a good support system to back him up. He wants to do more film and television in the future, and he's getting a start on that dream now through the Disney channel.
2. Tobie Windham
Windham is Owen's father on the show–Byron Blatt. He's a radio personality on Just Roll with It and is married to Rachel Bennett. Tobie Windham is a Disney veteran. He's known for his role as Uncle Will in the Disney XD show Walk the Prank. He's also known for his stage performance, having acted in plays such as Hamlet, American Buffalo, Seven Guitars, and The Brothers Size. Windham received his Bachelor of Arts in Theater from the University of Alabama. After his baccalaureate, he went on to attend the American Conservatory Theater and finished with a Master of Fine Arts in acting. Acting has basically been Windham's life. He discovered his passion when he was only 12 years old. He attended a production at the Alabama Shakespeare Festival, and he was hooked since.
3. Kaylin Hayman
Hayman plays Blair Bennett on the show. She is Rachel's daughter, and she's stepfamily to the Blatts. Kaylin Hayman may only be 10 years old, but she's already acted in a couple of TV show episodes prior to landing her role in Just Roll with It. In fact, Hayman has been acting since the age of 5. Even so, Hayman has said that she's never done improv before, so the experience with her new show is exciting and challenging at the same time. She actually did some classes with her show parents to work on her skills a bit. Also this will be the first time that Hayman is working with Disney. Disney is always on the lookout for the next big talent, and there's a lot of talent and acting experience between Hayman and Reed on the show. While the character Blaire is quite the rebel on the show, Hayman claims that she's not as rebellious. She's calls herself the good kid with a bit of an adventurous side. She's claiming she's about half Blair in real life.
4. Suzi Barrett
Barrett plays Rachel Bennet-Blatt on the show–wife to Byron, mom to Blair, and stepmom to Owen. She's a decorated military veteran and current radio station manager where Byron also works. Actress Suzi Barrett is a veteran in the improv comedy genre. She was a member of Boom Chicago, an internationally renowned sketch company in Amsterdam. Apart from being a talented comedian, Barrett is also known for her writing. Some of her past projects has included Drunk History, Mascots, and Kirby Buckets. She's been acting here and there since 2009, and some of her TV appearances include How I Met Your Mother and some commercials for Progressive and Esurance. Barrett claims that she absolutely loves doing commercials. The auditions are faster and the turnaround is quicker as well. According to the comedian, it's a faster way to make money compared to waiting tables. We're pretty sure that she hasn't had to wait tables in a while. Barrett is a regular on TV with her commercials. And now that she's landed a gig with Disney, there's no other way but up for this actress.
5. Lela Brown
Brown is the only other cast member for this show, and she's DJ Lela B for Just Roll With It. Her role on the show is to basically work with the studio audience. Lela Brown might be familiar because she's been featured on America's Got Talent before. 16-year old Brown is also credited as a rapper. She's been thought to be the next big thing to happen in the industry. Brown graduated from Scratch DJ Academy in Los Angeles. Apart from thriving in the music industry, Brown has also modeled in the past. Top Child Magazine has voted her as the Top Child Model of the Year in 2014. She's also done a profitable Nike ad spot alongside NBA star Blake Griffin.
Tell us what's wrong with this post? How could we improve it? :)
Let us improve this post!