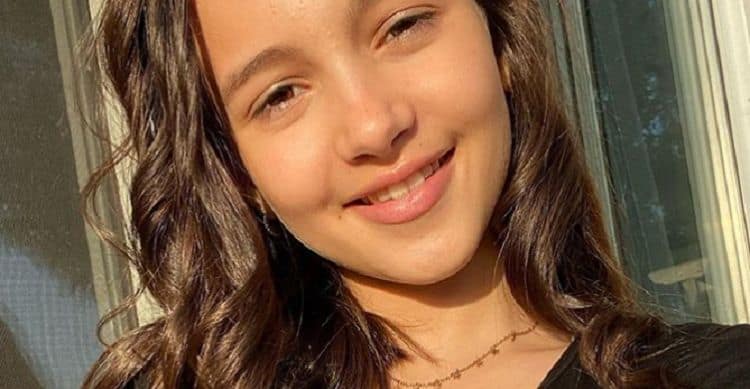 Disney is always a great go-to for fun and family-friendly shows. Everyone has their favorite. Lately, we've been enjoying Just Roll With It, which lets the audience have a say in what happens as the show airs. Filming multiple scenes with different can't be easy for the cast because it makes for some long days. However, stars like Kaylin Hayman make it work. We had to know more about the dedicated young actress, so we did some research and dug up ten things you didn't know about Kaylin Hayman.
1. Young Rising Star
When it comes to knowing what you want, very few people can honestly say they had it all figured out before they even hit double digits, but this actress always enjoyed performing. Kaylin isn't just a child actress. She started extremely young. At the age of five, Kaylin began performing, and she's been enjoying her early career ever since. Fortunately, she's also very talented, and Kaylin has had a lot of success for a person her age.
2. Equestrian
When it comes to her spare time, Kaylin spends a lot of hers outdoors. She adores horses and horse riding. We can hardly blame her. After all, spending time with the wind in your hair is lovely. Whether you like riding trails, rough rodeo riding, and roping, or the more structured events like show jumping, equestrian fans all enjoy their riding time. Hopefully, there's a good stable near the studio, though it's hard to imagine that there wouldn't be considering it's Disney. They have a long history of horses in their parades, films, and tv series.
3. Happy Holidays
Kaylin certainly knows how to work hard and how to have a lot of fun. Plus, she's an outstanding actress, but it may surprise you to learn that this sporty gal is also good at decorating for Christmas. Lots of kids love to be a part of the holiday. Most will tell you that the presents are the best part. Decorating isn't usually something young people spend much energy on, preferring to leave it to the adults. Hayman prefers to chip in and do her part to bring the magic to the holiday season.
4. Camping Enthusiast
Horseback riding isn't the only outdoor activity that Kaylin is a big fan of. She likes to go camping. Every kid should have fond memories of pitching tents and making s'mores if you ask us. Getting away from the city and marvels of technology to spend some serious time in nature is healthy and a whole lot of fun if you do it right. We can only imagine that living in California and spending time between school and work is pretty hectic. No doubt it's a relief to spend tie where she can watch the stars and listen to crickets.
5. All American Pastime
One of Haymans' favorite activities, when she's relaxing, is to catch a game. No, not football. Kaylin likes to watch baseball on TV. Clearly, this is one kid who enjoys her sports.
6. Roller Coaster Lover
Perhaps one of the best things about working for Disney is that you have an excuse to visit the parks regularly. We don't know if the cast of Disney TV shows get discounted or free admission when they're not filming, but being in the park seems like it's a likely job perk. It's no surprise that in addition to all her other physical pursuits, and her love of the outdoors, Kaylin loves riding on roller coasters. The adrenaline rush of a great 'coaster appeals to most of us, but we aren't all lucky enough to work for a company that owns theme parks across the globe.
7. Her First Big Jobs
In 2017, Kaylin Hayman was in two major productions. She joined the cast of One Day at a Time and The Mick. She played the part of Emma in the "Sex Talk" episode of One Day at a Time and the unnamed Kid #1 in The Mick. It may not have been the biggest start, but those two smaller roles were enough to get the young actress noticed and give her a work history, which can often mean the difference between landing a job or not.
8. Acting Runs in the Family
Though Kaylin is a star on Just Roll With it, she's not the only actress in the family. Her mother Shalene joined Kaylin on set for the show's Christmas episode Merry Christmas Mr. Gooch. It must have been nice to bring her parent to work with her and get the chance to spend some extra time on set together.
9. Let's Skate
We loved going roller skating as kids. It's one of those timeless childish delights that most of us lose interest in, or forget to make time for as we grow up, which is sad. Luckily Kaylin hasn't completely grown up yet. The enthusiastic young actress loves to go roller skating. How she finds the time to do so much is beyond us, but we think it's fantastic that she makes room in her life for the important things, like being young and having fun.
10. Getting Slimed is The Best
One of the exciting things about being a star, young or otherwise, is giving interviews. You never know what a reporter will ask you. When Kaylin and her co-star Raymon Reed who plays Owen Blatt, were interviewed by Newsday they got the chance to answer some fun questions about things like whether they've ever worked with their idols and what their favorite parts of being on set are. For Kaylin, it was the slime. She said that she enjoys it because she thinks the audience gets a real kick out of that sort of thing.
Final Thoughts
We've loved watching Kaylin's career. From the very first episode, Career Day Catastrophy, all the way through "Merry Christmas Mr. Gooch," we've laughed along with the audience at her antics. If Kaylin's work so far is any indication, we know we'll be seeing a whole lot more of this talented young lady. The fantastic show got renewed for a second season in September, and we can't wait to see what next season holds for Just Roll With It and Kaylin. Do you know any other fun facts about Kaylin or the other cast members? Share them with us in the comments below.