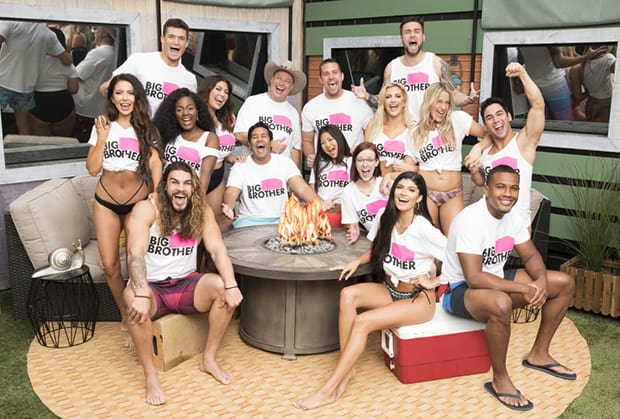 Big Brother is back… the reality TV show that spawned a million more is back on our screens with its 21st season. This year's new recruits are just as mad, bad and dangerous to know as ever. Among their number is a 22-year-old whose main activity is spending other people's money, a server who cites not being able to shop for watermelons as his number one fear, and a 28-year Broadway dancer who still sleeps with his baby blanket. It's going to be another fun year, folks….Thanks to TV Guide for much of this info:
Analyse Talavera
The first recruit to Big Brother Season 21 is Analyse Talavera, a 22-year-old native of Simi Valley, California. The college soccer star lists her favorite activities as tanning, lazing at the beach, shopping (she even briefly considered going to fashion school before deciding she'd have more fun playing soccer), and relaxing with friends. Personal peccadillos include eating cheeseburgers plain with ketchup, collecting pennies for luck, and pulling pranks. She also admits to liking to scare people. How this will go down with the rest of the housemates, we'll have to wait and see.
Christie Murphy
28-year-old Christie Murphy hails from Keyport, N.J. The self-described "openly feminine lesbian" plans to use her femininity and charm to secure her place in the finale. She admits to being super competitive, a killer at puzzles and blessed with a photographic memory — no prizes for guessing who's going to top the leaderboard in the year's challenges then.
Cliff Hogg III
53-year-old Cliff Hog the third (yes, really) is this year's oldest competitor. The petroleum engineer from Houston hopes to win the top spot by convincing people of his loyalty before secretly stabbing them in the back. Ready for some fun facts about Hogg? He once swam with alligators, has learned to recite the alphabet backward, and has been able to drive a car since he was 7. All useful talents to have in the Big Brother house, no doubt.
David Alexander
Atlanta born photographer David Alexander is most looking forward to the adventure of meeting new people and facing new challenges in the Big Brother house. His unique traits include being able to cry on command, being one of the few people to have never driven an automatic (he likes to keep it old-school) and being in the 8-10% of people to have a set of complete, perfect teeth, without ever having had to wear a brace.
Holly Allen
31-year-old Holly Allen from Lander, Wyoming is a professional wine safari guide. The biggest challenge she foresees in the Big Brother house (apart from having to explain her job title) is living without a phone. Apparently, she spent her younger days teaching people to fly fish, riding the Oregon trail every summer in a covered wagon and a bonnet, and learning how to ride a horse standing up.
Isabella Wang
Public health analyst Isabella Wang lists one of her favorite activities as spending other people's money, and her favorite Big Brother moment as when Isabella Wang won season 21. Before we move swiftly on, just a couple more facts about the charming LA native- she's climbed Mt. Kilimanjaro, plays a ton of instruments, thinks people who smoke weed are lazy, fat and boring, and got abandoned in China for 2 months by her dad for being a brat. Who and why someone bought her back, we're not quite sure.
Jack Matthew
Curly haired Jack Mathews from Tampa, Florida is a fitness instructor who, if forced to pick three adjectives to describe himself, would choose 'Honest, integrity and character.' How does he plan on winning the game? "(By being) honest, (having) integrity and a good character". That's good, then. He also has huge hands that he can walk on. If or how this will help him in the Big Brother house, only time will tell.
Jackson Michie
LA born Jackson Michie anticipates the biggest challenge of being in the Big Brother house his inability to buy watermelons. He failed to comment on how many he usually buys, but if that's the main problem he can think of, it's got to be a lot. What he does with all these watermelons, he again refused to elaborate on. He has, however, mentioned he can shotgun a beer in under 2.5 seconds and used to write papers and speeches for money.
Jessica Milagros
Illinois model Jessica Milagros refuses to be drawn on her exact age but will at least reveal it's somewhere in the 30s. After college, she spent a year traveling the country with the Hershey Kissmobile. These days, she likes to try her hand at DIY, run, hang out with her six best friends, and freak her husband out by not wearing deodorant. That should go down a treat with the housemates…
Kathryn Dunn
29-year-old Kathryn Dunn is a digital marketing executive from Dallas, Texas. In an interview with MSN (https://www.msn.com/en-us/tv/gallery/meet-the-cast-of-big-brother-season-21/ss-AAD0Cmx#image=12), she revealed she thinks she'll go far in the competition because she's nice but low key savage, smart and calculating, and references memes a lot. That's a good thing, in case you were wondering.
Kemi Faknule
Marketing strategist Kemi Faknule was born in Elkridge, Md. but now call Brooklyn, N.Y. home. She has a miniature Dalmatian called Billion, keeps a blog of her dating activities, and tends to see the best in people.
Nick Maccarone
27-year-old therapist Nick Maccarone cites missing his mom and having to poop in a house full of pretty girls as his two biggest fears of entering the house. At school, Maccarone was voted the most talkative in his high school of 700 students- let's see how he fares in the league table of notoriously chatty housemates.
Nicole Anthony
24-year-old Nicole Anthony recalls no-nonsense Paul Abrahamian as being her favorite of all former Big Brother housemates. Nicole is a grammar Nazi who loves solving puzzles and playing Nancy Drew video games. She's a style chameleon and is known for changing her hair color almost as often as she changes her underwear.
Ovi Kabir
22-year-old Ovi Kabir thinks the most difficult part of being locked away in the Big Brother house will be being away from his beloved dog. Interesting facts about the new housemate include calling the cops on his own party at college to get everyone to leave, owning 10 pairs of crocs, and being a talented freestyle rapper.
Sam Smith
Truck driver Sam Smith's life motto is "If you're not living on the edge, you're taking up too much space." When he's not living life to extremes, Sam works as an occasional model (even earning the title of model of the week with Weekender magazine) and has featured in a recruiting commercial.
Tommy Bracco
28-year-old Tommy Bracco is a Broadway dancer who is least looking forward to not being able to spend the summer with his family on Jersey Shore. When he's not performing on Broadway, you can find Bracco indulging his passion for making short films, playing the Catan, or snuggling up in bed with his baby blanket.
Tell us what's wrong with this post? How could we improve it? :)
Let us improve this post!