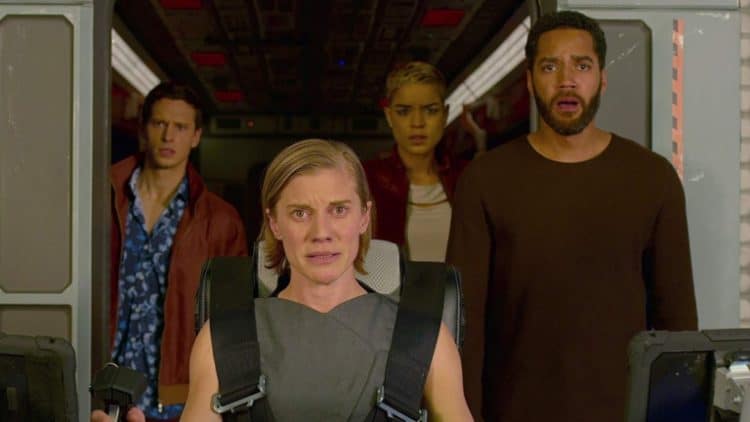 When you fall in love with a TV show there's no better feeling than having that show get renewed for another season. Needless to say, fans of the Netflix series Another Life when the second season of the show was released on the platform. While almost all of the original cast returned to continue telling the story, there were also some newcomers who have brought something special to the show. As with all successful shows, the cast is a huge part of the reason why Another Life has become so popular. If you're interested in learning more about the people who have brought the show to life, keep reading to meet the cast of season 2 of Another Life.
Katee Sackhoff as Niko Breckinridge
With nearly 25 years of on-screen experience under her belt, Katee Sackhoff is no stranger to putting on a good show. Prior to Another Life, she was in a wide variety of TV shows including 24, The Flash, and Battlestar Galactica. While live-action roles have made up the bulk of her career, she has also done a lot of voice acting. Katee's interest in entertainment doesn't stop at acting, though. On top of being one of the stars of Another Life, she has also produced several episodes.
Samuel Anderson as William
Samuel Anderson was born and raised in the United Kingdom and he got his start in British productions. In fact, he is still relatively new to the American entertainment industry. Although acting is his primary focus, Samuel is also a talented musician who plays the trumpet.
Justin Chatwin as Erik Wallace
With a handsome face and plenty of talent to go along with it, it's no surprise that Justin Chatwin has managed to work consistently for the last 20 years. Throughout his career, he has shown his versatility and by playing a variety of roles and acting across multiple genres. Outside of Another Life, he is best known for his appearances in shows like Shameless and American Gothic.
Blu Hunt as August Catawnee
Blu Hunt is newer to the entertainment industry than some of her castmates, but she has shown that she is more than capable of holding her own. Before Another Life, her biggest role was in The Vampire Diaries. That said, she's in the process of building up her resume. On top of her work in Another Life, Blue has two upcoming TV shows in the works. However, neither has a release date.
Alex Ozerov as Oliver Sokolov
Early in his career, Alex Ozerov spent a lot of time focusing on movie roles. However, in more recent years, he has appeared in quite a few TV shows and he knows exactly how to light up the screen. Although his name isn't widely known yet, Alex is well on his way to carving out a path for himself.
JayR Tinaco as Zayn Petrossian
JayR Tinaco is originally from the Philippines, but they were raised primarily in Australia. They started their on-screen career in 2009 but initially struggled to find opportunities due to them being non-binary. However, after resisting pressure to appear more 'straight' JayR eventually decided to fully embrace themself. Another Life is their biggest role to date, but we will likely be seeing a lot more of them in the years to come.
Lina Renna as Jana Breckinridge-Wallace
Being young in the entertainment industry can be difficult, but Lina Renna seems to be handling it with poise and grace. The young actress already has more than two dozen on-screen credits although much of her work has been in films. Another Life is the biggest TV role she's done so far, and she's been knocking it out of the park.
Elizabeth Ludlow as Cas Isakovic
Despite having less than a decade of acting experience, Elizabeth Ludlow has already made it very clear that she's here to stay. The talented actress has been in several successful projects including The Vampire Diaries and The Walking Dead. Her work in another life has given her an even bigger chance to share her talents with the world. She plans on keeping the momentum going and she will be in a TV series called Peacemaker which is set to debut in 2022.
Selma Blair as Harper Glass
Consistency and longevity are two of the hardest things to find in the entertainment industry, and Selma Blair has managed to find them both. Since starting her on-screen journey in 1995, she has built an impressive resume that includes 80 acting credits which include a variety of movie and TV roles. By the time Another Life came along, she was already a seasoned vet and her experience brought something special to the cast.
Tongayi Chirisa as Richard Ncub
Tongayi Chirisa was born and raised in Zimbabwe but his name is now known to people all over the world thanks to his work as an actor. Although he has a good number of credits, Another Life has the potential to be his biggest TV role. Tongayi also enjoys telling stories from the other side of the camera. In 2017, he made his debut as a producer.
Dillon Casey as Seth Gage
Dillon Casey joined the cast of Another Life for season 2 and he's a welcome addition. The Texas native is multi-talented and has a natural ability to command attention every time he gets in front of the camera. Not only is his acting on point, but he is also a skilled writer and producer.
Tell us what's wrong with this post? How could we improve it? :)
Let us improve this post!