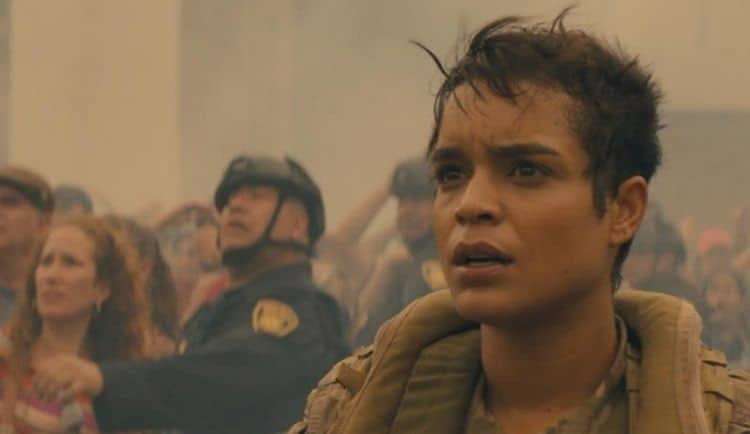 Elizabeth Ludlow is truly a force to be reckoned with. Every time she steps in front of the camera, she brings an exciting energy that is hard for viewers to look away from. Over the years, she has worked hard to build a solid resume that includes a nice mix of film and TV roles. At this point in her career, she is most well-known for her role in the TV series Another Life which debuted in 2018. Her character, Cas, has become a fan favorite and people all over the world have fallen in love with her work. She is also in the process of filming another TV show called Peacemaker which is set to premiere on HBO Max in 2020. Keep reading for 10 things you didn't know about Elizabeth Ludlow.
1. She Grew Up Playing Soccer
Many professional actors started performing when they were still in diapers, but Elizabeth's journey looks a little bit different. Instead of acting, sports was the main focus of her life for many years. She is a talented soccer player who played competitively for more than 15 years. In fact, when she was in middle school she had the opportunity to be part of a school play but she decided to focus on soccer instead.
2. She Made Her On-Screen Debut In The Vampire Diaries
Every actor dreams of getting the chance to work on a successful project, but getting that opportunity often takes years. Elizabeth, however, came out of the gate swinging. Her first on-screen appearance was in an episode of The Vampire Diaries in 2013. The role may have been small, but it was a great starting point for Elizabeth.
3. She's An Activist
Elizabeth is very passionate about the things she believes in and she's never been shy about making that known. She has been very intentional in using her platform to raise awareness to the causes that are important to her and her dedication extends beyond just posting on social media.
4. She's In A Relationship
Thanks to her talent and good looks, Elizabeth probably has no shortage of people who would love a chance to take her on a date. Sadly for all of them, she's already spoken for. Elizabeth is in a relationship with a woman named Carlena Britch who is an actress from Canada.
5. She Loves To Stay Active
Even outside of her love for soccer, fitness is something that has always been very important to Elizabeth. During an interview, Elizabeth said, "My father helped me build the foundation for eating healthy, and soccer built my foundation for exercise. I ran so much it just became second nature to me. Now, I just enjoy going out and having a run."
6. She Was Instantly Drawn To Another Life
Sometimes actors find roles that really speak to them, and that was definitely the case for Elizabeth when it came to Another Life. Elizabeth told The PC Principle, "I was immediately drawn to Another Life because it challenged me to ask myself, how far would I go to protect the ones I love? In the event of an actual threat, am I willing to leave them behind for the greater good? I would like to think I would go anywhere and do anything for them."
7. She Got Into Acting In College
Even though Elizabeth fell in love with acting at an early age, it wasn't until a little later in life that she decided that she wanted to take it more seriously. While attending Georgia State University, Elizabeth chose to minor in acting and she also got involved with an improv group on campus.
8. She Would Love To Be In A Thriller
Elizabeth has already gotten the chance to act across multiple genres, but there's one she would love to be able to add to the list: psychological thriller. She would love to take on a role in a thriller and she genuinely enjoys being a part of projects that challenge viewers to think.
9. She Hopes To Step Behind The Camera One Day
At this point in her career, Elizabeth has focused almost all of her attention on being in front of the camera, but she plans to change that in the future. During a conversation with Bello Magazine, she said, "My future goals for my career definitely involve getting behind the camera. I am currently working on a project that I intend on directing and being strictly behind the camera for. I have so many other interests when it comes to the entertainment industry I don't see myself sticking to just one area."
10. Her Goal Is To Inspire Others
Elizabeth always looks forward to being able to keep audiences entertained, but as an actress that isn't the only thing she wants to accomplish. She hopes that her work will also provide inspiration to other people and she looks forward to continuing to participate in projects that allow her to do that.
Tell us what's wrong with this post? How could we improve it? :)
Let us improve this post!