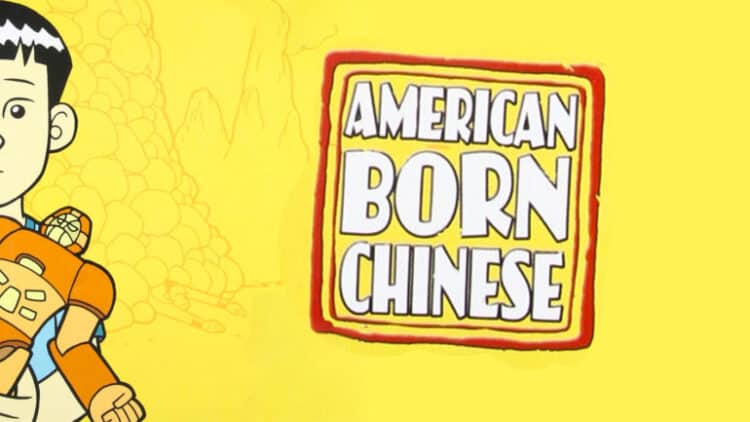 Disney+ is set to drop an action-comedy TV series based on a widely popular graphic novel. The title of the show is American Born Chinese, and it started filming in Los Angeles in February this year. The show is based on the graphic novel of the same name by Gene Luen Yang, a cartoonist who has been awarded the MacArthur Fellowship. The show is created by brothers Charles Yu and Kelvin Yu. Charles is best known for having written the novel How To Live Safely In A Science Fictional Universe, while Kelvin worked on projects like Master of None, The Great North, and Bob's Burgers. Here is a description of the storyline of the series, according to Deadline: "American Born Chinese tells the story of Jin Wang, an average teenager juggling his high school social life with his immigrant home life. When he meets a new foreign student on the first day of the school year, even more worlds collide as Jin is unwittingly entangled in a battle of Chinese mythological gods. The action-comedy explores issues of identity, culture and family." If you want to learn more about the interesting ensemble of actors set to appear in this series, read ahead. Here are the cast members of the upcoming Disney+ action-comedy series, American Born Chinese.
Michelle Yeoh
Michelle Yeoh will be starring in American Born Chinese as Guanyin. Hot on the heels of her incredibly successful, critically acclaimed movie Everything Everywhere All At Once, which is already garnering Oscar both for her and for the movie, Yeoh leads the cast members of this much-anticipated TV series. Many people would recognize Yeoh for her villainous role in the romantic-comedy movie Crazy Rich Asians. Years prior, she starred in the Ang Lee movie Crouching Tiger, Hidden Dragon, which won an Academy Award. Yeoh's more recent film appearances include Last Christmas, Boss Level, Minions: The Rise of Gru, and Shang-Chi and the Legend of the Ten Rings. She is set to appear in four upcoming movies, three installations of Avatar and The School for Good and Evil. On TV, Yeoh has lent her talents to shows such as Strike Back: Legacy, Marco Polo, Star Trek: Discovery, Star Tre: Short Treks, and Ark: The Animated Series. Aside from American Born Chinese, Yeoh will also be appearing in the miniseries titled The Witcher: Blood Origin.
Ben Wang
Up-and-coming actor Ben Wang will be starring in American Born Chinese as Jin Wang. He had previously appeared in projects such as Chang Can Dunk, MacGyver, and Launchpad.
Yeo Yann Yann
Yeo Yann Yann will be playing the role of Christine Wang in the upcoming action-comedy series American Born Chinese. The Malaysian actress had worked in movies like You Mean the World to Me, Lee Chong Wei, Wet Season, and Havoc. Her TV credits include Modern Love Mumbai, A Date With Kym, and Right Frequency.
Chin Han
Chin Han will be starring in American Born Chinese as Simon Wang. He is described as one of the most prolific Asian actors in Hollywood. Chin Han has appeared in movies like Skyscraper, Mortal Kombat, and the upcoming film A Sweet Life, which is currently in post-production. He's also performed in a few hit TV shows, which include Marco Polo, The Spoils Before Dying, Serangoon Road, and Lethal Weapon.
Daniel Wu
Daniel Wu will be portraying Sun Wukong in the upcoming comedy series American Born Chinese. Wu is most prominently known for his starring role in the AMC martial arts drama series Into the Badlands, a show in which he also served as an executive producer. On the big screen, he's acted in movies like I Am Somebody, Go Away Mr. Tumor, Warcraft, Sky on Fire, Geostorm, Wished, Tomb Raider, Caught in Time, and Reminiscence.
Ke Huy Quan
Ke Huy Quan will be playing the role of Freddy Wong in the comedy series American Born Chinese. He most recently co-starred with Michelle Yeoh in the hit movie Everything Everywhere All At Once, playing Yeoh's husband. It was a comeback role for Quan, who had not worked in front of the camera for decades. During his time off as an actor, he worked as a stunt coordinator and assistant director for a variety of films, most notably working as a stunt choreographer for X-Men and The One. According to Quan, it was Crazy Rich Asians, which starred Michelle Yeoh, that inspired Quan to return to acting. In an interview with Coming Soon, Quan explained that Yeoh's involvement in Everything Everywhere All At Once is what drew him to the movie: "Oh, absolutely. I mean, you know, she's the reason why I got back into acting in the first place. So to be able to do this movie with her just makes it so much better. Also, this amazing script. I remember reading it and I absolutely fell in love with it. I thought this character, Waymond, was written for me. I was very emotional reading it because it was a script that I wanted to read many, many, many years ago, but they just didn't exist back then. I couldn't believe this came to me, and I'm so grateful to the Daniels for offering me this opportunity to play Waymond, and to be a part of this amazing cast with Jamie Lee Curtis, James Hong, Stephanie Hsu, and Michelle, I mean, it's really interesting because she did her first movie in 1984 in Hong Kong. My first movie was Indiana Jones also in '84. So we started in the business in different parts of the world and I waited 38 years to unite with her on-screen. So this opportunity was just extraordinary."
Jim Liu
Jim Liu will be playing the role of Wei-Chen in the upcoming comedy series American Born Chinese. Here is his IMDb profile describing his start in the showbiz industry: "Jim Liu (Liu, Jing Yu) is an international award nominated actor. Jim was born and raised in Taiwan. Being awarded a 3 years scholarship to pursue a PhD degree in Film Studies at the University of Southampton in the U.K, Jim later launched his international career in the U.K after graduation."
Sydney Taylor
Sydney Taylor will be portraying Amelia in American Born Chinese. She had previously appeared in projects like Just Add Magic: Mystery City and Nashville.
Stephanie Hsu
Stephanie Hsu will be playing the role of Shiji Niangniang in the upcoming series American Born Chinese. The young actress also starred in Everything Everywhere All At Once and had a recurring role in The Marvelous Mrs. Maisel.The Marvelous Mrs. Maisel
Tell us what's wrong with this post? How could we improve it? :)
Let us improve this post!