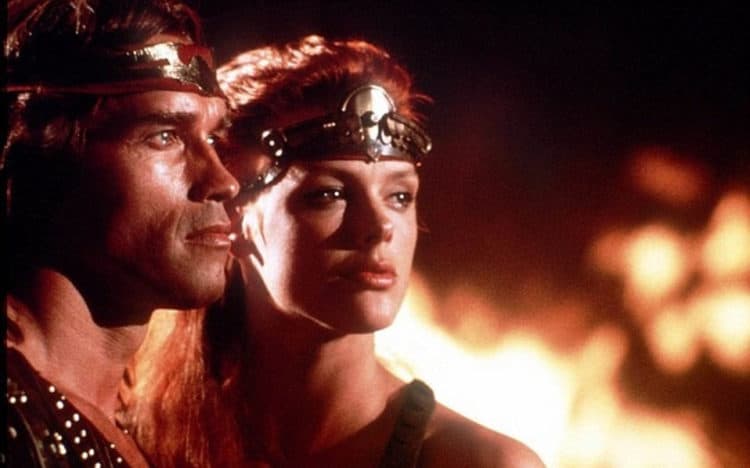 There are likely those that will cringe when they hear the term 'feminist hero' until they're clued in on the fact that the hero in question is Red Sonja, one of the most iconic names in the fantasy genre. It's true that her live-action appearance did come out in true form as she was mistrustful of most men, but thanks to her backstory she had a reason to be. After all, in the movie, her entire family was killed, and her origin story includes her being violently raped, so it's hard to understand why she's not trusting when it comes to men in the least. But there was a condition that made it possible for her to be with a man, but only if he could defeat her in battle. Obviously, this was a task that not every man was up to meeting since she's one of the best fighters in the comics and has been able to cross swords with Conan the Barbarian, and Lord Kalidor in her own movie. But to think that she's coming back after all these years does make a person wonder if yet another Conan reboot would be in the works as well. Sticking with Sonja at the moment though, it would be kind of interesting to see just who might fit the bill and what the story would entail. It's almost assured that we're going to see an origin story once again, but seeing as how Sonja's is particularly brutal one has to wonder just how much we would really be made privy to, and how much would be implied as the scene cut away to reveal the aftermath.
Sometimes the strongest weapons are forged in fires that many couldn't withstand without crumbling to ash, but this was never the case with Sonja as she's grown stronger with each challenge and, upon finding a way to survive, she's usually come back to wreak havoc upon her enemies in retribution. In that light, her role would kind of need to be taken on by someone that could appear to be the stoic but vengeful type, and hopefully not just someone that would appeal to the adolescent fantasies that Sonja has been a part of for so long. For instance, the metal bikini would need to hit the bricks due to the impractical nature of it, and while she might not have to be entirely covered, keeping the warrior exposed in such an obvious way to give sex appeal to the movie would still bring a level of cringe that isn't prudish in the least, but instead a bit of commentary on the practicality that needs to be adhered to at times. Believe it or not, it's possible to have sex appeal and still grant a female warrior enough protection that at least feels realistic. Even in ancient times, people didn't wade into battle wearing so little, unless they had no choice. If that happens to offend anyone then it might be time to suck it up and realize that the old male fantasies need a bit of an upgrade. It's entirely possible to keep the sex appeal of a character and still grant them the protection that makes the movie feel a little more realistic. Those that want to argue against this idea have yet to grow up yet, but it's okay, we won't hold it against them.
There have been rumors of a Red Sonja movie for a while now, but it would appear that movement is finally being seen as Tasha Huo, the same writer for the Tomb Raider anime, is apparently working on this movie at the moment. How it will all turn out is hard to say since with rewrites, the idea that someone might want to make changes, and whatever else can happen, it's very possible that we might be getting excited over nothing. The hope of course is that we'll get to see something come of this and will be granted another chance to see the flame-haired warrior once again, and possibly see cameos from Brigitte Nielsen and Arnold Schwarzenegger, simply because it would be a fun thing to see. Whether we'd get to Ernie Reyes Jr. in a cameo or not is hard to tell, but it would be nice just to see if they could be enticed to show up. This was after all one of the movies that a lot of us fantasy genre-loving nuts enjoyed when we were younger, even if it looks pretty cheesy at this time. It's still a great memory since at one time Red Sonja was one of the toughest women in cinematic history, and it feels fair to say that if not for her the upward climb of women in action movies might have been a little more difficult.