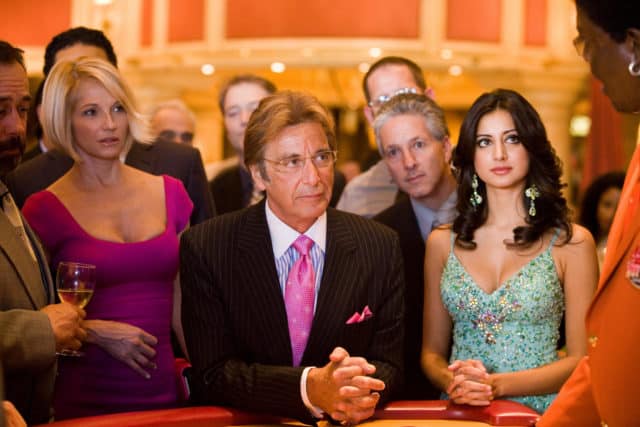 Whether she's the extra you just barely notice or the sassy, dominant woman that seems to take up more than her fair share of the limelight, Ellen Barkin is an actress that knows how to strut what she's got and back it up with an impressive range of acting skills. Since her debut she's been on the rise, her career taking several different turns as she's been hot one moment and calmer the next. One thing is certain though, whatever role she plays in, Barkin is sure to entertain in one way or another.
Here are our picks for Ellen Barkin's best movie roles:
Elaine Greenawalt – The Cobbler
As one of the meanest, cruelest, and most temperamental women in the city of New York, this character allows Barkin to showcase a truly vindictive and threatening demeanor that fans might feel is not quite her best role, but is definitely right up there. From threatening old men to showing just what has made her one of the top actresses in Hollywood, Barkin gives a display of quiet force that lends this film a little more credibility.
Helen Kruger – Sea of Love
One thing that can be said of this film is that Barkin actually enjoyed the part. While women were quite underrated and even exploited in film for many years, Barkin felt quite safe with costar Al Pacino, whom she regarded as a kind of protector during her time spent filming this movie. Considering that the characters she and Pacino played were quite involved, it makes a lot of sense that a rapport was built between them. In fact this wouldn't be the last time they worked together.
Claire – Siesta
Set up as the star and the main figure within the film, Claire is set upon a path that she doesn't fully understand but seeks to fully embrace. Barkin has actually admitted that this was one of her favorite roles during her career. It is also one that has helped to define who she is and what she can do as an actress. On another note, this film is where she met her eventual husband, actor and costar Gabriel Byrne.
Beth Schreiber – Diner
This was Barkin's debut film, and quite honestly she nailed it without much effort seemingly. Her role as Beth was masterful despite her limited experience, especially given that she was still breaking into a serious acting career. This along with her other roles that would come later established what would eventually be a long and successful run that would see her become a very prominent face in Hollywood.
Abigail Sponder – Ocean's Thirteen
She could have been called the Ice Queen in this role and it would have fit just as perfectly. Her manner in this film is that of a woman that has little if anything that she really values, as she seems to live for two things: pleasing her boss, played by Al Pacino, and making the lives of everyone else miserable. Give credit to Barkin however, she plays the role to a tee and easily becomes one of the few people in the film that everyone loves to hate (until Matt Damon puts the squeeze on her). That is the mark of great acting.
Conclusion
Many actors and actresses come and go, but those that have staying power are the ones that tend to get hot and then cool off periodically. Ellen Barkin is at this time on an upswing as she gears up for another season of Animal Kingdom as the matriarch of the Cody family.