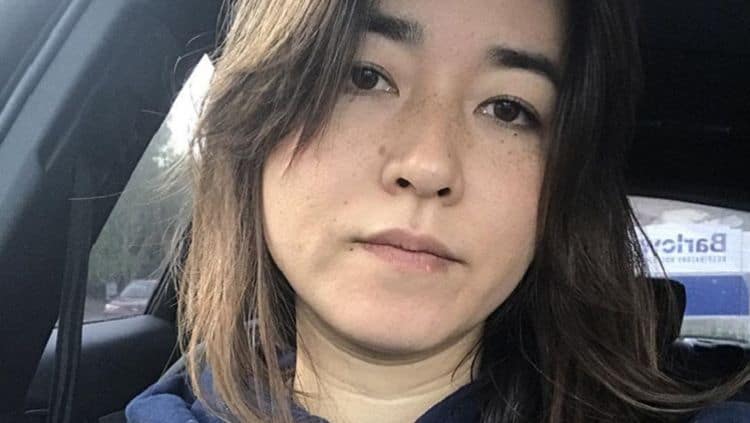 The brilliant, talented, and very funny Maya Erskine came out of nowhere, and she's conquering comedy one excellent role at a time. Initially, she went to school for musical theater at New York University's School of the Arts. However, Maya eventually transferred over to the Experimental Theater Wing. We're certainly glad she did. That's not all we learned about her when we went looking for more information on this hilarious woman. Here are ten things you didn't know about the lovely Maya Erskine.
1. Early Life
Some people have to move in order to be exposed to big production companies and the bright lights of the stage but not Erskine. She was born in Los Angeles. Maya's father Peter Erskine is a jazz drummer, and her mother Mutsuko immigrated from Tokoyo. Growing up around music and Hollywood probably helped point her in the theatrical direction, she went later in life. We're not a hundred percent sure she can sing, but we assume not a lot of people who major in musical theater are tone-deaf.
2. L.A. Theater
Theater groups are standard fare for budding actors. If you happen to attend a lot of theater in Los Angeles, you might have that itch in the back of your brain that says you've seen her before. You might have seen Maya on stage since she performed with the East-West Players and the Geffen Playhouse.
3. Comic History
The delightful film Wine Country starred such female comic dynamos as Tina Fey and Amy Poehler. However, it also featured Maya Erskine. While Rotten Tomatoes wasn't thrilled with the film, giving it a sixty-six on the Tomatometer, even they had to admit it was a good watch in the end. We thought it was an underappreciated film overall. Plus it doesn't hurt that a whole lot of actresses we love came together to make it happen.
4. 20 Roles &Counting
Maya's first role was in the short film Somewhere a Son (2010), but she's done a whole lot of acting since then. With over twenty parts to her credit, Maya is accomplished well beyond PEN15 and Man Seeking Woman, the two roles most people think of when they see her. She's been in such varied parts as Wanda from Frankenstein (2015), and High School USA (2013) among other unexpected appearances.
5. Being Gross
While talking to Forbes, Maya opened up about some of her early experiences. She mentioned getting picked on for "talking about gross things." A little bullying never stopped her though. Maya is happy to talk about what makes her laugh even if it means being gross sometimes. We all appreciate potty humor now and then. Maya is just more open about it than most. Bringing disgusting humor out of the dark corners where a lot of women like to pretend they don't think about it and into the light with her series PEN15 is just another reason we love Maya.
6. Pro Female
While she isn't as outspoken about it as some women, Maya Erskine shows her love and support for the women of the world in her own way. You'll find occasional posts on her Instagram page that remind the women and girls in the world that "the Future is Female." Women can do anything they set their minds to.
7. Whitehouse Connections
Plus One is an adorable and amusing take on the romantic comedy. Maya Erskine and co-star Jack Quaid are sweet and entertaining together on screen. That's not the intriguing part of the film. Originally it was supposed to be bankrolled by Anthony Scaramucci. Yes, that Anthony Scaramucci. He dropped the movie in order to join Donald Trump's campaign and was briefly the White House Director of Communications. Luckily Studio 71 picked the film up instead.
8. Working With Mom
When Maya asked her mother to play a satirical version of herself for a pilot on a show she was working on (PEN15). Mutsuko agreed because she loves her daughter and wanted to help further her career. She assumed it was a one-time thing, but when the show got picked up, Mutsuko was part of the deal. She may be the only person in the acting world who literally accidentally got cast in a major role for an ongoing show. She's happy to do the work to help her daughter even though it wasn't expected.
9. Sharing is Caring
In addition to her sisterly support of women on Insta, Maya has also posted reminders about Rednoseday.org on her twitter account. After all, who doesn't want to help end child poverty? It's always nice to see someone using their fame to help push a kindness and caring based agenda. She did more than just remind others, though. Maya was in a campaign ad for the charity. We have to admire a woman who does more than just joke around even if she is a brilliant comedian, writer, actress, and possible singer.
10. The Plus One Surprise
Plus One the film Maya was in recently also has another little surprise, but this one is a whole lot sexier than any politician. It's a great flick about two friends who have been invited to several weddings and agree to be each others' plus one for the season. It's a romantic comedy, so it's hardly a spoiler to say they fall for one another. What Maya didn't realize was the first time she googled the film something else would come up as well. Apparently the 'Plus One' is also a sex toy.
Final Thoughts
We know she has a lot of credits to her name, but we haven't seen anywhere near enough of Maya Erskine yet. We'd be happy to hear she's already writing her next series, but we understand she's a bit busy being a motivated, funny genius and working with her mom. Hopefully, PEN15 will have a great long run, and when it's done, she'll write the next great comedy with her friend and costar Anna Konkle. We've enjoyed the show so far, and think they make a great team. What would you like to see Maya take on next? Let us know in the comments below.