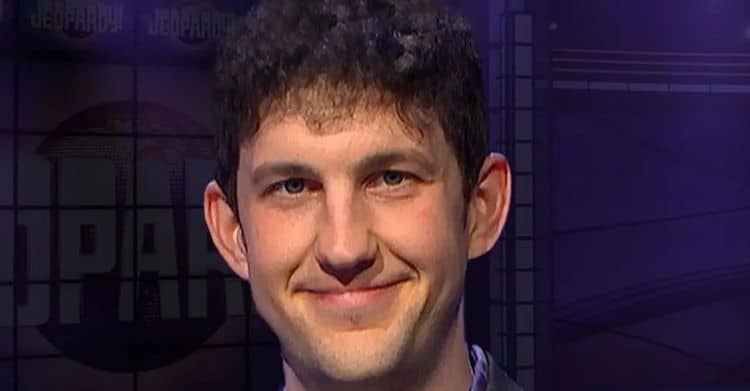 Jeopardy! has gone through a lot of ups and downs since Alex Trebek's death in November of 2020, but getting the chance to compete on the show is something that a lot of people still dream of. Not only did Matt Amodio get the chance to be a contestant on Jeopardy!, but he won some serious money. After earning more than $500,000, Matt has not only become the talk of the internet, but he will also go down in Jeopardy! history. By now, we all know that he's definitely got a lot to offer in the intelligence department, but there's a lot more to him than knowing a lot of random facts. Keep reading to learn 10 things you didn't know about Matt Amodio.
1. His Dad Nudged Him To Apply To Be On Jeopardy
Matt has been getting lots of credit for his win on Jeopardy!, but the truth is he would've never made it to the show if it weren't for his dad. During an interview with Yale, Matt said, "They have an online test that they offer a couple times a year. I took it not because I thought I'd get chosen but because my dad was pestering me – "You're smart, you can do it," and I said "No, I'm not going to do it." He says, "'Just do it – for me!' So finally, I took the online test just to satisfy him and never expected anything of it."
2. He's From Ohio
Matt is currently based in Connecticut while he studies at Yale University, but he is originally from Ohio. However, there isn't a lot of information available on his upbringing. Even though he's a pretty long way from home, the midwest will always have a special place in his heart.
3. He's Pretty Active On Social Media
Now that Matt has made a name for himself, lots of people have flocked to social media to follow him. Although he doesn't appear to have an account on Instagram, he is a very active Twitter user and he enjoys using the platform to connect with his newfound fan base.
4. He's Always Loved Jeopardy!
Getting the chance to compete on Jeopardy! has been a dream come true for Matt in more ways than one. Not only did it help him win some serious cash, but it also allowed him to be a part of a show that he's always loved. Matt had been watching the show at home for many years and his experience didn't disappoint.
5. He Was Nervous Being On The Show
Although being on the show has been great for Matt, it's also been a nerve-wracking experience. As you can imagine, watching himself on TV has made him feel a little self-conscious. On top of that, he had to deal with some nerves during the show as he was forced to go against his naturally risk-averse personality.
6. He Loves Giving Back To Others
Matt already has some plans on what he'd like to do with his money. In addition to making things easier on himself, he also wnts to help others. Now that In a tweet in August 2021, Matt said that he planned to donate money to charity although he didn't specify which organization(s).
7. He Loves To Read
As you might be able to tell, Matt is the kind of person who loves learning new things. Reading is one of his favorite ways to do that. While talking to Yale, Matt said,
"You know, I read a lot – I have to credit my love of reading. I spend most nights starting somewhere on Wikipedia. I read everything there, but also get 10 or 15 links from that article to other things that I'm interested in. That cascades to more and more, and before I know it, the night's over and I still have thousands of things I still want to read. And it just starts over the next day."
8. He Enjoys Bar Trivia
Anyone who has ever gone to trivia night at a bar knows that things can get pretty intense, and that's exactly where Matt has honed his skills over the years. Little did he know, all of that practice would eventually lead him to Jeopardy! which is undoubtedly the biggest trivia stage there is.
9. He Plans To Work In Academia
As a Ph.D. student, Matt isn't making much money at the moment. Realistically, he also doesn't plan to make much after he graduates and begins his career in academia. Now that he has won more than $500,000 he now has a cushion and no longer has to make career choices strictly based on money.
10. He's Afraid He Might Eventually Become A Villain
Everybody loves Matt now, but he's afraid that there might be a day when people turn on him. He told TV Insider, "I worry about becoming a bit of a villain; a Death Star of someone who just keeps winning". Hopefully, however, this doesn't end up being the case.trivia