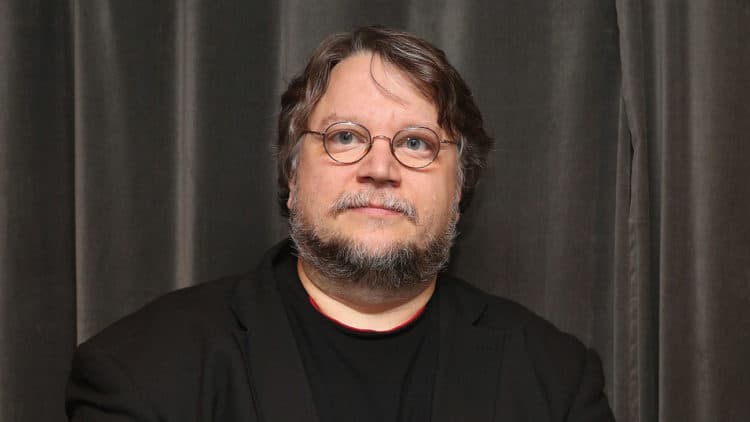 There's no question about del Toro's place as a master of horror, but it does need to be said that he's one of the more fantasy-driven masters of the genre as well since a lot of his material is dark, but in a way that brings to mind, and to life, various myths and legends that lend themselves quite well to his style of filmmaking and to the stories that he presents. In other words, he's not exactly the hack and slash type when it comes to delivering horror, and definitely, more of the creeping, crawling terrors that humanity has been afraid of for thousands of years. That kind of horror is sometimes easier to laugh at considering that many people don't want to believe in ghosts and goblins, but it's also inherently more terrifying since the subject matter tends to have to do with archaic ideas that are widely unknown to many people in the common era since they're either entirely fictional or are taken from practices and beliefs that were, at one time, very dominant throughout many cultures around the world.
Much of what Guillermo has done to this day has been appreciated and watched over and over again by the fans since a lot of it is compelling even if it isn't something that various fans find to be their favorite subject at times. There's just something about the stories he delivers that are hard to resist given the fact that much like several other directors, Guillermo apparently knows how to get the attention of the audience. There has, at times, been a little bit of controversy in the minds of many when it comes time for awards to be handed out since The Shape of Water has been one of those that many people can't help but think is a movie that might not have been award-worthy despite being a provocative piece. But it's tough to say anything against his movies given the fact that they are compelling in a way that's tough to explain.
One thing that can be said about del Toro is that he's been a dedicated student and practitioner of fantasy and film since he was young, as it's not hard to discover that his imagination has been taking him on a trip through one fantasy after another since boyhood. That type of dedication is impressive given that some people might have given up on the dream and gone another way, or might have continued along but never taken things to the next level. The absolute love of the business is something that Guillermo has obviously kept up for a while since at this point he's one of the more respected individuals in the business, and has made it to a level where his work is thought to be of the highest caliber, and where he's being given budgets in the tens of millions or more in order to come up with one idea or another that people will marvel at in the days to come. The type of trust and admiration that fans hold for him is amazing really, but it's often well-deserved since the man has taken the images that he sees in his head and shared them with those that choose to be inspired and kept in awe of what he can do, and in doing so he's shown that he's more than just a talented director, he's a creator that is worth the praise that he receives.
The same can be said for a lot of people in the business, but there are those times when one can't help if the people that are being given loads of praise are really worth it or if they're actually coasting by on one project or another and haven't done anything really great in a long time. Such a question doesn't really apply to del Toro since the fact is that even if it happens that he might not have come up with one great idea after another, it's assumed that he's hard at work on something else that will blow people away, and thus the faith that he's given is well-placed since it's likely that whatever he comes up with next will be worth the wait.
When stood up next to other masters of horror it's kind of obvious that his work is different and what he delivers to the fans is of a slightly different caliber, but this is something that a lot of people would agree is what helps to make Guillermo the great talent that he is, since like so many others he creates his own path in life with his work, and that determination and imagination are great enough to have set him apart from the pack, even though he's every bit as convincing with his stories as anyone else has ever been.
Tell us what's wrong with this post? How could we improve it? :)
Let us improve this post!