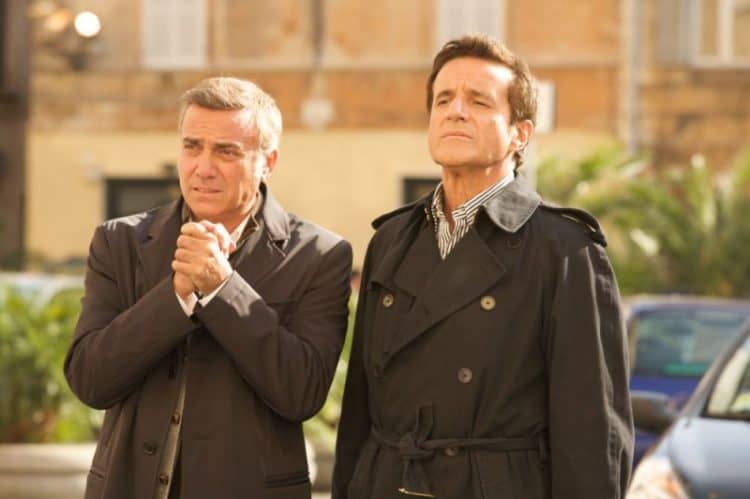 Massimo Ghini is an Italian actor who is best known for his performances in "senza Pelle, " in 1994, "Una Storia Semplice" in 1991, and "There's No Place Like Home" in 2018. He has had a brilliant career in Italian film and is an international movie star. We wanted to know more about him so we looked into his personal and career history and made some amazing discoveries. To help you become better acquainted with him here are 10 things you probably didn't know about Massimo Ghini.
1. His Birthday
Ghini turned 65 in October of 2019. He was born in Rome, Lazio, Italy on October 2, 1954. He has made his home in Italy all these years and he became an active member of the Italian Actor's Trade Union. He is well known in his homeland and a beloved entertainer.
2. He has been married three times
Massimo met his first wife Nancy Brilli when they were working on the set of "Due Fratelli" in 1988. They hit it off and decided to make the relationship official by tying the knot. Ghini was married to actress Sabrina Ferrilli at the time, but the couple divorced and he married Brilli. The marriage didn't work out and the couple divorced. In the interim, Ghini had a set of twins named Lorenzo and Camilia with Federica Lorrai in 1994. He married his second wife Paola Roman and the couple had a son named Leonardo in 1996, followed by Margherita, their daughter.
3. Ghini is politically active
Massimo Ghini has taken an interest in politics both within his career and in national affairs. For a period of time, he served as the president of the Italian Actor's Trade Union. He is also known for being a supporter of Walter Veltroni and of the center-left Italian Democratic Party.
4. His acting career launched in 1979
Ghini has been an actor for more than four decades. His first role was in the Italian TV movie "Re Lear" in the role of Servo. He landed his next role the following year in "Speed Cross." In 1981, he was cast in a recurring role in the television mini-series "Anna Kuliscioff" as Andrea Costa. The same year he had a minor role as Ufficiale in the mini-series ": Ragazzi di celluloide," and as Raimondo Cavriani id another recurring role in the mini-series "Delitto di Stato."
5. Massimo is in high demand
As an actor, Massimo Ghini has stayed as busy as he wanted to since 1979 when he made his debut in film. He has an impressive portfolio and there are no gaps in his work history as an actor. He has appeared in multiple films and television series in roles that range from minor or supporting to the lead. He has accumulated a total of 106 credits to his resume. In Italy, his name is well-known and he has become a favored actor to an adoring public.
6. He came from humble beginnings but rose to fame quickly
Prior to becoming a famous actor, Massimo Ghini lived in Rome and he had to get a job to earn a living. He was a host in a tourist village. This was a job that gave him a great deal of contact with people who were touring the city, but it was not his calling. He moved on to another career endeavor before becoming an actor.
7. He was a radio host
After serving as a tourist host, Ghini tried his hand in the entertainment world. His first gig was not as an actor, but rather as a radio host. While trying to get his acting career off the ground, he also participated in some film dubbing. He met and befriended several other young actors who were in the process of trying to get their names recognized. His lucky break came in 1979 when he was cast in his first-ever film role.
8. Ghini has done a lot of interpretation
Massimo Ghini has done a lot of voice dubbing. He is an interpreter for a variety of authors within the Italian film industry. He has also played a variety of different parts and he can do just about any kind of film and television series genre and make it believable. He also worked in the theater for a period of time as a stage actor.
9. He has worked with some American actors
Massimo worked in a variety of television production roles. He also appeared with Kristin Scott Thomas and Sean Penn in the film "Just One Night," in 2000. Although the majority of his work has been done in the recently emerged Italian film scene, he has still appeared in other films that have been broadcast in a variety of different countries, making him an Italian and international star. Radio gave Massimo yet more exposure to the public and he found that he had a flair for being an entertainer.
10. He takes after his father
Massimo Ghini has a passion for politics and in his case, the apple doesn't fall far from the tree. His father was also interested in politics and he was considered to be a partisan and communist militant. Ghini carried on this tradition and remained active in support of his chosen political party. Although his father was not a career actor he was heavily involved in politics. Ghini is still active in the Italian film industry. He has two new projects in the works and at the age of 65, there is no indication that he is slowing down. He has brought decades of entertainment to his loyal fans and he's still working and enjoying teh success that comes with the acting talent that he possesses. Massimo Ghini has led a busy and active life so far , and he's not even close to being ready for retirement. we're looking forward to hearing more about the two new projects that he has in the pipeline.