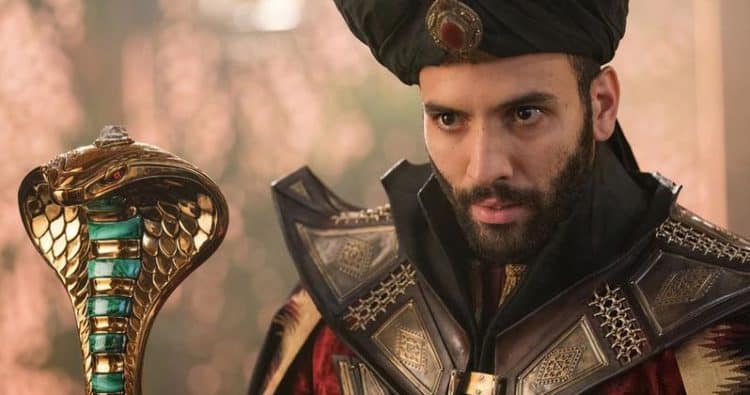 Marwan Kenzari has been acting for well over a decade, and he just keeps getting better and better. In 2019, he brought his most menacing looks to the big screen when he played Jafar in the live action remake of Aladdin. Since then he has kept the moment going with roles in movies like The Old Guard, and he has plenty more entertainment where that came from. Recently, it was announced that he was cast in the upcoming film Black Adam which stars Dwayne Johnson. There's no official release date yet for the movie, but lots of people are already looking forward to seeing it. Keep reading for 10 thing you didn't know about Marwan Kenzari.
1. He Got Into Acting In High School
Many people find that the acting bug tends to bite them pretty early on in life, but things happened a little differently for Marwan. He didn't develop an interest in acting until he was in high school. Once the interest did start, however, he knew that acting was what he wanted to do.
2. He Has African Roots
Marwan was born and raised in the Netherlands, but his parents are from the North African country of Tunisia. During an interview with Esquire Middle East he said, "I grew up with two cultures. I love my Tunisian background, and the Arabic culture. I love the specific memories I have of family members and cultural habits and humour—but at the same time I have a very strong connection with The Netherlands."
3. He Speaks Several Languages
As someone who is a part of two drastically different cultures, Marwan knows first hand just how beneficial it can be to speak more than one language. Not only does he speak Dutch and Arabic, he is also fluent in English and French. It appears that he has only acted in English and Dutch.
4. He's An Award Winner
When you've invested as much in your career as Marwan has, it's always nice to see the rewards of the fruits of your labor. For an actor, there is no better reward than an award. So far, Marwan has won three awards with the most recent being a 2014 Shooting Stars Award.
5. He's Not Really Into Social Media
Marwan has built a fan base that includes people from all over the world, and many of those people love keeping up with him on social media. Unfortunately, however, he doesn't spend much time posting. When he does post, he likes to keep his content strictly focused on what he has going professionally.
6. He's Formally Trained
Marwan's naturally talent has certainly played a role in his success, but he has also put in lots of work to make sure that he was able to reach his full potential. Marwan trained at the Maastricht Academy of Dramatic Arts where he graduated in 2009. While some people debate about whether formal training is necessary, it has come in handy for Marwan.
7. He Wasn't Familiar With The Old Guard Graphic Novels Before The Movie
Before The Old Guard was made into a movie, it was a graphic novel. Marwan, however, confesses that he wasn't really familiar with the series before auditioning for the film. He told Esquire Middle East, "I read the script for the film first, and then straight after that I read the graphic novel. I am not too familiar with graphic novels, so this was a first for me."
8. He Was An Aladdin Fan Growing Up
Playing Jafar was the opportunity of a lifetime for Marwan for a few reasons. Not only did it give him the opportunity to work in a major production alongside some big names, but it was also a chance to play a character who he has been familiar with since his childhood. Like many other people who were kids during the 90s, Marwan grew up watching the original Aladdin movie.
9. He Has Lots Of Theater Experience
Marwan spent the early days of his career working in theater, and he is grateful for all of the things he learned. At the same time, he has also fallen in love with being on screen. While talking to MotionPictures.org Marwan said, "t is fun to do both, but film is the main focus for me now. It's difficult to go back and forth."
10. He Has A Hard Time Watching The Films He's In
We're all pretty familiar with that cringey feeling we get when we're forced to listen to a recording of our own voices, right? As you can imagine, having to watch a video recording of yourself is probably even more nerve racking. That said, Marwan is one of the many actors that doesn't really enjoy watching the movies he's in because sometimes the edited version doesn't match up with what he was picturing in his head.