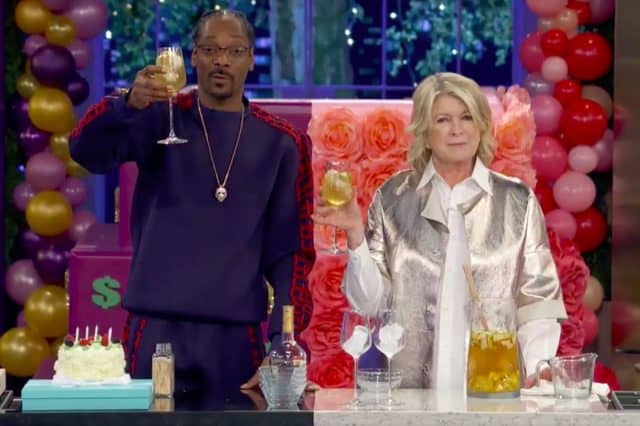 The unlikely pairing of Martha Stewart and Snoop Dogg in the VH1 variety cooking show "Martha & Snoop's Potluck Dinner Party" just began its second season. Snoop Dogg, the 45 year old West Coast rapper, and Martha Stewart, the 75 year old kitchen, etiquette and DIY queen make an interesting pair. The two met in 2008 when Snoop Dogg appeared on Martha's cooking show when they compared mashed potato recipes. Martha Stewart famously tweeted Snoop asking him for bachelor party ideas for Prince William. They also appeared together on Comedy Central's roast of Justin Bieber. The couple seem to have a natural connection and joke around with each other easily. Each credits the other for teaching them lifestyle lessons.
Here are the top five moments from "Martha & Snoop's Potluck Dinner Party".
Season 2 premiere
Season 2 of "Martha & Snoop's Potluck Dinner Party" aired on VH1 October 16 and featured some funny moments. The guest stars were actor Jamie Foxx and singer Patti LaBelle. The show featured chicken recipes, music and a birthday party for Snoop Dogg. While coating chicken in flour, Snoop Dogg put flour on Jamie's nose saying "Here's your kilo!". Martha added "They only go for the green on this show". Snoop Dogg is no stranger to cannabis and Stewart plays along with the jokes. Later in the show Maratha brought out helium filled balloons to celebrate Snoop's 45th birthday. Foxx persuaded the rapper to suck helium and rap the Migos' hit "Bad & Boujee" which Snoop happily did.
Wiz Khalifa and Seth Rogan
On the very first episode of "Martha & Snoop's Potluck Dinner Party" rapper Wiz Khalifa and actor Seth Rogan appeared with the couple. The theme was a cook off to see which chef could make the best fried chicken. With the pro-marijuana guests many of the jokes were about weed being used in food. While having fun drinking, cooking, eating, playing music and talking, Martha played along with the off color jokes. At one point Martha calls Rogan "nerdy". Wiz Khalifa also seems to sneak a secret herbal ingredient into Martha's chicken broth. Martha plays along with it.
Martha gets bling
Rick Ross was a guest on Martha and Snoop's show in the first season. Ross playfully tried to woo Martha who played along with it. Ross brought her a surprise present, a gold coated cheese grater on a chain. Martha wore the necklace and wryly said: "This is my first piece of bling". Ross continued to flirt with Martha inviting her to his mansion. Ross even gave Martha a backrub.
Thanksgiving
In Season 1 of Martha and Snoop's show the cohosts and their guests featured an episode on how to roast a turkey. With turkey hats on their heads, the cohosts had fun with their guests 2 Chains, Naya Rivera and Chris Bosh. Snoop playfully dances and raps with his turkey hat on. Snoop then delivers his Thanksgiving prayer: " Cranberries, stuffing, and hot pumpkin pie. But football featuring the Detroit Lions? I have no idea why." as the group discuss dealing with obnoxious guests.
Catching Lobsters
In Season 1 Rick Ross and Ashley Graham joined Martha and Snoop for a clambake. Lobster Thermidor. Ross and Snoop Dogg have to grab their live lobsters from a tank. While Ross goes in with no problem, Snoop's afraid. Snoop requires a stainless steel glove to fish out the lobster. He calls for a weapon and screams: "How do I make them look away?!". Ross tells Snoop Dogg that lobsters carry the Zika virus.