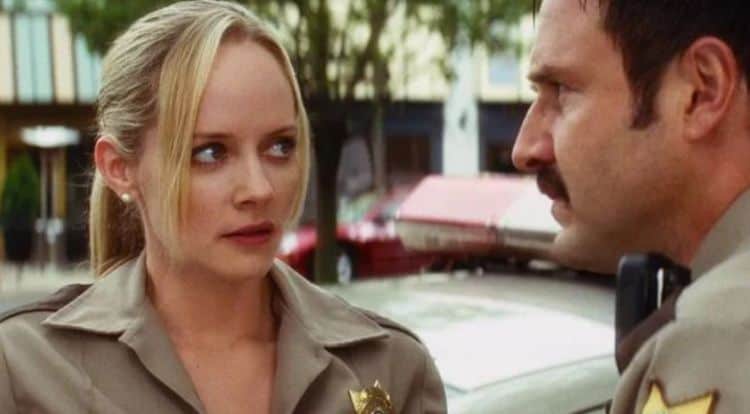 Many of the child stars viewers knew and loved from the 80s and 90s went on to struggle to have successful careers in adulthood. That's not true for Marley Shelton, though. Marley became well-known after playing Wendy Peffercorn in the 1993 classic, The Sandlot. Since then, she has continued to act consistently and her resume currently consists of over 70 credits. Marley has appeared in several popular films such as Scream 4, and she's also been in many TV shows. Her career has been a testament to hard work and dedication, and she doesn't have plans to slow down any time soon. Keep reading for 10 things you didn't know about Marley Shelton.
1. She Was Shocked By The Success Of The Sandlot
When The Sandlot was released in 1993, no one had any idea how big of a timeless hit the movie would become. In an interview, Marley admitted that she was surprised by the film's success. She said, "I'm shocked! Initially, people liked the movie but nobody thought it was going to have the legs that it did and become this cult classic." Although the movie is almost 30 years old, it still has a huge following and younger generations continue to enjoy the movie.
2. She Was A High School Cheerleader
Even though Marley began her acting career at a very young age, she was still able to have somewhat of a 'normal' teenage experience. She attended Eagle Rock Junior/Senior High School in Los Angeles where she was a member of the cheerleading team and was also voted prom queen.
3. She Studied At UCLA
After graduating from high school, Marley decided to continue her studies at UCLA where she studied film and theater. While in college, she was able to support herself by taking a few small acting roles here and there. She also studied acting with legendary coach, Larry Moss.
4. Her Parents Work In The Entertainment Industry
Marley certainly isn't the first person in her family to find success with a career in the entertainment industry. She was actually following in the foot steps of both her parents. Her father, Christopher, is a director and producer and her mother, Carol, was a singer.
5. She Was On TikTok
When most people think of TikTokers, they immediately envision teenagers and young adults who dance around and make lip syncing videos all day. Marley may not fall into the typical TikToker age range, but she was active on the platform and does like to make dancing videos. Unfortunately though, it looks like she has since deleted her TikTok account.
6. She Loves The Outdoors
Marley may have grown up in Los Angeles, but that doesn't mean she's all wrapped up in the glitz and glamour that is usually associated with Hollywood. She is a very down to earth person who enjoys the simple things in life. One of her favorite things to do includes spending time outdoors and enjoying the natural beauty around her. She loves to go hiking and exploring.
7. She Arrested On A DUI
Marley's track record is definitely a lot cleaner than many other celebrities, however, she isn't squeaky clean. In 2010, she was arrested and charged with a DUI while driving in Los Angeles. She ended up pleading no contest and was given two years of probation plus a $240 fine.
8. She's Traveled The World
When it comes to exploring, Marley isn't just interested in seeing what local places have to offer, she also loves to explore places all over the world. Marley has gotten the chance to do a lot of traveling over the years. Her wanderlust has brought her to places like the United Kingdom and several countries throughout Asia and Africa.
9. She Was Supposed To Be In Season Six Of The West Wing
If you were a fan of The West Wing, you may remember that there were announcements in 2004 about Marley joining the cast as Annabeth Scott for the show's sixth season. Unfortunately, though, she ended up being replaced by Kristin Chenowith before the season began after changes were made to the character.
10. She Loves Suspense
Marley has done a lot of different genres throughout the years, but suspense will always have a special place in her heart. She told Gone With the Twins, "Personally as an actor I am obsessed with suspense and what creates it. I have studied suspense and I love the old Hitchcock films for that reason." Marley's scary movie run isn't over yet. She will be appearing in the upcoming film Scream 5 which is set to be released in 2022.
Tell us what's wrong with this post? How could we improve it? :)
Let us improve this post!