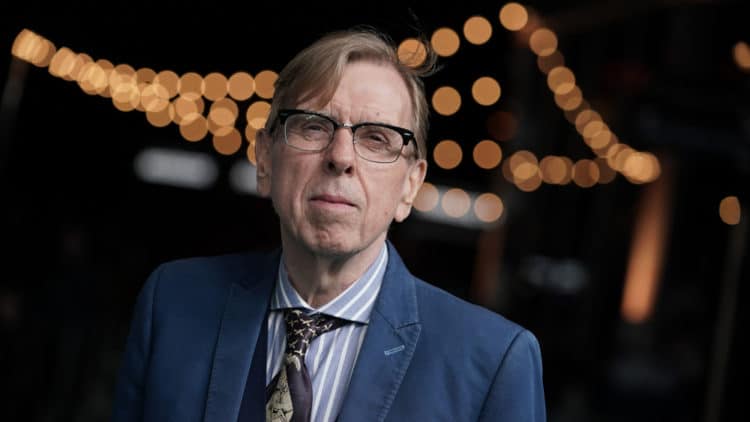 Many critics are saying Spencer is the movie of 2021. A heavily fictionalized portrayal of Princess Diana in the final years of her marriage to Prince Charles, Spencer has seen mostly positive reviews, with actors Kristen Stewart (Princess Diana), Timothy Spall (Major Alistar Gregory), and Sally Hawkins (The Shape of Water) already generating Oscar buzz for their respective performances. The movie's star, Stewart, doesn't care about all of that, however, according to a recent article here on TVOvermind. Spencer took note of the very many films and performances that get snubbed in the Oscars and during awards seasons in general, so, as far as potentially getting an Oscar nod for her portrayal of the People's Princess, Spencer says: "I don't give a ****."
While Stewart's performance was critically acclaimed, Timothy Spall was a show-stealer. The veteran British actor shared scenes with Stewart's Lady Di on Spencer, playing a character that he describes as "a bit of an antagonist." Talking about his character, according to Variety, Spall said: "He believes in the sanctity of that system. Britain doesn't have a constitution and if there is one thing that can really represent this poetic, mystical Britishness, it's the royal family. That's why everyone is so obsessed with them, including people from other countries. My character understands that. He says: 'I was prepared to die for this. It's bigger than my life and it's bigger than your marriage.'"
Timothy Spall is a revered actor in the United Kingdom, having appeared in multiple projects in Britain and in the United States. Spall made the news a few years back for his astounding physical transformation, shedding off the weight he's always been known for to become a slimmer fellow. He talked about his weight loss with The Independent, saying: "But I'm not surprised because we're obsessed with it, and I suppose people speculate on whether you've got some terrible disease or something. I don't look at Twitter and all that, but I'm sure they've said all sorts of horrible things – 'Ooh god, he looked much better when he was fat', I bet it all goes on." He even went on to compare his weight loss with Louis Armstrong's, saying: "Louis Armstrong went through a whole period of being this big, big guy, and then all of a sudden he lost a load of weight and people said, 'Oh god, is he ill?' But then for the last 20 years of his life, he was thin and nobody cared. I think there's a transition period." Timothy Spall is one of those actors that get people saying, "I've seen this guy somewhere." Here are some of the most notable projects Timothy Spall has appeared in prior to Spencer.
Harry Potter franchise
Younger fans are probably more familiar with Timothy Spall's role in the Harry Potter movies. First appearing in Prisoner of Azkaban, Timothy Spall plays Peter Pettigrew, a pathetic, cowardly wizard who lives as a rat named Scabbers to avoid the wrath of the people he had wronged. He appeared in five Potter movies, Harry Potter and the Prisoner of Azkaban, Harry Potter and the Goblet of Fire, Harry Potter and the Half-Blood Prince, and both parts 1 and 2 of Harry Potter and the Deathly Hallows. It's not clear if Timothy Spall will appear in the 2022 Harry Potter reunion, but fans of the franchise hope he graces the grand get-together alongside Daniel Radcliffe, Rupert Grint, and Emma Watson.
Mr. Turner
Timothy Spall starred in the critically acclaimed biopic Mr. Turner, about the life of J.M.W. Turner, an English painter. Spall plays the role of Turner. Also starring in the movie are Dorothy Atkinson (All or Nothing), Marion Bailey (Vera Drake), and Paul Jesson (Coriolanus). The movie was well-received during its release, with Moira MacDonald of the Seattle Times (via Rotten Tomatoes) writing: "You leave "Mr. Turner," as with all good fact-based films, wanting to know more about this man and his work – and remembering that beautiful, almost touchable light, on the canvas and on the screen." Spall's masterful performance as the English artist was also lauded, with numerous award-giving bodies recognizing his work. For his role as Mr. Turner, Spall won Best Actor at the Cannes Film Festival as well as the European Film Award.
Finding Your Feet
Even well-respected thespians like Timothy Spall do romantic comedies — and do them well, too. In 2017, he starred in Finding Your Feet, alongside Imelda Staunton (Vera Drake) and Celia Imrie (Nanny McPhee). The movie reunited Spall and Staunton, who had been long-time pals behind the camera. In an interview with the Los Angeles Times, Spall described how it was working with the actress. "The lovely thing about it is that it all felt natural," Spall says. "No need for any bull… We just got on with it. The great thing is that when you're working with people who you admire and know — this sounds like a bit of a love fest, but it's really true — you don't have to mess about. You can get straight into the center of it. Anything that's a problem you iron out without any messing about."
Mrs. Lowry & Son
Timothy Spall has a knack for playing real-life people. In Mrs. Lowry & Son, he portrays the artist L.S. Lowry, opposite actress Vanessa Redgrave (The Butler) and actor Stephen Lord (EastEnders). The movie received mixed reviews during its premiere. While Spall's performance was singled out as being exemplary, the overall movie was criticized for being repetitive. As Wendy Ide of The Observer harshly put it: "The script, by Martyn Hesford, gets bogged down in repetition. And Adrian Noble's direction leans too heavily on a score that is as frilly and prim as one of Mrs Lowry's lace doilies."
The King's Speech
Once again playing a real person, Timothy Spall portrays Winston Churchill in this Oscar-winning movie starring Colin Firth, Geoffrey Rush, and Helena Bonham Carter. Playing the former prime minister is always a challenge, but the rewards of pulling it off can be tremendous. Just ask John Lithgow, who won an Emmy for playing Churchill in the first seasons of The Crown, and Gary Oldman, who won an Oscar portraying the same character in The Darkest Hour. Timothy Spall did well in portraying the bullish World War figure, but not enough to steal the show from Firth, who won an Academy Award in his portrayal of King George VI.
Tell us what's wrong with this post? How could we improve it? :)
Let us improve this post!