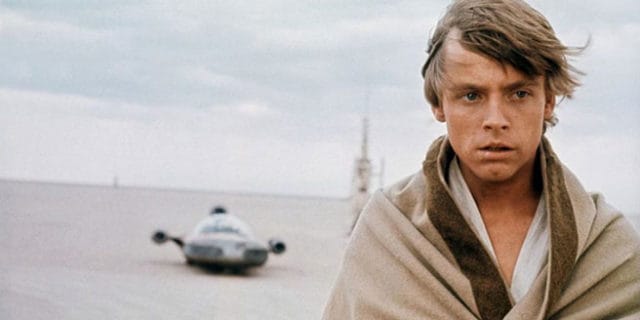 Everyone in the Star Wars universe is gearing up for The Last Jedi. At this point it's almost as if the entire Star Wars: The Force Awakens film was a giant tease so that we could really get down to business and feature Luke Skywalker again. During this next Star Wars round all eyes are going to be on Mark Hamill has he's expected to carry a much bigger load in The Last Jedi. We saw him for all of a few precious moments with Daisey Ridley but all of us knew that he'd be a focal point again. As to what Luke Skywalker will do in The Last Jedi is up in the air. Will he lead a war? Will he train new Jedis? What the hell is going on here?
If there's one thing we won't be short on at all, it's speculation, teasers, photos, theories, you name it. Speaking of which, if you follow Mark Hamill on social media you'll know that A. he's extremely funny and B. very generous in sharing personal pictures and nostalgia. Over the weekend Hamill took the time to post the very first ever photo of him as Luke Skywalker on the set of A New Hope.
Taken in Tunisia early morning Day #1 waiting for my 1st shot (emerging from home for robot auction)-Perhaps the very 1st #LukePic #SW pic.twitter.com/WMCGnWCotP

— Mark Hamill (@HamillHimself) March 18, 2017
The photo shows Hamill as the famed Luke Skywalker on Tatooine with some Jawas hanging out in the background, photobombing like champs. Hamill posted the photo, much to the gushing of fans, saying this was not only his first day on set, but probably the first photo of him on set ever. There's nothing revealing about it, but it's still worthy of a place in our already loaded mental cache of set photos from the series. Hamill also responded to one user, reaffirming his faith in the movie from day one, even though not everyone shared his enthusiasm.
Judging by my clueless expression, probably both. Crew was kind but thought #SW was "rubbish"-I kept telling them"We're on a winner!"#LOLuke https://t.co/S6mzZbWLvD

— Mark Hamill (@HamillHimself) March 18, 2017
Nothing shocking here and no new revelations but this is just awesome, don't you think?
Tell us what's wrong with this post? How could we improve it? :)
Let us improve this post!