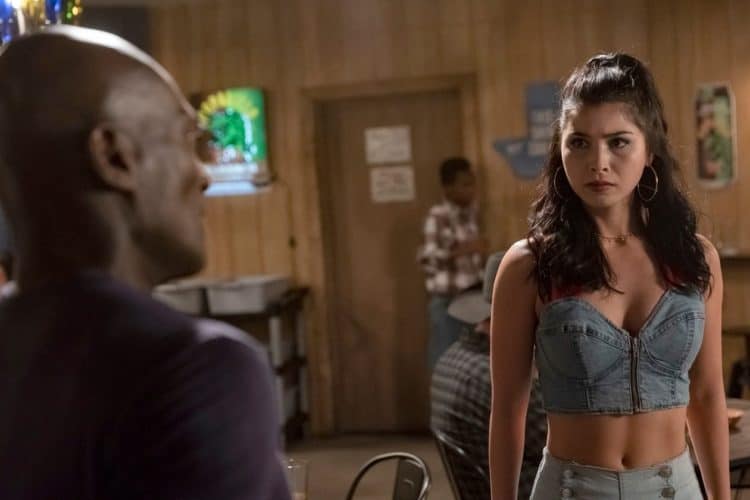 Marissa Cuevas is an American actress who is best known for her role in the 2017 series "Midnight Texas," She's also appeared in "The Big Bang Theory" in 2007 and in "Supah Ninjas" in 2011. She hasn't received a lot of press, but she does have a following of fans who would like to hear more about her. We were also interested in knowing more about her, so we looked into her history and what she's up to now to find out. We discovered 10 interesting facts about her that you probably didn't know.
1. She's also appeared in television commercials
We found two television commercials that Marissa has also appeared in. There were two spots, one for Listerine, and another which was a McDonald's Happy Meal TV spot featuring "The Smurfs 2." The two spots have aired 5.015 times. Although it's not a lot, at least the actress is getting some air time so viewers will become more familiar with her face. She's taking a good approach to become recognized with the viewing public.
2. Marissa has a Wiki Fandom site
Cuevas appears in the second season of the series "Midnight Texas," playing the part of Dawnette. She's a newcomer to the business, so there isn't a lot of information other than the basics posted on her site. If you're a fan and you want to share your opinion of how she's doing on the show, then this is a great place to get online and post and start discussions with other fans.
3. She has some fabulous pics on Instagram
Marissa Cuevas also has an Instagram site where you can join her other fans. Here, you'll find some amazing pictures of the young actress. When we checked the site, we found that she has 2,125 followers and she's following 595. There are 27 posts.
4. Marissa is a dancer
Many fans don't know that Marissa Cuevas was previously a dancer. She got her start early, taking dance lessons. She was even involved with on-stage musical productions when she was just nine years old. She was a dancer with the youth team the New Orleans Hornets. She's used to being in the limelight because she got her start in the performing arts at an early age.
5. She's had recurring roles
Cuevas had a recurring role in "Supah Ninjas" which is a Nickelodeon series. She also appeared in two Disney XD shows, "Lab Rats," and "Kickin' It." In addition to this, she also landed the lead part in a film titled "Labou." If you remember the show "Faking It," she appeared in a few episodes alongside Katie Stevens, as a guest star.
6. Cuevas is also a choir singer
In 2008, Marissa was a member of the choir which was chosen to sing at the Presidential Inauguration. There were quite a few members in the group, but if you review the footage of the event, you're likely to see her. It seems that there is no end to the talents that she possesses.
7. She's a native of New Orleans
Marissa was born in New Orleans, Louisiana. Her birthday is December 14, 1992, which makes her 26 years old. We learned that she has a sister named Zsa Cuevas. She and her family relocated and moved away from New Orleans after Hurricane Katrina, which dealt a devastating blow to the city and outlying communities. The family moved to Los Angeles, California, which gives her better opportunities for pursuing her career in the entertainment industry.
8. She as a Reported Net Worth of $14 million
Marissa has been involved in a lot of television series as well as TV commercials and a movie. When we inquired about her financial health, we discovered that she has done very well indeed. She has an estimated net worth of $14 million. This has been earned primarily through her career as an actress, according to Idolnetworth.
9. Marissa is a private person
Although most actors love the limelight, Marissa is a private person. While others may be busy posting everything that's going on in their personal lives, you won't find a lot of information out there about her. She likes to keep her personal life private, and while this may be frustrating for some fans, it's nice to respect her right to privacy. Not all stars get to enjoy this luxury, but so far, Marissa is popular enough, but not so big that the paparazzi are hounding her. She likes to keep it low key, but every now and then we hear a little more about her so we have to keep our eyes peeled and our ears open for any news.
10. Marissa is single
We, like Marissa's other fans, were interested in knowing more about her personal life. We did discover that she's single unless she's really good at keeping a secret. She doesn't have any children, and if she is dating somebody then it's one of the best-kept secrets in the world. It is our suspicion that she is staying focused upon her acting career. There really isn't any information available about her sexual orientation or about who she has dated in the past. It's a mystery and if Marissa maintains the same level of privacy, we're not likely to find out unless someone from her past steps forward to offer new information. At the age of 25, Cuevas has a lot of time left. She's young, beautiful and highly successful in her chosen profession, so we're likely to hear more about her in the future.