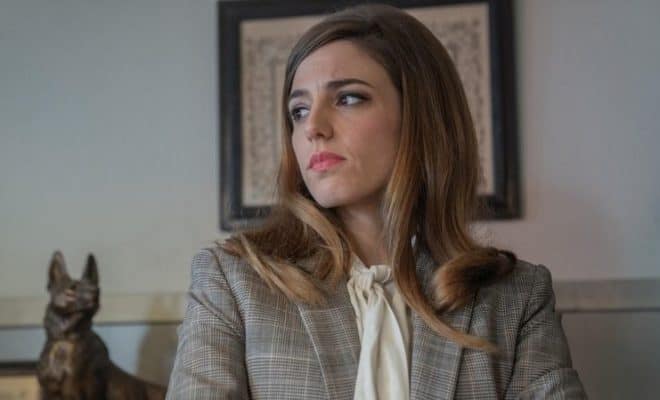 After spending more than a decade and a half in the entertainment industry, Marina has made it very clear that she's here to stay. She has become a fixture in the Spanish entertainment industry and anyone who has seen her work knows it's easy to see why.Regardless of the size of the role she's playing, Marina always brings a commanding presence to the screen. Many viewers will know her best from her role in the Netflix series Hache. Although the series is in Spanish, it's become popular all over the world. Now in its second season, Marina is back on the screen and she's ready to continue to take the world by storm. Here are 10 things you didn't know about Marina Salas.
1. She Is Buddhist
Marina has been practicing Buddhism for several years. When asked how she was first introduced to the faith she told SokaGlobal,
"While I was filming a TV series for Televisión Española with actress Esther Ortega, we became close friends. One day, I was at her home for dinner and asked her about her Buddhist altar. She told me that she would explain it to me in more detail at a later date…It was some time after this that a close friend of mine named Marc had a car accident and fell into a coma. Around that time, I was having dinner with Esther again, and she happened to mention her Buddhist practice. She asked me what I desired the most at that time, and I told her about Marc. From that desire for him to get better, I started practicing Buddhism."
2. She Speaks Several Languages
If you've ever tried to learn another language you know just how stressful it can be. That being said, the fact that Marina speaks four languages is certainly nothing short of impressive. Marina speaks four languages fluently: Spanish, English, French, and Catalan.
3. She Loves To Read
Marina's schedule has been incredibly busy over the last few years, so she probably doesn't get a lot of free time often. When she does have some time off from work though, she loves to spend it relaxing with a good book. As someone who is always looking forward to learning new things, Marina enjoys being able to expand her knowledge through reading.
4. She Wasn't Aware Of Helenas Story Before Being Cast On Hache
If you haven't checked out Hache on Netflix yet, it's a crime drama that is loosely based on the life of a woman named Helena who finds herself rising to the top of a crime organization after a crime boss develops an interest in her. During an interview with Starry Mag, Marina revealed that she wasn't familiar with Helena's story before being cast on the show.
5. Family Is Important To Her
Marina was born in Catalonia, Spain and she comes from a close knit family. She has an especially close relationship with her siblings, Ferran and Rosa who both also practice Buddhism. Both Ferran and Roser also work in the entertainment industry and have had successful acting careers.
6. She Spends A Lot Of Time Outdoors
Nature isn't everyone's cup of tea, but those who love it often find that Marina loves being outdoors is a great way to simply decompress. in the beauty of nature and it's become the perfect place for her to clear her head and escape the excitement of her job.
7. She Has Theater Experience
Marina has nearly 40 on screen credits at this point in her career, but that isn't the extent of her professional acting experience. She has also spent a good amount of time on the stage and like many other actors, theater will always have an important place in her heart.
8. She Is Grateful For All Of Her Fans
Fans are absolutely essential to having a successful career, and this is something that Marina understands. She told Starry Mag, "Without the audience we don't exist and because of it we can develop our creativity. And thank you for your messages and letters. I read them all and I appreciate the most. Gratitude."
9. She Loves A Good Adventure
Life is all about making memories, and Marina wants her to be full of excitement and adventure. Marina is always willing to try new things and she loves getting the chance to explore. Her willingness to step out of her comfort zone is a quality that has also benefited her as an actress.
10. She Likes To Travel
Marina's adventurous nature has also resulted in her having a serious case of wanderlust. Luckily she has been in a position where she can travel often. Marina has gotten to travel to beautiful places all over the world including Tanzania, the United States, Ukraine, and Mexico.
Tell us what's wrong with this post? How could we improve it? :)
Let us improve this post!