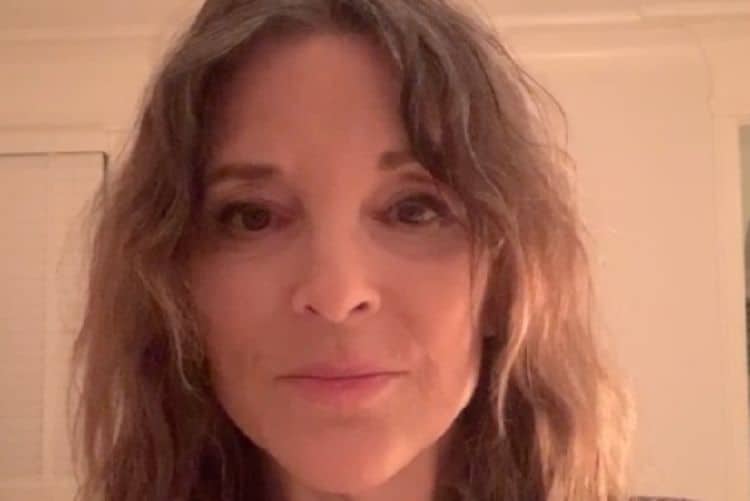 In November 2018, author, lecturer, and social activist Marianne Williamson announced her intention to run in the 2020 presidential campaign. A straight-up, progressive Democrat, Williamson has called for an increase in the federal minimum wage, a reduction in income inequality, a "Medicare for All", and a serious commitment to tackling climate change. So far, she's received a mixed reception; although many have come out in support of her liberal blend of politics and spirituality, others have raised concerns over her political capabilities, her somewhat left-field approach to vaccines, and whether anyone who's been hailed as a "spiritual legend" by Gwyneth Paltrow is really fit to be president. For 10 quickfire facts about the presidential hopeful, read on.
1. She's a college drop-out
Williamson was born in Houston, Texas in 1952 as the youngest of three children to Samuel Williamson, an immigration lawyer, and Sophie Ann Kaplan, a homemaker. After finishing high school, Williamson enrolled in a theatre and philosophy course at Pomona College in Claremont, California. She managed to put in two years at the college before dropping out, moving to New York and trying her luck as a cabaret singer. The venture ultimately failed, and after a brief sojourn in San Francisco, Williamson headed back to her home town of Houston.
2. She's always had connections
Williamson has had a connection to the spiritual since a young age. "When she was a baby of 3 or so, I would come in to kiss her goodnight," her mother, Sophie Ann, shared with People. "Half the time she'd be sitting in her bed with her eyes closed and her little hands clasped under her chin, and she'd say, 'Go away, Mommy. I'm talking to God.'
3. Her move to Los Angles was her breakthrough
After dropping out of college, Williamson spent several years in the wilderness, trying out numerous ventures (including running a metaphysical bookstore, singing Gershwin standards at Houston's nightclubs, and even flirting briefly with marriage) with varying degrees of success. In 1983, with no job and limited funds, she packed her bags and headed to Los Angeles. It was here that her lifelong interests in the spiritual and the theatrical finally found their true expression, and Williamson quickly began to make a name for herself with her unique brand of self-help/ spirituality/ pop psychology.
4. She published her first book in 1992
In 1992, Williamson published the first of what would turn out to be many books, "A Return to Love: Reflections on the Principles of a Course in Miracles". The book enjoyed huge success on its initial release, spending 39 weeks in total on the New York Time's Bestseller list, and 11 weeks at number one on the Publishers Weekly non-fiction best-sellers list. Although many have credited it with bringing New Age wisdom into the mainstream, others have dismissed it as a tasteless, or, as John Podhoretz put it " a work of surpassing vulgarity in a surpassingly vulgar field."
5. She's a controversial leader
Back in the early 1990s, Williamson's leadership style was questioned when tales from former employees emerged suggesting Williamson's out-of-control ego, abrasive, micro-management style, and habit of alienating her allies were undermining the efforts of her various charities. "Marianne is a tyrant. She's cruel–unnecessarily–and very controlling," one former associate told People "It doesn't mean that her works aren't great. They are. But her own ego is going to destroy her."
6. David Geffen funded the Los Angeles Center for Living
During the HIV/ AIDS epidemic of the 1980s, Williamson came up with the idea of the Los Angeles Center for Living, a community designed to provide psychological and emotional support to people living with the disease. Williamson drew on her famous friends for the financial support needed to launch the project, and in 1987, she opened the center with the backing of music mogul David Geffen. Two years later, Geffen contributed another $50000 in seed money to open a sister- center in Manhattan.
7. She doesn't like to be called a New Age guru
Williamson's brand of spirituality has often led the media to label her a "New Age guru"- a title she doesn't take too kindly. "The press creates a caricature," she told the LA Weekly " 'New Age guru… first of all, what is the suggestion here, that the 'old age' is working?" "I've never worn a velvet scarf in my life," she went on to say. "You label somebody 'New Age,' and that's automatic mockery: 'She cannot possibly be a serious thinker.'
8. She's friends with the rich and famous
Ever since her early days, Williamson has attracted the attention and support of some of the world's most famous names: Elizabeth Taylor was such a close friend Williamson was asked to officiate at her wedding to Larry Fortensky; Nelson Mandela read one of her prayers in his inaugural address in 1994; she joined Bill and Hilary Clinton at Camp David during the former's presidency; record producer David Geffen contributed the financial support needed to launch two of her earliest projects; Oprah Winfrey was the first talk show host to invite Williamson to appear on TV, and has remained a close friend ever since; Laura Dern has been part of her friendship circle ever since the two shared a room at college… the list goes on.
9. She was forced to apologize over vaccines
At a Democratic debate in June, Williamson incited controversy after she called mandatory vaccines "draconian" and "Orwellian". "To me, it's no different than the abortion debate," Williamson said. "The U.S. government doesn't tell any citizen, in my book, what they have to do with their body or their child." In response to the fallout, Williamson hastily retracted her comments, telling the LA Times: "I understand that many vaccines are important and save lives, I also understand some of the skepticism that abounds today about drugs which are rushed to market by Big Pharma. I am sorry that I made comments which sounded as though I question the validity of life-saving vaccines. That is not my feeling and I realize that I misspoke."
10. She has a daughter
In 1990, Williamson gave birth to her first and only child, a daughter named India Emma. Williamson has never revealed the identity of India's father, or indeed, said very much about her daughter. "My daughter lives in London, and that is about as far as I will go in discussing her," she told LA Mag. "So be it."
Tell us what's wrong with this post? How could we improve it? :)
Let us improve this post!