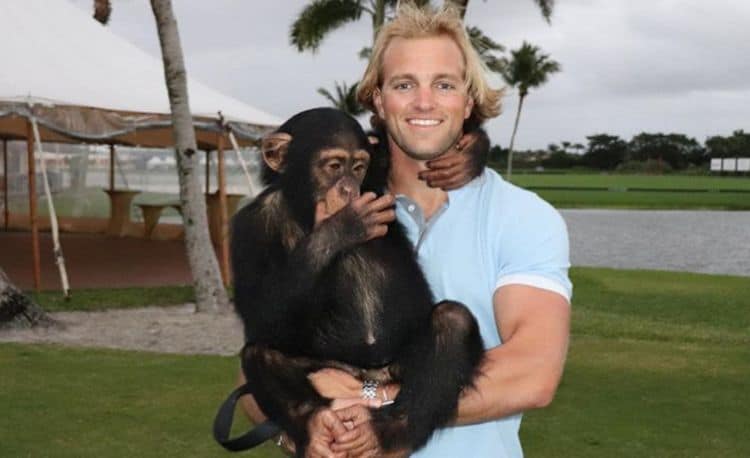 Even if you don't drink it, you know the Busch family name because of their beer. They make it, they promote it, and they've earned a very healthy living from it, and now they are getting a reality show of their own. Focused around the family, we are going to get to know them all really well, and that includes a set of seven siblings. August Busch — you can call him Gussie — is one of seven kids. You may even know his name already since he is one of the former Alabama Crimson Tide National Championship football players. However, it's probably time to get to know him a bit better now that he's going to be a reality star, too.
1. He's a Namesake
He's August, but he's not the first one. He's got like four more people with the same name ahead of him in the family. His grandfather is the first, his uncle is the second, his cousin is the third, and he is the fourth in line. His great-grandfather was not August, but he was close with Adolphus, who also founded the family company 170-ish years ago.
2. He's Close to His Youngest Sister
His youngest sister is Maddie. She's the most serious one in the family. She is very focused on her education. She doesn't like to party, and she's relatively laid-back in terms of all she does, and she's only 17, but they are tight. They like to hang out together, they like to go to sporting events together, and they almost always travel as a family.
3. He's Really Wealthy
They are the 18th wealthiest family in the country. What makes that even more impressive is that they have a staggering net worth of more than $13 billion, and they are only the 18th richest family. And that's only in America. They're a lot further down the list when you get into other families in other countries.
4. His Parents Train Animals
So, this is fun. The family owns a wildlife retreat with something like 700 acres, and that's where his parents met so many years ago. They were both training elephants and other animals on the land when his father saw his mother. It was love at first sight, and then they were married. Now they have seven kids and a happy life with one another.
5. Family First, Always
This is a family that doesn't let their wealth get in the way of their love for one another. They might have a lot more than many families, but they are not letting their kids run around or forgo their education or not do the right things. They have to go to college. They have to graduate, and they have to spend time with their family. They all take that to heart, and they are close, and they are a good family. That's impressive, and we love it.
6. He Skipped Out on A Scholarship to Go to The Ohio State
We love this story because as a Florida Gator, we get it. He had a scholarship to play football at The Ohio State, but he decided to decline it and take a chance playing for a real football team (again, Florida Gator here, but we'll take any team in the SEC and root for them) so he forwent his scholarship and chance to play and joined the team at Alabama. He didn't get to play at all, though.
7. He Didn't Graduate from Alabama
He didn't get to play at all, so he decided to leave his junior year and attend Southern Methodist University. His parents insist their kids end up with a degree, so he got his in Sports Management only two years ago. Now he plays polo. He recently won some big matches playing polo in Florida, and he is very proud of his accomplishment. His father also did the same growing up, so we are beginning to see that they are clearly a lot alike. We'd say that's probably not a bad thing in the grand scheme of things considering how much is family respects and loves him.
8. He is a Staunch Republican
Yet another thing we like about him. Many people say it's the unpopular opinion these days, but we don't think so. After all, everyone said it was unpopular four years ago yet here we are in office and getting things done, so there is that. He also likes to hunt, fish, and have a good time doing things that require him to be athletic and physically active.
9. He Enjoys a Good Time
His parents say that of all their kids, he is the one who is most likely to party. He enjoys a good time, he calls himself a ladies man, and he's not afraid to go out and have some fun. He's pretty good about being cool about it, though. He's someone who doesn't cause a scene or make a mess or live his life only partying and having a good time. He knows there is a time and a place for it, and he makes sure his real life is the most important thing he lives. His mother says he is a lot like his father in that he loves to be social and have people over, or go out and be social, but that their son is a young man who loves to be the center of attention any chance he gets.
10. His Sisters Call Him Disgusting
They are all close to one another, and they are a tight family, but his sisters call him the grossest one of all of them for a super disgusting reason — honestly, we are right there with them in their line of thinking. It turns out that he's the most likely to forget to flush the toilet. And here I thought my five-year-old son would eventually remember to flush when he leaves the potty, but now I'm rethinking that he will ever learn if we don't push him even harder.
Tell us what's wrong with this post? How could we improve it? :)
Let us improve this post!