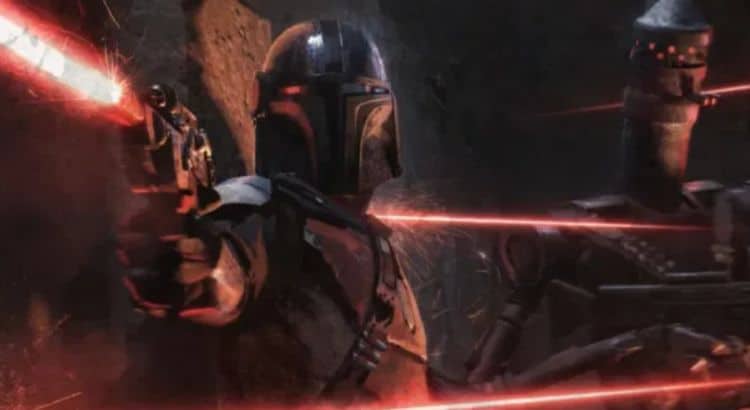 Did anyone really expect what The Mandalorian would be like when it first came out? Kind of like this rap video, it was highly unexpected but it turned out to be great since the first season had its slow points here and there, but it definitely sped up in certain places and was nothing short of epic since it introduced several new characters and was able to coincide with the Star Wars universe in a very big way that people really enjoyed. The video goes through pretty much the majority of season one, which makes a person feel that another one might come along when season two is all said and done. So far the second season has been just as good as the first, though it's been seen that a number of people have had something to say about certain episodes, and the emergence of a few more pieces of information and certain characters, and the fact that Baby Yoda now has a name, has cast even more speculation on the show and allowed many folks to speak out for or against the show. The episode that saw Baby Yoda, or Grogu as he was revealed by Ahsoka Tano in the most recent chapter, eating several eggs belonging to a frog-like alien upset quite a few people, but apparently, this was done with intent.
Normally it's not a very smart decision to willingly antagonize a fanbase, but seeing as how the storm of comments and opinions about this has died down already it's fair to say that people have either moved on to the next thing to be upset about or have realized that they're arguing over a work of fiction, and unfertilized eggs at that since as the frog alien mentioned in the episode, via a translator, the eggs needed to be fertilized by her mate to continue her family line. It's kind of like eating chicken eggs, if they're not fertilized then they're not going to grow into chicks, meaning that it's not murder and one isn't eating babies, but they are eating the genetic material that is needed to make a baby. It's a bit disturbing, there's no doubt of that since Grogu has never been shy about what he eats, but at the same time it's a rather natural part of life, even it was a little odd to see this being put into the show. Those that wrote it in had a reason though, and they've gone ahead to explain it. Whether people are going to like the explanation though is hard to say, but it doesn't matter in the long run since like it or not, Star Wars is a beautiful but also very brutal universe where things and people tend to last if they're able to find a way to survive. It's a hard way to look at life when one really thinks about it, but Star Wars is a story where life is hard for many and easy living is hard to come by.
Din Djarin is a prime example of this since his family was taken from him when he was young, and he was adopted into a culture that taught him to be a warrior and also taught him the hard truths of life that would hit him if he wasn't willing to do what it took to survive. The life of a Mandalorian has often been described as a very hard and unforgiving existence, and Din has shown that it's filled with plenty of adventure as well as danger, and a definite need to serve one's own interests ahead of others most times since there's often no telling just who is willing to gun a person down to steal their bounty or simply take what's theirs. On the positive side though Din has also met up with a few individuals that have been shown to be honorable enough that they've been worth trusting since they've defied the common view that trusting no one is the best policy.
In the latest episode, it was kind of impressive to see Din square off with Ahsoka for a short period of time before he told her why he was there. It feels fair to say that in a prolonged fight that Ahsoka would put him down since as skilled as Din is, Ahsoka is even more battle-hardened since she fights with little to no real armor compared to the Mandalorian and her skill set is a bit more extensive than Din's, even though his skills are considerable. She would eventually hand Din a hard loss if he ever did decide to try taking her down, but thankfully they parted on good terms, so it's likely that we'll see her again. But until that happens a lot of fans are going to be pondering their meeting and the unlikely possibility that a Force-user and a Mandalorian could work together in the future to come.