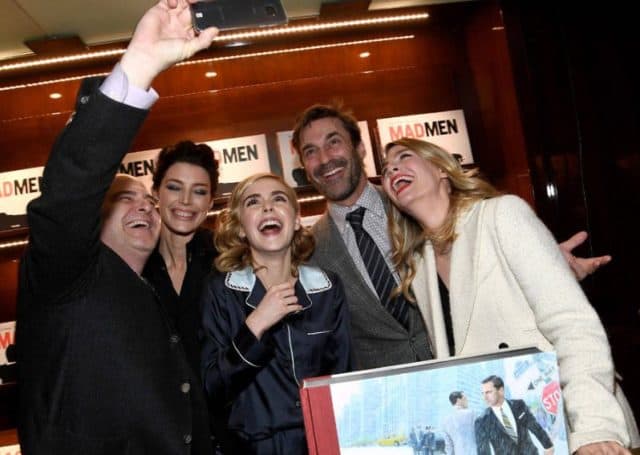 It's hard to believe, but it's been almost 2 years since the cast of Mad Men got together for the season finale.   There's little to no chance of the show is ever coming back nor is there any talk of a spinoff.  Might I just interject by saying I think that's exactly the way it should be?  Spinoff, maybe.  But don't resurrect the show.  I feel the same way about another AMC classic, Breaking Bad.  Sure the door is open but just let it be.  Let the speculation stay speculation and know that you'll always have a legendary hit to be proud of.
However, fans can be excited because we did get a Mad Men reunion last night. Thanks to Matthew Weiner and the release of his new Taschen book, Mad Men, Jon Hamm, January Jones, Christina Hendricks, Kiernan Shipka, Jessica Paré, Ben Feldman, and Kevin Rahm as well as many of the producers, writers, and creative talent behind the hit show got together to celebrate the show creator's launch.
Weiner apparently gave a very heartfelt toast to those in attendance saying that he appreciated everyone who was there and that he was excited about his project. Afterwards, the group was signing autographs of the book. Weiner captured a great smiling moment on his phone and for just a brief moment, Mad Men was back on the air again.