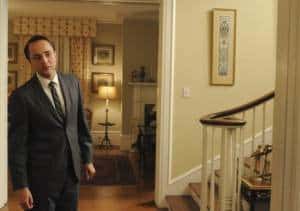 Mad Men is quite often about desire and expectations; the advertising business that the show centers around sells the perfect kind of life to a consumer. As we all know life isn't like a commercial and this season of Mad Men is exploring dreams and the bitter reality of life. There is a mixture of honesty and deception in "Lady Lazarus" as Megan (Jessica Paré) makes a significant decision regarding her career and Pete has an encounter on his way home from work that lights a spark that is quickly defused.
Last week Megan's father berated her for her choices regarding her work and her lack of 'struggle'. We saw that Megan is a natural at some aspects of the advertising industry but instead of celebrating her Heinz success she looked less than thrilled. Megan's decision to quit SCDP is the right one, especially when she describes how she felt better at failing an audition than being a success in her Heinz pitch. There is a curious push/pull between Megan and Don (Jon Hamm) when she first tells him that she wants to return to acting and it probably doesn't help that she tells Don this huge news in the middle of the night. Don is mostly supportive of her decision though he seems disappointed that he won't be working together anymore; is this because he will be free to return to his past behaviour now that they will be spending less time together? Or had work become more of a thrill with his wife at his side?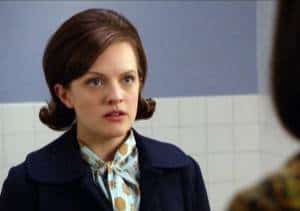 There is a different approach to the notion of career aspirations and dreams than when Roger and Don were growing up; Roger claims that he never had a choice and Don jokes that as he was raised in the 30s his dream was "indoor plumbing." Megan's decision is met with many different reactions; Peggy (Elisabeth Moss) admires what Megan has done and thinks that it has taken a lot of guts, while others such as Joan (Christina Hendricks) think that this is more a flight of fancy.
One of the telling moments is where Joan and Peggy are discussing the kind of woman that Megan is; Peggy thinks that she is 'just one of those girls' who happens to be good at everything (there is no bitterness in this statement) whereas Joan compares Megan to Betty (January Jones) thanks to Betty's former career as a model. This is definitely a disparaging remark saying "That is the kind of girl Don marries." Peggy does have an argument with Megan earlier in the episode when Megan says that she doesn't care about advertising work, which comes across as ungrateful but as soon as Megan is honest about her aspirations this conversation is forgotten.
For the most part we have seen Betty as a mother and a housewife and when there was a brief moment that Betty might return to her former career this was partly due to a business deal that Don potentially had. When Don turned down this offer then Betty's modelling job also fell through and this ended Betty's career resurrection. Don also doesn't want Megan to turn into Betty or Megan's mother and so is happy for her to pursue her acting dream from this respect. Don's conflict with Megan's choice is reflected by his bewilderment at why music is so important now and when he tries to give "Revolver" by The Beatles a listen he turns off halfway though "Tomorrow Never Knows." When Don talks about music and how he has "no idea what is going on out there," it would seem that this covers a much wider spectrum than the importance of The Beatles.
Someone else who is having a hard time understanding the actions of other people is Pete (Vincent Kartheiser) who still seems to be feeling like has 'nothing.' His daily commute to work still includes Howard (Jeff Clarke) the life insurance salesman who not only has a "spectacular side dish" in the city but he also has a beautiful wife at home. His wife Beth (Alexis Bledel) becomes the root of Pete's frustration and desire after Pete drives (yes he can drive now, though not very well) Beth home from the station and they sleep together. This moment is fleeting and is one that Pete wants to continue, unfortunately for Pete this isn't something that Beth wants and she tells him to think of it as a fantasy from now.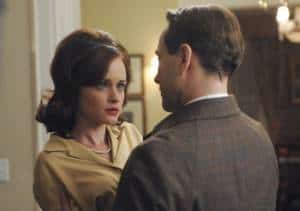 The photos of the Earth from space become an important image as Beth tells Pete that is what his eyes look like; this sounds like a compliment but she follows it up that they are surrounded by darkness. This leads to Pete talking to Harry about how certain women give you a glimmer of hope even though they are going to reject you. In Mad Men this sentiment could mean many different things for several of the characters and that glimmer of hope is what makes people continue to strive for something even amidst the rejection.
Pete is bitter about this notion and still pursues Beth; the most he gets is a heart drawn in the condensation of her window. Beth is showing signs of malaise and talks about how she used to be reckless but that men "don't care what I say. They just watch my lips move." There's definitely a Betty-like element to Beth on a more depressed-level and thanks to the Sylvia Plath poem title of this episode and mentions of suicide from Pete I half expected them to come home to find Beth's head in the oven. That wasn't the case but it wouldn't be a surprise if Howard got on the train one day and told Pete that his wife has killed herself.
If Beth is depressed then what is Pete? Should this suicide concern be stretched to Pete too? He is clearly doing well at work, or so Roger would suggest with the gift of skis. Pete also has Trudy (Alison Brie) at home but the two Pete-heavy episodes have shown that he is in a deeply unhappy state and is feeling as insignificant as the Earth looks in the universe.
Other Observations
-The world is changing and not just the music that is popular, though the song that is found to be a 'perfect' Beatles stand in is actually 30 years old according to Ginsberg (Ben Feldman). And makes him want to stab himself.
-Ginsberg's reaction to Megan's news is hilarious; first calling Don a son of a for firing her (which he didn't) and then asking the most random question about acting and whether you wear your own clothes and shoes.
-Don calls an elevator and is met with an empty shaft which has symbolism written all over it, but it is also just a scary prospect. I can totally understand why he needs a drink after that.
-This season has been pretty Joan-light so far but the scenes she has been in have been terrific and this episode showed why there should be some more Joan and Don scenes. It also demonstrated why Joan is the women they all go to for helpful advice and solutions to any problem.
-Peggy answering "Pizza House" to Don's 'where is Megan?' call is a highlight of this episode. Peggy's ability to stand up to Don is also pretty awesome, even if it is super awkward with Ken (Aaron Staton) standing there.
-I could also watch many more scenes of Pete struggling with carrying the skis- some brilliant physical comedy from Vincent Kartheiser.
-One of my favourite shots of the episode is of Megan and Don's feet as they walk into the office together for the last time as co-workers.
-"Lady Lazarus" is a poem by Sylvia Plath that features in the "Ariel" collection that was published in 1965 after her suicide two years previous. This is one of Plath's Holocaust poems and this one looks at repression and rebirth at the hands of a Nazi doctor. It is also highly suggestive of her previous attempts at suicide; "The second time I meant To last it out and not come back at all" and "Dying Is an art, like everything else. I do it exceptionally well." This poem is about rebirth which the speaker achieves through these acts of dying. Do these characters have a chance to successfully resurrect themselves or is there doom ahead?
Don genuinely wants Megan to be happy but he is confused as to how this can be achieved from acting; it will also be intriguing to see how this relationship evolves now they are not working together and whether this will reduce Megan's screen time now that she is no longer working at SCDP. Once again we have got a range of storylines that reveal how fragile some of these characters are with their expectations and hopes not matching up.
What did you think? Is there going to be a suicide before the end of the season? Are you glad to see that Don is mostly supportive of Megan's career aspirations and change? Let us know your thoughts in the comments.