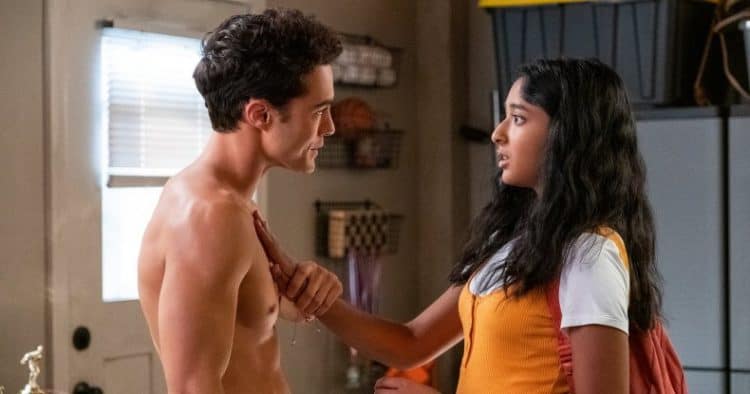 It's not often that a new comer enters the acting scene and completely blows everyone away, but that's exactly what Maitreyi Ramakrishnan has done. The 18-year-old Canadian actress is the star of Netflix's new series, Never Have I Ever, and the role is her first ever. In the show, Maitreyi plays a teenager named Devi who is trying to heal from her father's death while also trying to navigate the high school social scene. Fans and critics are pleasantly surprised by Maitreyi's performance and it's clear that her future is going to be full of lots of other success stories. Continue reading for 10 things you didn't know about Maitreyi Ramakrishnan.
1. She Beat 15,000 Actresses For The Role Of Devi
When casting first began for Never Have I Ever, Mindy Kaling posted a flyer on her Instagram to encourage people to audition. As you can imagine, the response was huge. 15,000 people tried out for the role of Devi, but there was something about Maitreyi that stood out. Kaling and the rest of the team were very impressed by Maitreyi's sass and knew she would be the perfect person to bring Devi to life.
2. She Only Auditioned For The Role To Hang Out With Her Best Friend
Ironically, Maitreyi wasn't super interested in auditioning for the role at first. She told Variety, "My best friend was the one who actually saw the tweet and she screenshotted it and sent it to me. I'm lying on my couch, ready to take a nice afternoon nap. … I remember feeling exhausted, but I was like, 'Okay, let's do it,' just because I honestly only wanted to hang out with my best friend." The two headed to their local library, booked a study room, and recorded their audition videos.
3. She's A Big Mindy Kaling Fan
Getting the change to work with Mindy Kaling has been a dream come true for Maitreyi. She grew up admiring Kaling and her work and was a big fan of The Office. Maitreyi says it was nice to be able to see someone on TV that resembled her.
4. She Can Really Relate to Devi
Devi's character is loosely based on Mindy Kaling's upbringing. But Maitreyi can relate to Devi's story as well. As a first generation Canadian, Maitreyi knows exactly what it's like to grow up in two different worlds. In an interview with Time, Maitreyi said, "I wish I had a show like this growing up. You're figuring out where you fit within your own culture, and identity is so important, whether it's your culture, your sexuality, anything. It's not only how you show yourself to the rest of the world, but also how you accept yourself."
5. She Doesn't Have Sympathy For People Who Mispronounce Her Name
Lots of people who have names that are somewhat difficult to pronounce, eventually decide to use simpler nicknames instead. However, Maitreyi plans on doing no such thing. She is proud of every aspect of her identity and that includes her name. She says that if people can pronounce the names of the characters on Game of Thrones, they can pronounce her name too.
6. She's Tamil Canadian
Both of Maitreyi's parents immigrated to Canada from Sri Lanka when they were in their 20s. Maitreyi was born in Mississagua where she has lived all of her life. She and her family are part of the Tamil ethnic group which has a history that dates back thousands of years. Maitreyi made it a point to say, "I made it very clear to my agent and publicist that Tamil-Canadian is very, very important to me."
7. She Started Acting at 15
Although this is Maitreyi's first professional role, she has been acting for the last few years. She got her start at 15 when she got a role in her school's production of Footloose. Ever since then she has been in love with acting and she continued to audition for plays at her school.
8. She's All For Change
One of the the things Maitreyi loves most about her generation is its willingness to help bring change to the world. She likes to see things change for the better and she isn't afraid to speak up when she identifies something that should be fixed.
9. Steve Carrell Is Her Favorite Actor
Maitreyi is enjoying the excitement of the present moment, but she also has her eyes set on the future. She knows exactly who she would like collaborate with in the future and she already has the entire cast thought up. She hopes to get the chance to work with her favorite actor, Steve Carrell, some day. In addition to Carrell, the rest of her dream cast would include Tom Hanks, Morgan Freeman, and Emma Watson.
10. She Didn't Know Who John McEnroe Was Before The Show
John McEnroe being the narrator of Never Have I Ever was an unexpected (but totally welcome) surprise. The tennis legend may seem like an unlikely addition to the show, but to Kaling it made complete sense. Kaling told USA Today, One thing that's common for a lot of Indian parents is a love of tennis. It's like an English Anglophile kind of thing". She decided that McEnroe would be the perfect person to narrate Devi's life. Maitreyi admits that she had no idea who McEnroe was before the show and that she had to Google him to be brought up to speed.