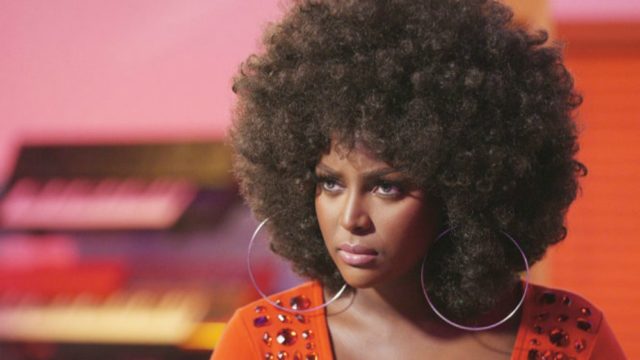 The breakout star on Love and Hip Hop Miami is Amara La Negra. She is a Dominican-born rapper and singer that incorporates many styles of her home country into her music. The show follows her attempts to crossover into the mainstream music charts, as well as her rivalries with other musicians on the scene. Recently, Amara was caught up in a bit of controversy with music producer Young Hollywood. During the filming of one episode of Love and Hip Hop, Young Hollywood made some racist and rude remarks regarding her ethnicity. For example, he asked her if she was Afro-Latina because she was African, or just because she had an afro. He even called her "Nutella Queen", then called her crazy when she became offended and walked away.
In our opinion, Young Hollywood's comments were definitely rude. Calling her ethnicity into question, especially when she works so hard to make a name for herself as an Afro-Latina, is uncalled for and arguably racist. Amara La Negra herself is a pretty cool person, with some very strong values — it is no wonder that she got offended. But let's not focus on Young Hollywood's tirade. Instead, we will go over a few facts about Amara La Negra that are not commonly known. If you care to expand your knowledge about the up-and-coming hip hop star, be sure to read on to learn about Five Things You Didn't Know about Amara La Negra.
She Was a Busy Kid
When Amara La Negra was a child, most of her time was taken up with preparation for the future. She was in dance classes five days a week, and took acting, singing, and modeling classes as well. Though she missed out on a lot of her childhood — she never learned to ride a bike, swim, or rollerskate — she doesn't regret working so hard. Her performances were her idea of fun, and her current career is well worth it.
She Believes in Female Empowerment
Many of the musician's songs focus on female empowerment and being proud of one's sexuality. The lyrics focus on how a woman should own her sexuality, and use it as she sees fit. Amara La Negra is a huge proponent of individualism and feminism, especially when the two are combined — and it definitely shines through in her songwriting.
She Rocks Her Afro
Her hair has been a significant source of controversy, yet the hip hop star doesn't really understand why. Her hair grows into an afro naturally — though she wears extensions to help with maintenance — and she embraces and loves it. Her hair is a reflection of who she is, both as a person and as an Afro-Latina.
She Wants a Strong Legacy
The hip Hop star is not afraid to die. When she does, she wants people to remember that she was a proud woman — proud of who she was, where she came from, and her accomplishments. In addition, Amara La Negra wants her music to immortalize her in the hearts of her fans. She wants people to remember her by how she made them feel through song, more than anything else.
She Just Signed a Multi-Album Record Deal
Love and Hip Hop Miami news has overshadowed Amara La Negra's huge deal that she just signed. Her name is now inked on a multi-album record deal with Fast Life Entertainment Worldwide and BMG. She was discovered by President Zach Katz (who worked with Dr. Dre's Aftermath label), who saw her potential right away. The first single from Amara La Negra is set to release in the first quarter of 2018, with more to follow. This could be her big break, and we look forward to seeing how it goes for Amara.