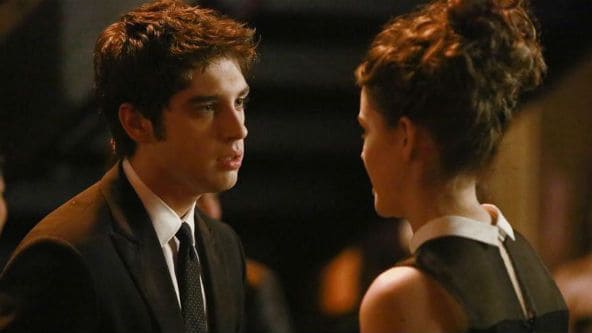 One thing that is certain is that television is evolving to effectively represent the modernization of thoughts and ideologies that are becoming more mainstream with each passing moment. Things that were considered taboo and even morally wrong several decades ago are now being accepted as a part of the norm. There may no other television series that represents this idea than The Fosters. When you examine the dynamic of this show, you could easily make the argument that it should have been the one titled "Modern Family." A Lesbian couple rearing a multi-ethnic group of children is no far-fetched into today's society, but it still makes for interesting and funny television. One actor in the series that contributes to the success of the show is David Lambert.
Because you may not know much about David, we decided to share five fact about the actor with you.
1. He Was Born in Baton Rouge, Louisiana
Baton Rouge is a college town that is just north of the famed New Orleans and while most people know little about it, the city is actually very rich in history and culture. It is not a bad place to grow up if you are a fan of cultural diversity. It is not clear how long David lived in Baton Rouge before leaving, but it is clear that the City has had some impact on who he has become as a person and professional.
2. He Was Home Schooled as a Child
Most of us view homeschooling as some new phenomenon, but it is much more common than we imagine, and it was even the primary form of educating children before the introduction of the public education system. David Lambert credits things like self-awareness and self-confidence to being schooled at home. We do not know how long he was homeschooled before entering the traditional academic process.
3. His Mother is of Puerto Rican
When it is discovered that someone was born in Baton Rouge or any Southern Louisiana city or town, the first postulation that will be made by most people is that the person is of a mixed ethnicity often referred to as creole. The truth is that southern Louisiana is becoming increasingly diverse as the populations migrates driven my career opportunities. It is not clear how or why David's mother ended up in Baton Rouge, but it is clear that she had an immense impact on this developmental years.
4. He Started His Acting Career Earlier Than Most
According to sources that are close to David and his family, the young actor is extremely talented, having a strong tenor voice and being able to play at least three musical instruments. But what may be most impressive is that his first encounter with acting was when he was cast in The Wizard of Oz at age 3. Whatever happened to get young David cast in a stage play so young didn't have a negative impact on his view of acting and theater – quite the contrary.
5. He Got His Big Break In Atlanta
Joy Pervis, an agent, just happened to be at an open casting in which Davis was performing a certain monologue. After being asked to do something else, he simply decided to recite the Pledge of Allegiance of all things. Pervis liked what she saw, and the next thing David knows, he is on plane to Canada to shoot Aaron Stone. While David has lived in a number of places since leaving Baton Rouge, he has settled in Atlanta, where he got his big break.