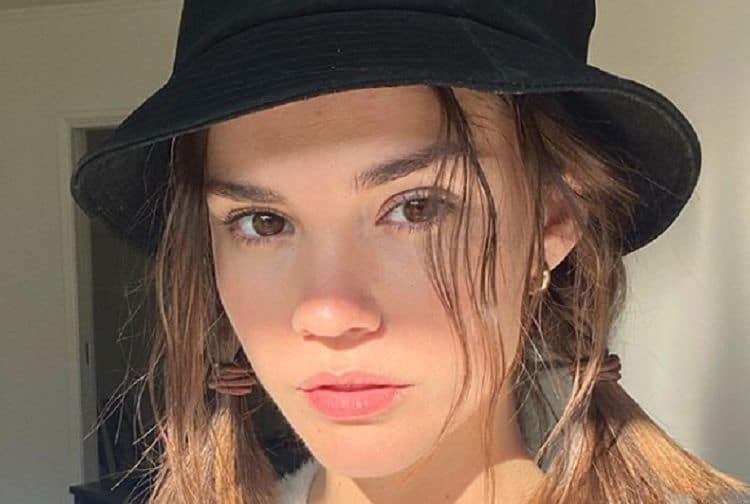 Born in August 1993 in Lismore, New South Wales, Maia Mitchell is a singer and actress who has played numerous roles in children's and teen-related television shows for Australian audiences. Her first role at the age of 12 was as Brittany Flune in Mortified, followed by the role of Natasha Ham in the teen series Trapped on the Seven Network. The year 2013 marked her integration into American television series, such as her role as Callie Adams in The Fosters from 2013-2018 and the sequel to the series, Good Trouble. You may recognize this beautiful, young, and talented actress, but here are 10 things you didn't know about Maia Mitchell.
1. The Disney Channel was her first American role
Maia Mitchell got her first break in the US as an actor when she was chosen to play in the hit TV series Jessie on the Disney Channel. Her first film role was the role of McKenzie, the main character for the Disney Channel's original movie Teen Beach Movie, which she then followed up with her same role in Teen Beach 2, also for the Disney Channel.
2. She grew up with an average home life
While some actors come from a lineage of actors or other family members in the entertainment field, not all do. Some come from very average homes and lifestyles. They just happen to have an interest, the talent, and the drive to create a life for themselves in acting, and Maia Mitchell is one who did. Mitchell's mother and father had regular blue-collar jobs, with her father, Alex, working as a taxi driver, and her mother, Jill, working in the education system.
3. She attended a Catholic school
Mitchell has discussed her school years in interviews. What we know is that she attended Trinity Catholic College in Lismore, but aside from working towards her college degree, she also worked on her acting by participating in school plays and taking part in local theater productions.
4. She has multiple musical talents
Mitchell is multi-talented; not only does she have a natural talent for acting, but she's musically inclined as well. Mitchell is a gifted singer and songwriter, but she also plays an instrument. Mitchell learned how to play the guitar at a very young age, and she claims that her mother was her biggest source of inspiration for her love of music. If you have ever watched any of Mitchell's movies, then you may already know about her talent with the guitar, as it's often been incorporated into some of the roles she's played.
5. She released songs for one of her movies
As far as her singing abilities, Mitchell has recorded a few songs for a few of the movies she's played a role in. According to Ranked Wiki, the most popular include her songs Like Me and Can't Stop Singing, which were recorded and released for the movie Teen Beach Movie.
6. She's often mistaken for another actress
It's not uncommon to have a couple of actors that resemble each other and may even get mistaken for each other as to which movies or television shows they've participated in. Mitchell has a "look-alike" actor that she says she is often mistaken for, and according to IMDB, the actor is Bailee Madison, who is known for her role in the drama film Bridge to Terabithia (2007).
7. She loves to dress down at home
When you continuously have to dress up for a role in a show or film, it can be a little daunting and sometimes even uncomfortable. Especially if the costume or wardrobe is one that you have to wear for hours on end, and sometimes even for days of filming. Mitchell says that she doesn't mind getting dressed up for work or for meetings, but when it comes to just chilling at home, she is a beanies, jeans, and sneakers kind of girl.
8. She has to work to keep her Australian accent
It may not seem like it would be hard to do; keep your own accent, but when you are constantly playing characters that call for the use of a different accent other than your natural one, it can become less fluent than you might think. Over time, you start to lose your accent and especially if you don't work to keep it. Mitchell claims that she is trying hard to keep her Australian accent, and especially because she says that her mother would disown her if she didn't.
9. What's her relationship status?
Fans love to know who the celebrities are involved with. We like to keep up with who's-with-who, and so, if you're wondering who Maia Mitchell has been in a relationship with, according to Married Biography, we do know that she had been in a relationship with musician Rudy Mancuso that started in 2015. The relationship was confirmed in 2016 when a picture was posted on Instagram of the couple together. However, it was later suspected that they had ended things when suddenly pictures were no longer being seen of the two together. To confuse fans even more, suddenly the two re-emerged on social media in pictures together in 2017, and again in 2018, they were seen holding hands in photos, which suggests that at the very least, they are either good friends or rekindling a relationship.
10. She has a substantial net worth
Mitchell has already accumulated a substantial net worth that has built from a combination of her talents, from her music to her acting career. In the years since her acting debut, she has already been in numerous television shows and films, as well as she has released a number of songs, all of which have helped her to build her net worth of $3 million, which was the estimate as of 2018.
Tell us what's wrong with this post? How could we improve it? :)
Let us improve this post!