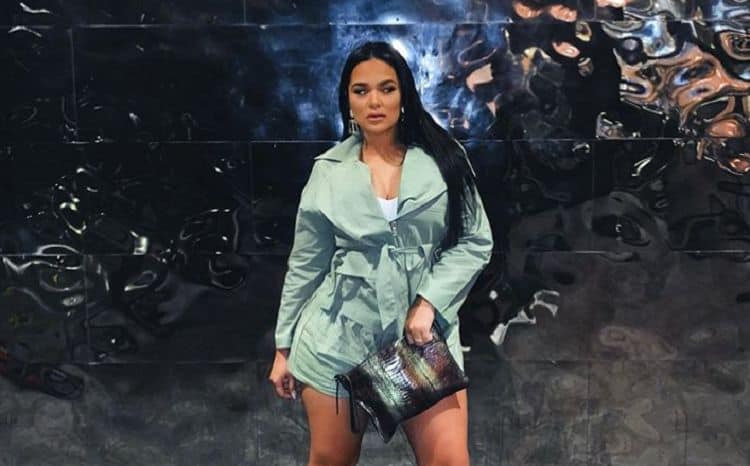 You know her as the girlfriend of famous rapper Fabolous, but there's more to Emily Bustamante than just her relationship status. She's of "Love and Hip Hop," fame, but she's also a mother-to-be, a daughter, a friend, and someone who has a life of her own. With that in mind, let's get to know the famous mom-to-be a little better than we already do.
1. She's A Stylist
A common misconception about celebrity partners is that they don't have a career of their own, but Emily B is not that kind of lady. She's a celebrity stylist and designer, and she loves what she does. She's been in the game since she was 19, and she's got a long list of clients. Some of her favorites include Ne-Yo and even Trey Songz.
2. She's Been Dating Fabolous Over Two Decades
They aren't married, they already have two kids together, and they make it known that they are an item, and that's how they've been for approximately 20 years. They do tend to keep their relationship as quiet as possible, but their fans know that their relationship has been a bit off and on over the years. It's more on than off, but it's not always perfect. Whose is?
3. She Loves What She Does
Not only does Emily B work hard to style and design for her clients, she loves what she does. We assume this is why she keeps doing it. When you find a career you love, and you love what you do, you do it a long time. When you find pleasure and joy in your work, you are not going to give that up just because you have other things going on in life. Her hard work is one thing she is proud of, and it's easy to be proud of it and work hard when you love it.
4. She's Got A Shoe Line
Emily B introduced her shoe line back in 2013. It's called Emily B, and she let her fans salivate over them for some time before the launch date of availability of the shoes was announced. This line was her dream, and she worked hard to make it her reality. She did it, and she's darn proud of all she did in tht moment.
5. She's Not A First Time Mom
News recently broke that the mother of three is about to be a mother of four, and she's excited about the prospect of a new baby in the house. However, we assume she's not going to be nearly as nervous this time around being that this is her fourth time. She's got a daughter who is 22, and she and Fabolous already have two sons, ages 12 and 5.
6. She's Dealt With A Few Relationship Issues
When she first began filming her famous reality show in the first few seasons back in 2011, we got to know her well. She's a woman who has a strong personality, but she dealt with some issues. As most of the people who come onto the show, she was dealing with a famous boyfriend who is always in the public eye, and it wasn't always easy for her. She dealt with issues like the fact that she suspected Fabolous was not faithful to her on more than one occasion, and it really frustrated her that she was not someone he would openly admit to dating. They kept their situation private for a long time, and he would not tell people that he was a taken man. She didn't like that, and it caused some tension in their relationship.
7. She's 39
Born on February 10, 1981, this stunning beauty is in her last year of her 30s. She doesn't look like he's going to turn 40 in a few months, but she is. We imagine she's not too upset when she looks in the mirror and sees what 39 is doing for her. She's gorgeous, and she's proud.
8. She's Puerto Rican
If you've ever wondered about Emily's beautiful skin tone and her gorgeous looks, you might wonder where she gets it. She's Puerto Rican, and her heritage is clearly gorgeous. If only we could all have that gorgeous, glowing skin and long, thick locks.
9. She's Making Fab a Girl Dad
Emily B might already have a daughter of her own, but her 2020 Father's Day announcement that she is pregnant with a little girl is something that is excited to Fabolous. He is a boy dad with her. They have two sons, and this is going to be his first daughter. To say he is probably excited is what we might call an understatement. Girls are special to their dads, and there is just a sweet bond there that you cannot deny.
10. Her Daughter is Insta Famous
Taina Williams is her name, and she's making waves on the 'gram. She's got almost 2 million followers, no doubt due to a combination of her natural beauty, her professional photographs and excellent style, and her mother and stepfather's fame. She's living life on her own, but she's always supported her mother and her family while growing up.