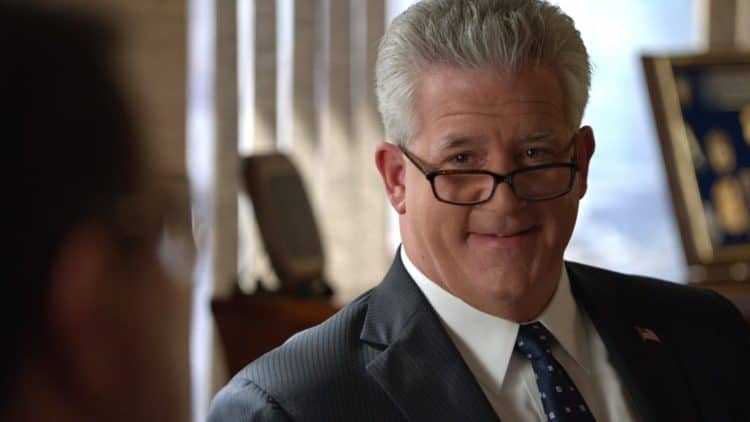 Gregory Jbara is an American singer, stage, and television actor who was born on 28th September 1961. The 58-year-old actor/singer is from a family that is deeply rooted in the entertainment industry. He started following his acting dream from a very young age as revealed in an interview to the Huffpost. Gregory said he realized his passion for acting before joining college and decided that he will strive to acquire the necessary skills that would enable him to become an exceptional actor. He later added that pursuing acting was the best decision he ever made. Let's check out his life before and after going down the path he chose.
1. His background
Gregory was born in Westland, Michigan, to a Lebanese father and an Irish mother. He was raised in the heart of Detroit's working-class neighborhood, Midwest. His father, John James Jbara, was an advertising office executive while his mother, Joan Margaret, works as an insurance claims adjuster. He attended Wayne Memorial High School in Michigan and later proceeded to join the University of Michigan. In college, he studied Communication Studies between 1979 and 1981 concentrating on Theatre and Musical Theatre. After completion of college, Jbara enrolled in Julliard School and majored in the drama category. He later attained his Bachelor of Fine Arts degree in 1986.
2. His acting debut
According to Ranker, many 21st century actors such as Denzel Washington who made their acting debut on Broadway have gone ahead to cement their status as outstanding actors by having very successful careers. It has, therefore, become the preferred route towards having a Hollywood career since Gregory also made his acting debut when he first played alongside Kate Nelligan on the 1988 Broadway show "Serious Money." After that, he started getting more acting roles and appeared in a dozen television shows like "Private in Parade," "Wonderful Town," "The Living Room," and "Dirty Rotten Scoundrels."
3. His notable works
Even though Gregory has performed in more than fifteen television shows, his most prominent role came around in 2002 when he played Dan O'Keefe Fox drama series called "Grounded for Life." Even though it did not continue after its third season, the show was a huge commercial success and exposed Gregory to other acting roles. His other distinguished projects include the 2010 CBS sitcom, "Blue Bloods," where he starred as Garrette Moore, an NYPD Deputy Commissioner in charge of Public Information.
4. His family life
Similar to any other couple, Gregory had some problems in his first marriage and chose to terminate his previous relationship to settle with a more compatible partner. Before marrying his current wife, he was married briefly for three years to an American actress and an Alabama native known as Rebecca Luker. The two were romantically involved from 1993 to 1996 before agreeing to a divorce, and Gregory went ahead to marry his current spouse Julie Jabra in 1997. The couple is still holding on and have two sons named Zachary Jabra and Aidan Jabra.
5. His nominations
An actor whose career has spanned for more than three decades is bound to have nominations that recognize his acting talent. Hence, in 2005, Gregory was nominated by the Desk Drama Awards in the category of Featured Actor in a Musical for his role as Andre Thibault in the 1988 comedy called "Dirty Rotten Scoundrels."
6. His Awards
The US entertainment sector is characterized by numerous film academies that are committed to appreciating exemplary actors. Gregory boasts of several awards due to his superb acting skills. In 2009, Tony Awards honored Gregory with a recognition award for the Best Featured Actor for his musical performance as Jackie Elliot in the film "Billy Elliot the Musical." Gregory is also the recipient of the 2006 Special Award by the New England Theatre Conference for his lifetime accomplishments as an actor. In 2000, Gregory was recognized by the Garland Awards for his outstanding performance in the play "Precious Son," where he acted alongside Nora Dunn and Adam Wylie.
7. His social media life
In this contemporary era, celebrities and famous figures are expected by their fans to have social media accounts where they can share anything that interests them. Despite being 58 years old, Gregory is an active user of social media who regularly shares his Instagram and Twitter followers. He goes by the name 'gregoryjbara' on his Instagram handle and 'GregoryJbara' on Twitter, where he has more than 7000 followers.
8. His hobbies
When he is not acting, Gregory engages in some leisure activities, top of the list being football. He is an active fan of American Football and often participates in match events. Gregory recently shared on Instagram a selfie of himself and someone purported to be his wife attending an NFL of his favorite team, Los Angeles Rams. Gregory does not hide his love for the Los Angeles Rams since he has repeatedly shared his excitement on his social media sites on several occasions.
9. He is a forest activist
Similar to celebrities like Arnold Schwarzenegger and Chris Hemsworth, who champion for climate changes and sea conservation respectively, Gregory is an activist for forest conservation. The celeb recently took to his Instagram to express his unhappiness about the US government to reduce the forest management fund in California. He posted this in support for Congressman Ted Lieu, who was criticizing the government for cutting forest funding, yet the government owns most of the forest land in California.
10. His net worth
For an actor that started his acting career in the 1980s, it should not be a surprise that Gregory has made quite a fortune during his career. The hardworking actor has managed to amass an estimated net worth of $2 million. Most of his earnings come from him being cast in high selling films and shows such as "Dirty Rotten Scoundrels," which grossed $42 (current value is $91 million) in box office sales after its release on 14th December 1988. Gregory has also featured in several hit television shows such as "Family Guy, The Unit" and "Law and Order." According to FAME10, Gregory is position nine on the net worth list of the "Blue Bloods" show cast.
Tell us what's wrong with this post? How could we improve it? :)
Let us improve this post!