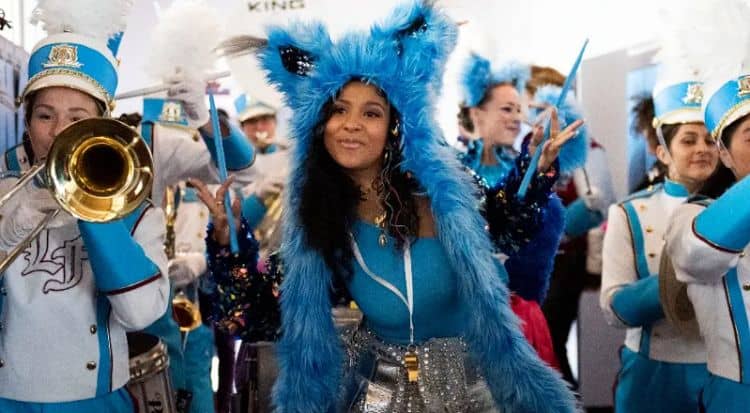 2020 has definitely been an interesting year for Madison Reyes. She went from having no professional acting experience to being cast in the starring role of the Netflix series Julie and the Phantoms. In her on screen debut, Madison has the confidence of a seasoned vet and she's already getting lots of attention for the role. Since Netflix has a strong history of taking unknown actors and helping them become stars, there's no doubt that Madison will be one of the next actors to join that list. For now though, she is enjoying every moment of the success of Julie and the Phantoms. Keep reading for 10 things you didn't know about Madison Reyes.
1. She's From Brooklyn
Brooklyn has been the home of many talented people and Madison Reyes is one of them. She was born and raised and Brooklyn but currently lives in Allentown, PA with her family. She hasn't mentioned whether she has any plans to move back to New York or out to Los Angeles.
2. She Got Into Acting In Middle School
Almost every actor can pin point one moment or event that made them realize that acting was what they wanted to do. For Madison, that moment came in middle school when her school was doing a production of The Lion King Jr. She decided to audition and was cast as Nala. After that experience, Madison knew she wanted to keep acting.
3. She Almost Didn't Audition For The Role
Being cast in Julie and the Phantoms has been a life changing experience for Madison, but she almost talked herself out of the opportunity. Although she was very excited about the part after reading more about the character, she was hesitant to audition. Fortunately, people close to her were able to talk her into it.
4. She's A Big Vanessa Hudgens Fan
One of the reasons Madison was so excited about Julie and the Phantoms is that it gave her the chance to work with Kenny Ortega who directed the High School Musical trilogy. Madison is a big fan of High School Musical and especially loves Vanessa Hudgens' work. In fact, Hudgens is one of the people who motivated Madison to become an actor. If the show is brought back for another season, Madison told Hollywood Life that she would love for Vanessa Hudgens to join the cast.
5. She Has Puerto Rican Roots
Madison comes from a Puerto Rican family and she is very proud of the rich culture that has helped make her who she is. With that being said, she reps Puerto Rico as much as she can. One of the things that drew her to the role of Julie was the fact that the character was written as Latina.
6. She Believes In The Importance Of Representation
It's no secret that people of color are under represented in the entertainment industry. However, Madison hopes that her role in Julie and the Phantoms can help provide some representation for other young people. During her interview with Hollywood Life, Madison said that when she auditioned for Julie, she thought of her sister "because, if I got this, then she'll have someone she can look up to who looks like her, who has the same ethnicity as her, but also just her realness and how she's experiencing a lot of the things that everyday teenagers go through. "
7. She Loves Anime
Acting may be Madison's top priority, but it's definitely not the only thing she's interested in. Madison is also a big anime fan. She told Just Jared, "I'm a big anime fan. I've been watching anime since the 6th grade, and my love for it has only grown. The most recent anime I finished was DEMON SLAYER."
8. She Comes From A Close Knit Family
Getting into the entertainment industry at a young age can be a very stressful experience. Madison is lucky to come from a very close knit family that has supported her on every step of her journey. In addition to having a great relationship with her parents, Madison is also very close to her younger sister, Megan. Madison even sites Megan as one of her biggest sources of motivation.
9. She's Passionate About Dyslexia Awareness
Even though Madison is still young, she already knows what kinds of causes she wants to stand behind. She told Refinery 29 that she is very passionate about raising awareness about dyslexia although she didn't go into detail about why this cause is so important to her.
10. She Hopes Season Two Fill Feature More Background On Julie's Mom
There's no word yet on whether or not Julie and the Phantoms will be brought back for a second season, but if it is Madison already has some ideas. She hopes that the second season will bring in more elements of Latin culture and go into more of the backstory about Julie's mom.