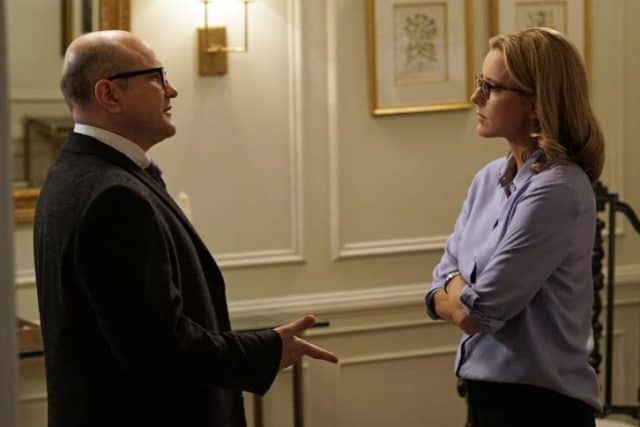 "A good idea is meaningless without the courage to act.". In this week's episode of Madam Secretary, Elizabeth must work quickly. Or the entire population of South African Black Rhinoceroses will become extinct. That and she must also deal with finding the mole inside the State Department.
The idea to film a public service announcement in Vietnam with Henry Winkler is intriguing. For one thing, I didn't know that The Fonz is a favorite character over there. Too bad it didn't work out. So much for your excellent Powerpoint presentation, huh, Blake? I agreed with Nadine when she said that Happy Days can't beat cold hard cash. True that Nadine, true that.
Meanwhile, the FBI arrested a man named Barry Milken, who apparently, is the mole inside the State Department. Two agents interrogated Milken to get information out of him, but to no avail. Elizabeth offered to try and almost succeeded until a well-known attorney Jim Fox (guest star Enrico Colantoni) barged in.
This whole mole storyline intrigues me greatly. I love a good crime mystery where the mastermind gets his just desserts in the end. The "mutual enemy" that Fox mentioned at the end of the episode made me wonder just who that enemy is. Could it be someone in the U.S. government or someone in an influential position in a foreign country? I also want to find out who hired the sniper that killed Barry outside the Department of Justice.
Aside from Elizabeth dealing with saving the black rhinos and whatnot, Henry has problems of his own. It turns out that Ian might be drugged. Henry tested the drink that he gave Ian the night before; it tested positive for a form of LSD. It causes the user to have psychological effects like hallucinations like Ian did when he met with Henry to give him intel on the drone bomb. I had a feeling that something like this would happen! Hope it's not too late to save him from going over the edge. That and the religious cult doesn't get the chance to use said bomb. Then again, it wouldn't be a political drama without drama.
Speaking of Henry, I applaud the writers of the show for using the near-fatal ambush shootout to accommodate Tim Daly's skiing injuries. Guess the good professor will technically have a desk job for the time being until he can get back on his feet. Get well soon, Mr. Daly!
Some humorous and heart-warming moments in this episode are that apart from the McCords, Blake also watches the show Cupcake Wars. I do wonder what broccoli frosting tastes like? We also see Henry bond with Jason over an old V8 engine model. The latter looked up videos on YouTube to figure out how to make the motor work. It's nice to see father and son do something together without one of them pulling away. I was also highly amused by the scene where Elizabeth used her CIA training to figure out who ate the last donut. Busted, Matt!
In the end, the black rhinos are as good as protected and the working relationship between the Department of Defense and the State Department will remain intact. Let's hope that it stays that way for both the rhino's sake and the two departments.
Madam Secretary returns with new episodes on April 9 at 9/8c on CBS. Photo via CBS
Madam Secretary Season 3 Episode 17 Review: 'Convergence"
Summary
Bess tries to save the black rhinos from going extinct. Henry worries about the possibility of Ian being drugged in this week's episode of Madam Secretary.