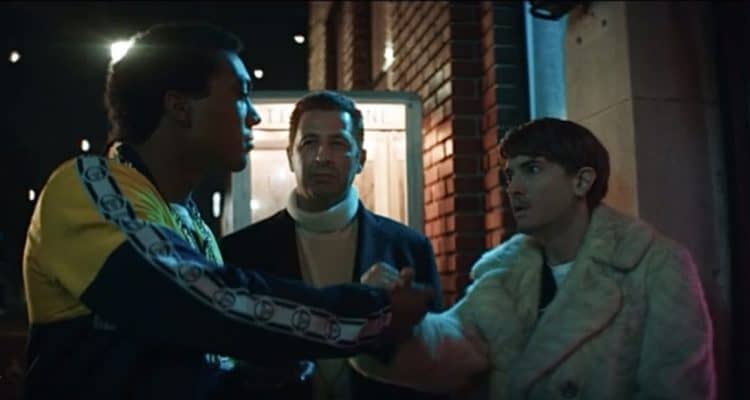 On BMF Season 1, Episode 6, Lamar had the internet buzzing with his soft crooning of "I Can't Stand The Rain" as he stabbed Slim, the only ally he had left. Lamar is a madman, with nothing else to lose as he's already lost Monique and Zoey's trust thanks to Meech and Terry. He's desperate to get next to the Flenory brothers or at the very least their family, but Meech and Terry hired bodyguards making it impossible for him to exact his revenge. Lamar attempts to kidnap Nikki, Meech, and Terry's little sister, but her boyfriend Darius saves her life and he's ruthlessly stabbed to death.
"It Was The Guy From The Mall"
Episode 7 starts off with Meech and Terry in a frenzy, scouring through the hospital to find Nikki. Nikki immediately tells her brothers that Darius was killed by the man at the mall. It doesn't take Meech and Terry long to realize that she's talking about Lamar. Nikki blames her brother for Darius's death and it's at this moment Meech and Terry realize how deep they are in this situation. Detective Lopez and Detective Bryant want Nikki to come down to the police station and make a statement minus her brothers. Meech and Terry are a bit apprehensive because they don't know exactly what Nikki is going to say. However, before she walks into the interrogation room, Nikki tells her parents the truth. The detective press Nikki hard, they say that the witnesses saw the suspect try to kidnap her and they want to know if Meech and Terry are involved. They even let the Flenory's know that Meech and Terry kidnapped a girl a few days ago and this could be retaliation. Nikki holds strong even when they tell Nikki that lying to the police is a crime.
White Boy Rick Is Finally Introduced
A lot of people were excited about this episode because the legendary Detriot rapper, Eminem, stars as White Boy Rick finally made his appearance in the series. Meech briefly meets with Tiny to solidify a few details on some new moves that BMF will be making soon. The camera quickly pans on White Boy Rick as Meech brushes past him. As the series progresses, White Boy Rick is going to be a significant character.
It's Time To Go
Charles is completely done with Meech and Terry. He tells Nikki and Lucinda to pack a bag because it's no longer safe to stay in their home. Lucille is stubborn and is bent on not letting anyone run them out of their home. Charles tells Lucinda the harsh truth, this time they have to forget about the boys because they have already chosen their path. Lucinda insists that they can at least save Terry, they just have to get him away from Meech. Charles puts his foot down and tells his wife that he's taking Nikki away from the house and that she can stay waiting for the boys if she wants to die.
Hunting Lamar
Lamar is packing up his guns and supplies when Tiny and a few goons sent by Meech start shooting up his spot. When they bust into the house, they see a few blood trails. Lamar got hit in the leg, but he managed to getaway. Meech is livid that they didn't get him and now he has to find him. Lamar sneaks into Monique's house, hoping that she'll help. But Monique isn't having it and threatens to call the police if he doesn't leave. Lamar beats Monique up, but he stops when Zoey comes running into the room to help her mother. When Lamar leaves, Meech drops by an hour later looking for help finding Lamar. Monique tells Meech that Lamar has a cousin across town and that's the only place he would feel safe enough to go. That lead ends up being a total buss.
Detective Lopez Is Dead
Kato mistakenly kills Detective Lopez and she seeks refuge in B-Mickie, who promises to help her and be there. The two end up sealing the deal with their relationship and making love. B-Mickie leaves to run an errand and Lamar breaks into Kato's spot. Lamar tells Kato that she's going to help him take down Meech or else he's going to kill her. B-Mickie spots Lamar leaving Kato's house and he holds her at gunpoint and forces her to tell the truth. Kato confesses to working for Lamar from the start but claims that along the way the 50 Boys became her family. She tells B-Mickie that they can take down Lamar together and he agrees.
Detective Bryant and Meech Cut Their Ties
Now that Detective Bryant's partner is dead and the higher-ups believe that he's dirty, Bryant and Meech end up in a power-pissing match. Bryant's back to policing the bad guys. This should be really interesting.
Tell us what's wrong with this post? How could we improve it? :)
Let us improve this post!